'Learning Should be a Lifelong Activity'
---
Posted on May 9, 2017
Alice Jackson
---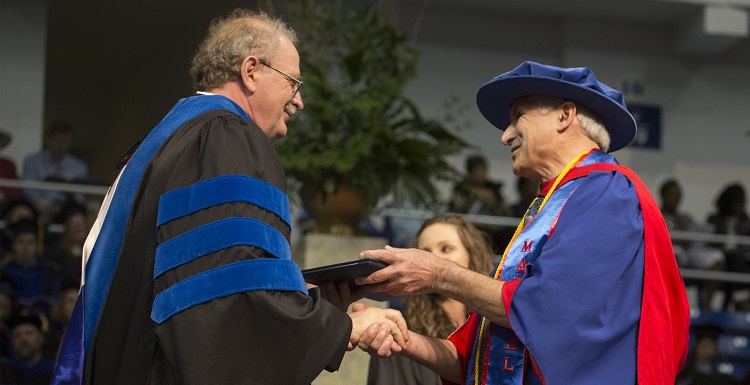 Dr. Doug Haywick, associate professor of geology, right, shakes the hand of Dr. Andrzej Wierzbicki, dean of the College of Arts and Sciences, at Commencement on May 6. Haywick earned a second bachelor's degree after taking classes beginning in 2002.
---
During Saturday's spring commencement at the University of South Alabama, Dr. Doug Haywick, a retiring faculty member after 26 years, walked across the Mitchell Center stage to receive his bachelor of fine arts degree.
Haywick, an associate professor of geology, has definite plans to use his second bachelor's degree during the next stage of his life.
"I'm retiring, but I hope to remain connected to South through teaching some classes while concentrating on additional research in my field," he said. "Learning should be a lifelong activity."
Haywick began working on the degree in 2002 "because I just wanted to learn to paint."
"I'd tried some painting when I was younger, but it was very amateurish, very primitive," he said. "I envisioned getting the degree as an opportunity to learn something on the side and to have a chance to mesh my scientific interests with the artistic."
In the intervening years, he took a variety of art courses, as well as several basic undergraduate courses because his undergraduate degree in geology/chemistry was earned in his native Canada, which has different accreditation requirements.
"I took American History I and II, and I learned some interesting things I didn't know. I also took courses in sociology and English literature," Haywick said. "Every course I've taken, I've learned something from it."
His art degree focused on ceramics and kiln-fired glass, and his classes included sculpture, art history, drawing and color theory. Gradually, he learned the basics, then expanded both his creativity and knowledge of creating art under the direction of skilled teachers. He tells the story of one professor who told him his ceramic vase "was flat" but didn't tell him to re-work it.
"It was through critiques like that I learned what I needed to do rather than being told what to do," Haywick said. "The art program here at South has the best teachers I've experienced anywhere."
He said the critiquing by his fellow students, who were much younger, was equally as valuable.
"I got on very well with them," he said. "I was never Dr. Haywick with them."
In April, his works were exhibited as part of the BFA Senior Thesis Exhibition in the Visual Arts Gallery. He is especially proud of two works displayed there, wall hangings that depicted the "Art of Science" and the "Science of Art." One is a kiln-fired glass piece of bright colors. The other is a ceramic piece of highly detailed fossils.
"One of the pieces will be my donation to the department of earth sciences," Haywick said. "I have papers I want to write, and there are grants I plan to apply for that will mix my science background with the art side. I will be busy."
---