Mostly Self-Taught Before South, Music Junior Plays with MSO
---
Posted on May 9, 2017
Marketing and Communications
---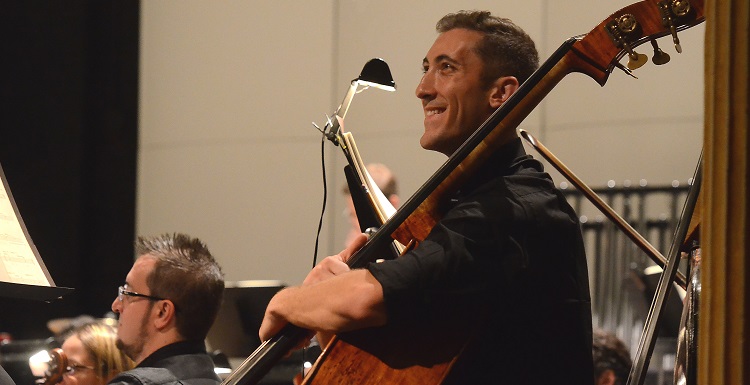 Rod Newsome, a junior at the University of South Alabama, fell in love with the bass in elementary school after a music teacher played the theme from "Jaws." As a student, he's played twice with the Mobile Symphony Orchestra. Photo courtesy of Ben Harper, Mobile Symphony Orchestra.
---
It happened in the fifth grade. Rod Newsome, now a 20-year-old junior at the University of South Alabama, fell in love with the double bass.
A music teacher brought the entire family of orchestral string instruments to his elementary school. "She played these fancy little songs on the violin, viola, and cello," Newsome said. "Then she picked up the bass and said, 'I don't really play the bass, but I can play this.' And she played the theme from 'Jaws.'
"I was like, 'That's me. That's what I want to play.'"
Play it he did, obsessively. Today, just a decade later, this largely self-taught instrumentalist has performed twice (so far) with the Mobile Symphony Orchestra. The orchestra has him on its short list of outside musicians it calls when a piece requires a larger than usual bass section.
"He caught my attention because he was very, very enthusiastic and talented and a very hard worker," said J.C. Barker, general manager of the symphony. Taylor Hollyer, the symphony's principal bassist and an instructor in the USA department of music, had tipped off Barker about the tall, deep-voiced young man with a passion for becoming the best. Hollyer has been Newsome's bass teacher at South.
"It's unusual that someone that pursues one of the string instruments progresses that quickly," Barker said.
Newsome is indeed unusual in both talent and drive. After just a year of lessons in fifth and sixth grade, he spent the next few years polishing his skills on his own, without a teacher. In 10th grade, he successfully auditioned for a position in the Mobile Symphony Youth Orchestra. That's like playing Little League baseball for one season, spending the next four years practicing by yourself in the backyard, then making a high-school all-star team.
"I was really self-motivated," Newsome said. "I wanted to get really good at it because I loved to play it. I didn't know at the time that it would turn into my career." He finally resumed formal lessons when he enrolled at South.
Newsome grew up "all over the place" because of his father's military career. He has lived in Mobile the longest. He helped start the orchestra program at Mobile's Davidson High School and played in various ensembles there.
At South, he's majoring in music education and music performance. "I love my classes at South," he said. "Every one of the faculty are just incredibly accomplished. Everyone went to such high-standard musical schools and conservatories, and they are really amazing at their instruments."
Dr. Will Petersen, assistant professor of music and director of bands at USA, returns the compliment. "Whether it's marching band, playing in the pep band, practicing with the orchestra or volunteering to serve as a mentor with the Mobile Symphony Youth Orchestra, everything he does is always the paramount of excellence," Petersen said. "He's a wonderful young man."
After graduation, Newsome hopes to win entry to a first-rank university music school, perhaps at Rice or Yale, or a top conservatory such as the Curtis Institute of Music, Manhattan School of Music or Juilliard School.
"My first long-term goal is to get my doctorate, and I want to teach other bass players at the university level," Newsome said. "And then the longer-term goal is to eventually win an audition with an internationally acclaimed orchestra, such as the New York Philharmonic or the Berlin Philharmonic."
Is he truly that talented and that dedicated? Petersen thinks so: "I do think that they're realistic goals." Petersen directs the Jaguar Marching Band, in which Newsome plays his "side" instrument, the mellophone. It looks like an overgrown cornet and sounds like a French horn.
Newsome picked up the instrument in high school. He told the band director he wanted to play trumpet in the marching band. Instead, the director handed him a mellophone. "It is one of the more melodic instruments of the marching band," Newsome said. "It has that mellow tone. If it's played well, it's almost kind of soothing."
With minimal instruction, Newsome taught himself to play it — quite well. "Everything that Rod does, he does all in," Petersen said. "He's been a fabulous member of the marching band over the past three years and has been my principal double bassist in the USA Wind Ensemble during his whole time at South."
He likes the mellophone, but he loves the bass. Performing with the Mobile Symphony thrilled him, especially because he got to play Beethoven's Ninth Symphony, which gives the bass section a prominent and unusually melodic role.
"It's always been the unsung hero of the orchestra," he said. "It's the backbone. It keeps people in time. It helps people to tune. But you never really get much credit. So getting to experience a chance to be put in that spotlight, having the melody, it's a really nice and intriguing experience."
He has only one complaint about his favorite instrument: It's a beast to haul around. Once, he said, he and a flute player were walking to their car after a performance. "She was whining about how she had to carry both her flute and her piccolo." Newsome, lugging 40 pounds of bass, declined to sympathize.
---