Marshall Named Honors College Dean
---
Posted on May 9, 2023
Lance Crawford
---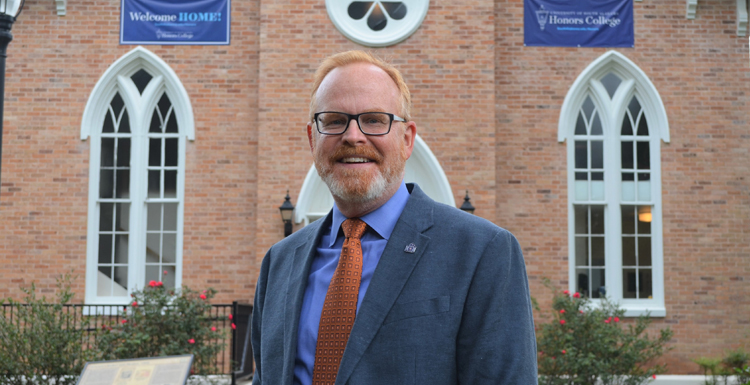 Dr. Doug Marshall has been named dean of the University of South Alabama's Honors College, effective May 15, 2023. Marshall has been a faculty member since 2005 and served as interim dean of the Honors College since March 2022.
---
Dr. Doug Marshall has been named as the next dean of the University of South Alabama Honors College, Executive Vice President and Provost Dr. Andi Kent has announced. Marshall has served as interim dean since March 2022; his appointment is effective May 15.
"Dr. Marshall has served South in a variety of leadership roles, including director of Honors Education, and his focus on student success has been exemplary," Kent said. "We're excited about the future of the Honors College under his direction."
The Honors College is an interdisciplinary and diverse community of highly motivated students. The program provides an intensive education as well additional learning experiences to stimulate thinking and intellectual curiosity. It has a strong track record of helping students earn nationally prestigious fellowships including Hollings, Goldwater, Fulbright and Udall.
"We emphasize and value academic talent, but we are better defined by our three pillars of intellectual curiosity, leadership, and the creation of knowledge and culture," Marshall said. "An Honors student at USA will be a good student, but that alone is not enough, nor is it the only or most important thing we are looking for in a candidate."
Students accepted into the Honors College enjoy the best of two worlds: the personal attention, small class size and sense of community of a small college with the opportunities of a larger research university.
"My goal is to grow the college in terms of size, diversity, opportunities for students, and ability to positively impact the University as a whole," Marshall said. "The Honors College is the natural place for new and innovative ideas and partnerships from all over campus to take root and bear fruit.
"The best part of this job has to be the incredible students I get to work with. They are, simply, outstanding, and I'm very lucky to have this opportunity to help them achieve their goals."
Marshall has been on the faculty at South since 2005. He holds a Doctor of Philosophy in sociology from the University of Virginia, a Master of Arts in social psychology from the University of North Carolina, and a Bachelor of Science in applied psychology from the Georgia Institute of Technology.
---