South Student Determined to Give Back to Her Hometown
---
Posted on May 10, 2016
Marketing and Communications
---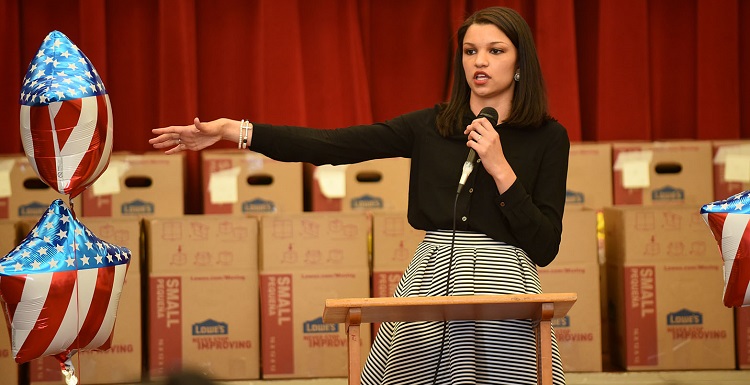 Alicia Duke speaks to students at Dothan's Cloverdale Elementary School about The Little Heroes project. Duke returned to her hometown in April to announce that donated food would help children through the end-of-the-year testing period. Photo courtesy of the Dothan Eagle, photographer Danny Tindel.
---
Alicia Duke explains her zeal for helping others as simply a matter of reimbursement. "I've been extremely blessed with my life and lifestyle," Duke said. "I have a host of mentors who have helped me. So any possible way of giving back that I can do, that's what I try to do."
Duke is pursuing a bachelor's degree in professional health sciences with a concentration in health care management at the University of South Alabama. She's on track to graduate in December, a semester early. She hopes in the fall of 2017 to begin graduate work — ideally at USA — toward her goal of becoming a pediatric occupational therapist.
Meanwhile, she has continued to pursue an ambition that dates back to her years at Dothan High School in her hometown of Dothan, Ala.: trying to make sure schoolchildren have enough to eat. During her senior year in 2012-13, she was president of Dothan High's chapter of Students Against Destructive Decisions, or SADD. Under her leadership, SADD began working on a program to provide food to children at Dothan's Cloverdale Elementary School who needed it.
This April, The Little Heroes project finally came to fruition. Duke returned to Cloverdale to announce that food donated by the Dothan community would be distributed to about 40 children to help them through the end-of-the-year testing period. Each child received four boxes. Each box contained enough food for a week: seven dinners, two breakfasts and two lunches (supplementing the breakfasts and lunches that the children receive at school).
Food drives earlier in the year were so successful that the children also received "bonus boxes" of extra food, Duke said. Each household also received a week's worth of menus based on the specific foods in the boxes. Duke had asked a family friend who is a nutritionist to draw them up.
"We wanted to make sure that when these kids come to school, they don't think about being hungry," said Chris Payne, Dothan High's art teacher and the SADD faculty adviser. "We wanted them to think about 'what do we want to learn?'"
Getting to the point of actually distributing the food took a lot of work and determination. Logistical issues and lack of funding kept the SADD chapter from carrying out the plan during Duke's presidency. She and Payne kept planning. They methodically secured permissions and approvals, and applied for grants.
In September 2015, Duke became a National Child Awareness Month Youth Ambassador, one of 51 selected nationally. Youth Service America and Festival of Children Foundation chose her because of the Little Heroes program. The position carried a $1,000 grant that moved the program forward.
Meanwhile, Duke maintained a full class load and worked part time at the USA Office of Multicultural Student Affairs. She dove into a wide range of campus activities as a member of The Southerners campus ambassadors group, vice president of Women of Excellence and a member of the National Society of Collegiate Scholars, among other positions.
All the while, she kept those schoolchildren in mind. According to the national hunger-fighting organization Share Our Strength, more than one-quarter of Alabama's 1.1 million children live in households that experience food hardships. Hungry children can't concentrate on schoolwork, making it that much harder for them to obtain the tools they need to build satisfying, productive lives.
"One thing that causes me to have such a passion is because I kind of can relate," Duke said. "I can understand people's circumstances."
She herself attended Cloverdale Elementary, which, according to Payne, lacks some of the resources and community support that other Dothan schools enjoy. She achieved her dream of attending college because she worked hard in and out of the classroom (accumulating 1,000 hours of extracurricular community service) and applied for every scholarship in sight.
Payne remembers Duke in ninth grade as a typical teen. "When she got out there starting to serve," he said, "you could see it change her. She said, 'Mr. Payne, there are people that have it bad.'"
Lots of young people become aware of suffering in the world. Duke began actively working to do something about it. An experience with physical therapy for a back problem led her to consider a career as a pediatric occupational therapist, helping children overcome physical disorders or the effects of injuries, strokes or other afflictions.
"I thought that would be a good medical field for me because I would get to spend one-on-one time with patients," she said. "You have that one-on-one impact with them and their families."
Whatever profession she chooses, she's sure it will involve children. "I just have a passion for children, period," she said. "Since middle school, I've always tried to do some kind of project for kids. Back at home, everybody's always asking me, 'What's next?'"
She hopes to continue and expand The Little Heroes food project. She's preparing for graduation and grad school. She also maintains her hometown relationships back in Dothan.
Payne recalled watching Duke, poised and impeccably dressed as always, at the launch of The Little Heroes at her old elementary school. "What better way to inspire those kids," he said, "than to tell them one of you went off to college on scholarship to try to make a difference, and while she's there, she comes back to try to help y'all out to be the next generation to do the same thing?"
---