Determined to Leave a Legacy of Service
---
Posted on May 10, 2016 by Joy Washington
Joy Washington
---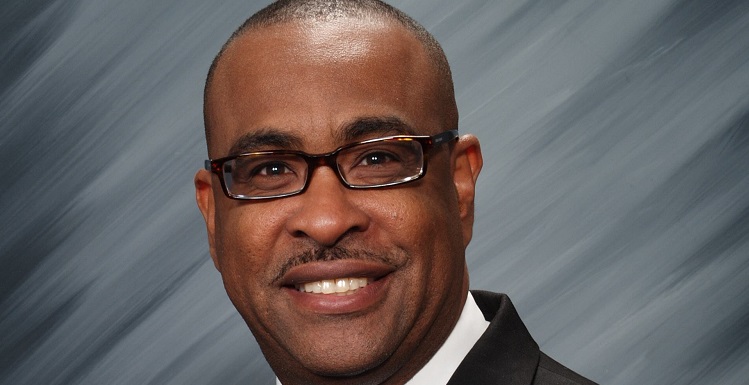 Dr. Eric Williams said USA College of Nursing faculty members were instrumental in encouraging and inspiring him to succeed.
---
Dr. Eric Williams has a national presence and a robust agenda as president of the National Black Nurses Association. And, he's determined to leave a powerful legacy of service.
Williams received a solid foundation to prepare him for the next level of his career while studying at the University of South Alabama's College of Nursing, where he earned his master's degree in nursing with a focus on adult health. He remembers professors such as Dr. Norma Doolittle. She was just one of several faculty members who were instrumental in encouraging and inspiring him to succeed.
"I was nurtured and supported while pursuing my master's degree at USA," Williams said. "Dr. Doolittle always had words of encouragement for me. And one of my goals is that other minorities or people of color nationally must have that same nurturing environment while seeking their degrees and working professionally. We are working to create a national mentorship program, pairing seasoned nurses with nursing students at all levels of nursing education."
In addition to building the mentor program, he wants to continue working on increasing the membership of the National Black Nurses Association and offer leadership development for nurses who aspire to serve on national boards. He wants to make sure minority nurses are well-represented.
Williams earned his bachelors in nursing degree from William Carey University, and his doctor of nursing practice degree from Case Western Reserve University. His research interest was focused on levels of cultural competence among nursing students, and he's considered a pioneer in this area.
As the first male nurse to hold the position of NBNA president, he understands how wonderful of an opportunity this is, and plans to be the best leader he can be for the association and membership.
Williams, a native of New Orleans, has worked as a staff nurse and charge nurse in a variety of settings, such as medical, surgical, emergency and intensive care. He also taught in a practical nursing program. Currently, he is the assistant director/faculty leader and professor of nursing at Santa Monica College in Santa Monica, Calif. He is recognized as the school's first African-American male faculty member, where he began his appointment in 2001.
Williams has presented locally and nationally on different health related topics. He was featured in a CNN segment on health care reform, "A Nursing Professor Rejoices," and he was also featured in Minority Nurse magazine for the NBNA 40th anniversary.
"I have been fortunate to have great professional opportunities and recognitions," he said. "I am so honored to serve my profession on a national level."
---