Heroes Scholarship Expands
---
Posted on May 10, 2023
Lance Crawford
---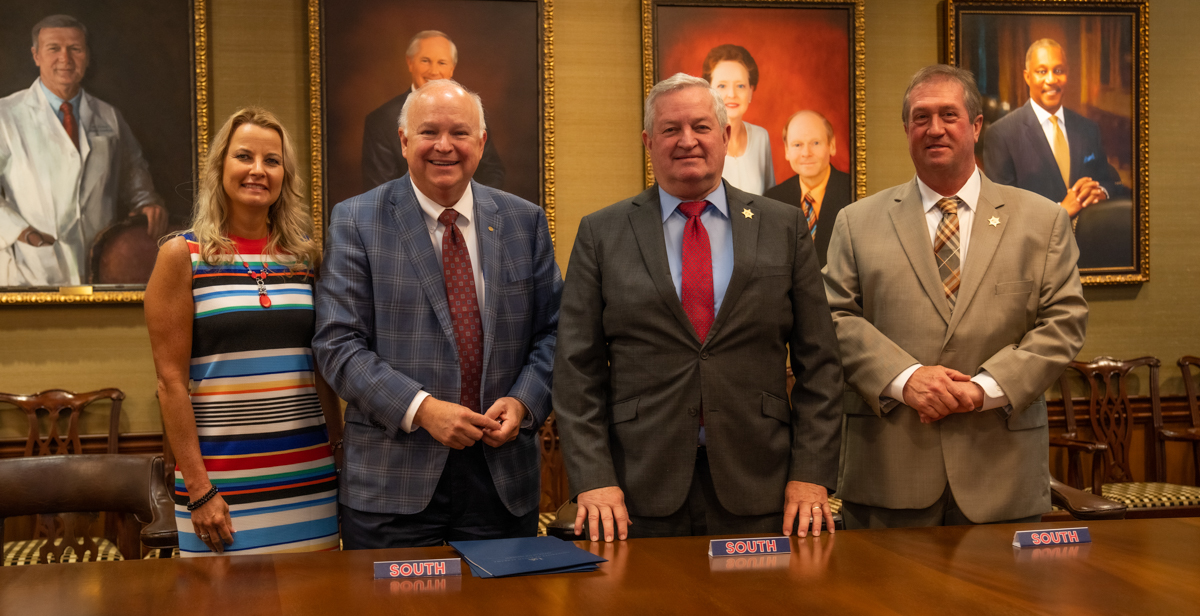 University of South Alabama Executive Vice President and Provost Dr. Andi Kent, from left, and President Jo Bonner, meet to sign an agreement with former Mobile County Sheriff Sam Cochran and Sheriff Paul Burch that will provide scholarships to Mobile County deputies and correctional officers seeking an undergraduate degree in criminal justice.
---
The University of South Alabama has entered into an agreement with the Mobile County Deputy Sheriff and Correctional Officer Foundation to provide an affordable pathway to a bachelor's degree in criminal justice. The initiative is an expansion of South's Heroes Scholarship initiated last year for active duty military personnel.
"This will help deputies and correctional officers advance in their field with a degree in criminal justice while giving them the broad intellectual and practical skills that come with a liberal arts education," said University of South Alabama President Jo Bonner. "We are grateful to be able to expand our Heroes Scholarship to help those who risk their lives in public service."
Any Mobile County deputy sheriff or correctional officer who enrolls at South as undergraduate student in the criminal justice degree program is eligible. The Mobile County Deputy Sheriff and Correctional Officer Foundation will pay up to 50 percent of the student's tuition balance after applying any federal financial aid received. The University will award a scholarship of 75 percent of the remaining balance.
"We are very excited about partnering with the University of South Alabama and look forward to offering our employees this great opportunity to earn a degree or further their education," said Sheriff Paul Burch.
Former Mobile County Sheriff Sam Cochran started the foundation while in office and views the scholarship program as a way to elevate the readiness of law enforcement. The program, he said, provides an opportunity that otherwise wouldn't be easily available.
"It has been my lifelong dream to have professional and well-educated law enforcement in Mobile," Cochran said. "I believe that an educated, physically fit force equals the best."
For more information about the Heroes Scholarship, visit Enrollment Services or call (251) 460-6494.
---