South Celebrates National Nurses Week
---
Posted on May 13, 2019
Joy Washington
---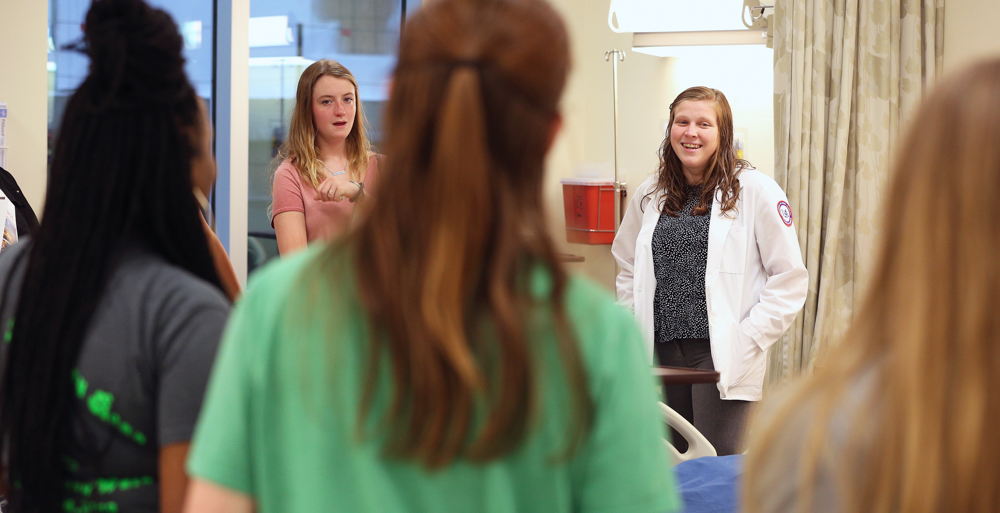 College of Nursing students welcomed visitors to an open house, a National Nurses Week event where information was provided about the college's nursing programs and curriculum.
---
In honor of National Nurses Week, the University of South Alabama recognized the critical patient care done by nurses. The theme for this year was "4 Million Reasons to Celebrate," which recognizes the four million nurses in the United States while emphasizing the care and compassion that South nursing students, faculty, alumni and nurses from across the United States give to their patients.
Each year since 1993, the American Nurses Association has observed National Nurses Week, which began May 6 and ended May 12, which is Florence Nightingale's birthday. Nightingale is the founder of modern nursing and became famous for her nursing work during the Crimean War in 1854-1856. Because of her work, nursing became a well-respected medical profession. Nurses at South and all over the country understand the importance of this observance.
"I am pleased to celebrate National Nurses Week with more than 15,000 USA College of Nursing alumni from the United States and across the world," said Dr. Heather Hall, dean and professor. "The dedication of our alumni, faculty and current students is inspiring. I thank each of you for your continued work to provide evidence-based care to patients within our communities every day."
In observance of National Nurses Week, USA's College of Nursing held an open house event on Thursday, May 9 at the Health Sciences Building.
"This was a wonderful opportunity for members of our community to learn more about the College of Nursing and the programs offered across the curriculum," Hall noted.
Administrators, faculty and staff were present to discuss the programs and application process. Also, the USA College of Nursing Alumni Board events committee planned a continuing education unit, or CEU, event on the same day, covering four units, including two pharmacy units. In addition, the committee has scheduled outreach events to hospitals within the community to provide free CEU opportunities for nurses. "The members of the committee are going directly to the hospital units to provide evidence-based information related to important topics in nursing and health care today," Hall said.
According to the American Nurses Association, nurses are the largest and most-trusted health care professionals. They protect, optimize and promote the health and well-being of their patients by helping to prevent illness and injury. Nurses also advocate, serve as role models and as educators.
---