South Takes Top Athletic Honors
---
Posted on May 16, 2018
Marketing and Communications
---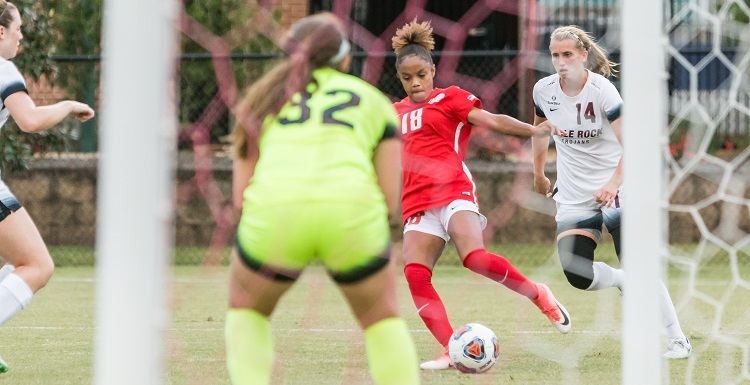 USA soccer won both the regular-season and tournament titles, contributing to South's win of the Vic Bubas Cup.
---
The University of South Alabama Jaguars have won the Sun Belt Conference's all-sports trophy, the Vic Bubas Cup, for the fourth consecutive year. It's also the 14th Bubas Cup in the program's history, a conference record.
"In a year in which the namesake of this award passed away, we should pause and recognize Commissioner Bubas and his impact on the Sun Belt Conference," said USA Director of Athletics Dr. Joel Erdmann, who received the trophy Tuesday at the conference's annual spring meetings. "The Bubas Cup highlights the collective competitive spirit of all student-athletes and programs of our twelve Sun Belt institutions. This achievement is the result of effective leadership within all aspects of the department; student-athletes, coaches, support systems and fans."
Heading into the Sun Belt baseball championship, the Jags have collected a total of 121 points with 13 of 16 sport programs placing in the top half of the league. USA soccer won both the regular-season and tournament titles — the fourth straight season the team has accomplished the feat — while men's tennis earned its first league championship since 2008. Both the women's indoor track and field and women's tennis programs placed second at their championships, with women's cross country and outdoor track and field recording third-place results as well. Jaguar women's basketball, volleyball, men's and women's golf, and men's cross country and indoor track and field were also among the top half of the conference in 2017-18.
Texas State stands second in cup rankings with 118½ points going into the final championship of the campaign, but cannot finish ahead of the Jags in the baseball regular-season standings.
For sports that have a regular season conference schedule, Vic Bubas Cup points are awarded based strictly on regular season finish, while for those sports that do not have a regular season league schedule points are awarded based on each program's finish at the league championship. Total points numbers are awarded based on the number of schools sponsoring the sport, and institutions not sponsoring a sport do not receive points in that sport. Also, institutions tying for positions split the combined points of their positions. For sports that have both a regular season schedule and a conference tournament, one additional point is awarded to the winner of the conference tournament while for sports with divisions, the conference records of all teams are ranked and points are awarded regardless of divisional finish.
---