USA to Host National Library of Medicine Exhibit
---
Posted on May 17, 2023
Joy Washington
---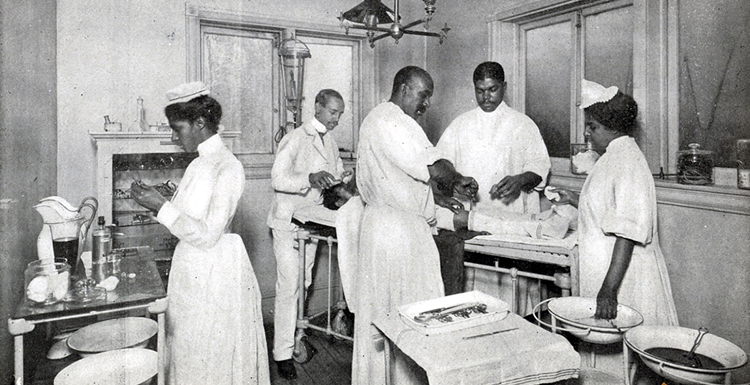 This photo showcases the operating room and medical professionals at the Frederick Douglass Hospital, founded circa 1895 as the Frederick Douglass Memorial and Training School, a black-owned and operated institution. This photo is part of the traveling exhibit at the University of South Alabama now through June 17, at the Charles M. Baugh Biomedical Center.
---
The Charles M. Baugh Biomedical Library at the University of South Alabama has been selected as the host for the National Library of Medicine exhibit, "Opening Doors: Contemporary African American Physicians," to be held through June 17. The exhibit is free and open to the public during regular library hours. However, there is a fee for those who would like to participate in the Dora Finley African American Heritage Trail tour.
The exhibition celebrates the medical and educational contributions of African American academic surgeons. The exhibit also tells the stories of pioneering African American surgeons and educators who exemplify excellence and believe in educating and mentoring younger surgeons and physicians. The goal is to educate and inspire others through this exhibit.
"We are pleased to be selected as one of the sites for this historical exhibit," said the Director of the USA Charles M. Baugh Biomedical Library Gail Kouame. "This exhibit will provide contemporary and historical images and will take visitors on a journey through the lives and achievements of the surgeons featured in this exhibit, and share their stories."
This traveling exhibit is also being co-hosted by the Mobile Medical Museum, a community partner. For more information, email Kouame at gmkouame@southalabama.edu.
---