South Alum Named Alabama Secondary Teacher of the Year
---
Posted on May 19, 2022
Lance Crawford
---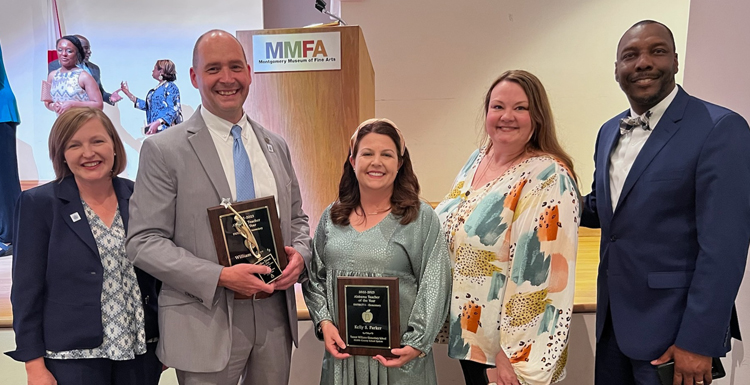 William Edmonds, second from left, who teaches French at Barton Academy has been named Alabama's Secondary Teacher of the Year and Alternate Teacher of the Year. Also pictured, from left; Dr. Amanda Jones, Barton Academy principal; Kelly Parker, Tanner Williams Elementary teacher and Top 16 finalist for Teacher of the Year; Nici Lowell, Tanner Williams Elementary principal; Chresal Threadgill, Mobile County Public School Superintendent.
---
After completing his undergraduate degree, William Edmonds had exactly zero thoughts about teaching. His focus was business, and he quickly found a job in banking – but it didn't last, and he left the industry.
"It was not a difficult decision to leave banking," Edmonds said. "I worked with great people at the bank, but it just was not for me."
He then entered education, teaching primarily at the high school level. He eventually received his master's in education from the University of South Alabama.
Edmonds spent 20 years teaching French at Davidson High School in Mobile before leaving for Barton Academy for Advanced World Studies last year. This month he was named Alabama's Secondary Teacher of the Year and came in second for overall Teacher of the Year.
"Being named Alabama's Alternate Teacher of the Year and Secondary Teacher of the Year must be the highest honor I have ever received," Edmonds said. "There are so many deserving teachers across our state who work hard to make sure students are achieving."
It's hard to imagine a more dedicated educator than Edmonds. In addition to his time at Davidson and Barton Academy, he is a National Board Certified teacher who has also taught French across the state through the Alabama State Department of Education's ACCESS Virtual Learning program as well as at the University of South Alabama and the University of Mobile.
He has served as an International Baccalaureate Examiner, grading IB exams, and as president of the Alliance Française de Mobile.
He has a passion for the French language and culture and has participated in intensive language immersion and study in Belgium and France.
"While I love teaching the French language to my students, it's the culture and customs that really makes students eyes light up," Edmonds explained. "I always say that if I can get a student hooked on the culture, they'll want to learn the language."
With all his experience as a teacher, Edmonds still believes he's also the student.
"Even after 24 years in the classroom, I am still learning and continue to be challenged to a be a better educator," he said. "There is still more to learn!"
---