First-Year Student Gets Field Training as EMT
---
Posted on May 23, 2023
Thomas Becnel
---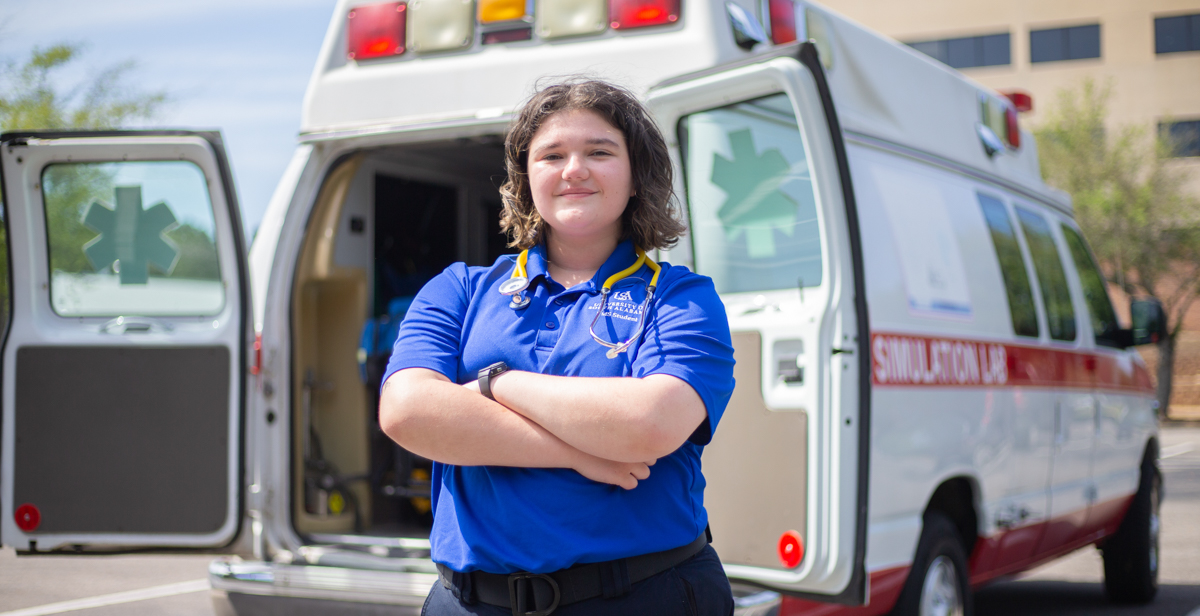 Chloé Knippers works part-time for a Mobile ambulance company. Here, she is in front of the University of South Alabama's Mobile Simulation Lab.
---
In the EMS program at the University of South Alabama, students jump right into clinical training and practical experience in responding to serious illness and critical injuries.
Chloé Knippers got her start even before she arrived on campus. When she isn't learning in the classroom or in clinicals, she's working part-time as an emergency medical technician for a Mobile ambulance company. On less urgent calls, the 19-year-old freshman has more time to talk with people and put them at ease. She reminds some patients of their daughters or granddaughters.
"This weekend, I was doing an IV and the patient asked, 'How old are you?'" she said, laughing.
"Or they'll say, 'Are you even licensed?'"
Knippers is still new to emergency medicine, but she's noticed how many people in the field have lives shaped by trauma and injury.
She's one of them.
When Knippers was 10 years old, she began suffering from severe headaches. She was diagnosed with Chiari malformation, which is caused by pressure on the spine at the base of the skull. She had brain surgery to relieve that pressure, so she could resume her education and return to things like dance team competitions.
She dreamed of becoming a pediatric neurosurgeon. Then she found out how long it takes to become a doctor. Her dad had been a volunteer firefighter, so she turned to emergency medicine.
Her family moved around when she was growing up, but she spent four years at Richland High School, south of Jackson, Mississippi. She was active in a fire academy program at the school, which gave her a head start on EMT training.
Knippers is confident in her choice of a career.
"I tell my parents, I don't want a 9-to-5 job and look at the same four walls every day," she said. "I like the uncertainty of what's going to happen. Just to be in the moment and see what comes. And it's actually practicing medicine, working with what you have, limited resources sometimes, and you're problem-solving."
Choreographing a Career
In December, after her first semester at South, Knippers earned her EMS license. She's qualified to offer basic life support. With supervision from a paramedic on a clinical shift, she's allowed to assist in advanced life support.
One Friday evening, her ambulance crew took a call about a Mobile man who had been shot and was thought to be dead.
"We got there and he was most definitely not deceased," Knippers said. "He was screaming and responsive, so we started treating him. I was able to assist with ventilations and starting IVs. We got him to the hospital and he was doing all right when we did transfer of care.
"It was my first big trauma case and I just went back to my training and relied on that. Everything we learned was right there in front of me."
At South, Knippers lives in a residence hall and works as a campus tour guide. She served on the First Year Council, where she was vice president. She likes to keep busy, but EMS is her first priority.
Dr. Jason Brooks, a senior instructor in Emergency Medical Services, has seen Knippers listen and learn during her first year. Students grow up fast in the South program. She always had the right temperament.
"Chloe has the heart to be a first responder," Brooks said. "She has the calling, she has the will to do it. You know, in the media, they make all this look like a Marvel superhero movie, but it's not that glamorous a job. It's shift work and odd hours, so you have to have that calling."
EMS students at South earn their paramedic certification on their way to a bachelor's in emergency medical services, which gives graduates opportunities to move into leadership roles in hospital and emergency management.
Many of his students at South are going to school full-time and working in the evening or on weekends. Most take advantage of the opportunity to make money and gain experience.
"As soon as they take their licensure exam," Brooks said, "there's basically a job waiting for them."
'One Bite at a Time'
On her left arm, Knippers has a tattoo of a butterfly design with a semicolon. It's a mental health symbol of suicide prevention and a will to continue. As a child, she felt bullied, and suffered from depression, but learned to cope with her anxiety.
Next to her butterfly is another tattoo of an elephant. It reminds her of the school mentor who encouraged her to be patient and trust that things will get better.
"She always told me," Knippers said, "that you can only eat an elephant one bite at a time."
In EMS, she works toward her degree in classrooms, clinics and hospitals. Her experience includes what happens when emergency care isn't successful. She's seen patients die and family members grieve.
Even routine emergencies can provide a human connection.
On a recent call, Knippers treated a young boy with asthma who was having trouble breathing. She distracted him with conversation about his Crocs shoes and comic book heroes.
"It was a really good experience," she said. "He wasn't having a great day, but at least he got to talk about some of his favorite things."
Her education continues at South, too, where she and a classmate founded an Emergency Medical Services Club. They're also traveling to New Orleans for a volunteer EMS program.
Knippers knows there are many career opportunities for paramedics with college degrees. She's interested in flight medicine and working out of a helicopter. She's curious about working in the mountains and doing specialized rescue training.
"I very much want to explore things and see the world," she said. "I'm very open to getting out or going overseas."
---