South Finds NSF Success Rooted in a 'Culture of Undergraduate Research'
---
Posted on May 24, 2016
Marketing and Communications
---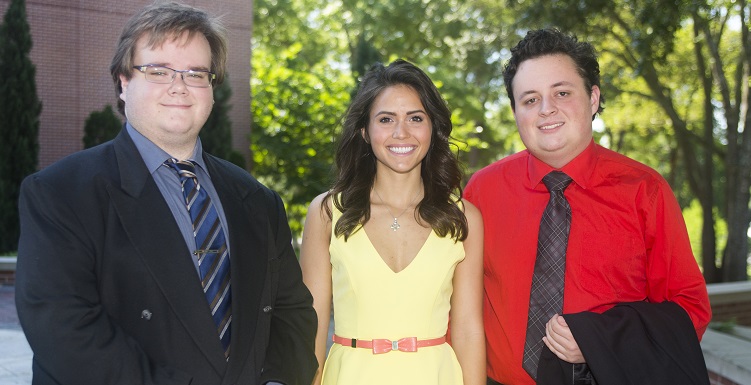 Robert "Bobby" Faulk, left, received an honorable mention this year from the National Science Foundation Graduate Research Fellowship Program. Boni Yraguen and Robert Mines both received fellowships. Each did undergraduate research at the University of South Alabama, as did fellowship awardee Patrick Poirson, not pictured.
---
The numbers speak for themselves.
With three awardees and one honorable mention among the most recent National Science Foundation Graduate Research Fellowship Program honorees hailing from the University of South Alabama, USA's Honors Program has placed itself in elite company.
"This shows that the undergraduate research done by students in our Honors Program is on par with the top research schools across the nation," said Dr. Michael Doran, a professor of computer science in USA's School of Computing and director of the USA Honors Program.
The NSF Graduate Research Fellowship Program recognizes and supports outstanding graduate students in NSF-supported science, technology, engineering and mathematics disciplines who are pursuing research-based master's and doctoral degrees at accredited U.S. institutions.
For the 2016 competition, NSF received nearly 17,000 applications, but issued only 2,000 award offers.
"This is roughly one out of eight being selected for an award. USA had seven students apply. To earn three awards out of seven applications is way above what might be expected nationwide," Doran said.
All undergraduate USA Honors Program students perform research leading to their senior theses, and most of the students are published multiple times prior to graduation.
"This experience has established a culture of undergraduate research that is now the norm in the program. Students as early as their freshman year have become fully engaged in a serious research experience. Only this approach can lead to this level of success in NSF, Goldwater, Udall and other highly prestigious national awards," Doran said.
* * *
Boni Yraguen, an Oregon native who graduated this spring with a degree in mechanical engineering, found her way to South via the Distinguished Young Women scholarship program and never looked back.
A self-described "gear head," Yraguen said her love of "cars, engines, heavy machinery, you name it" led directly to her research project.
"The summer before my junior year I got an internship at TARDEC (the Tank Automotive Research, Development, and Engineering Center) in Detroit, Mich. While I was there I learned about some of the research they were doing, and I wanted to get involved," she said, adding, "I was able to help with some fuels research dealing with the ability to run jet fuel in diesel engines. This is a problem specific to the Army because the U.S. military has a 'single fuel policy' that mandates all military vehicles run on jet fuel. We were able to acquire a lot of data and use that to provide helpful operation metrics for military abroad."
Professionally, Yraguen is hopeful her NSF fellowship will allow her to continue her combustion engine-related research while helping her achieve her long-range goal of her Ph.D. in mechanical engineering and teaching at the university level.
On a personal level, however, she said the fellowship "solidifies my belief that a serious amount of determination can get you just about anywhere."
"I knew that the NSF was a long shot, but I applied anyway because I felt that at least the experience of applying for such an award would be worthwhile. It also is a really great feeling knowing that the National Science Foundation believes so strongly in my abilities as a scientist that they are willing to fund my graduate studies for three years," Yraguen said.
"Sometimes I forget that I am a minority in my field, and then other times it is alarmingly obvious," she said, adding, "I think we must – as a society – teach young girls that math and science are subjects they should be good at and something that they should be proud of."
* * *
Patrick Poirson graduated from South in 2015 with his bachelor's degree in computer science and was an honorable mention for NSF before locking the fellowship down this year as a Ph.D. student at the University of North Carolina-Chapel Hill.
The Mobile native and longtime Mississippi Gulf Coast resident was displaced by Hurricane Katrina in 2005, but has since parlayed his research passions into an array of distinguished accolades.
At its core, Poirson's research centers around computer vision.
Classic computer vision problems, he said, include difficulty recognizing the objects in an image, facial recognition and activity recognition in short videos.
"The goal is essentially to duplicate our own human vision capabilities with a computer," Poirson said, citing well-known instances for the technology, including self-driving cars and automatic tagging on social media.
"My research specifically focuses on computer vision techniques for robotics. One key difference in vision for robotics is the ability of a robot to move. Current computer vision techniques mainly focus on single static images. However, by exploiting the robot's ability to move in order to gain more information and reduce uncertainty, we can improve object detection performance," he said, adding, "After I finish my Ph.D., I hope to pursue research in an industrial research lab. I am particularly interested in research centered at the intersection of computer vision and robotics."
Poirson said he was initially drawn to South for its Honors Program and scholarship availability.
"USA allowed me to start research early and gave me the opportunity to gain a lot of valuable research experience."
* * *
Pensacola native Robert Mines admits he tried to distance himself early in his academic career from health care research, but to no avail.
"I very quickly realized that not only is biological research as quantitatively rigorous as physical research but that biological systems exhibit a beautiful complexity that gives rise to more complex phenomena than can be observed in a physical system. In short, I was hooked," said Mines, who won a prestigious Goldwater fellowship in 2015 and graduated this spring with a degree in chemical engineering.
The focuses of Mines' projects have ranged from catalysis and synthetic medicinal chemistry to drug delivery and tissue engineering.
"Over the years, my interests have shifted from studying purely physical systems to studying purely biological systems using engineering and chemical techniques that I have acquired," he said.
The NSF Graduate Research Fellowship Program is unique, Mines said, in the sense that "you are both judged by your previous research and broader, non-academic impacts/activities along with a sample research proposal on a topic that you are interested in and at least intend to pursue."
His sample proposal made the case for a study connected to – but separate from – his prior research on hepatocyte tissue engineering to develop a screen for drugs that could potentially be used to treat fatty liver diseases and to metabolically recondition livers for transplant.
"Potential applications would include developing better multi-drug chemotherapeutic regimens so that they would not lose efficacy over time as the body builds a tolerance and studying how variation in enzyme expression impacts the risk of overdose," Mines said.
So what's next for Mines?
"Recently, I decided to go to Duke in order to obtain a Ph.D. in biomedical engineering in the lab of Dr. Xiling Shen. I will probably work on metabolically and epigenetically characterizing colon cancer cells that metastasize to the liver and developing standard protocols to create personalized chemotherapy regimens for unique cancer patients, using cancer cells derived directly from their tumors cultured in 3D organoids," he said.
* * *
Robert "Bobby" Faulk holds the distinction of being one of the few non-STEM majors to fare so well in the NSF graduate fellowship program.
Faulk, who was awarded an honorable mention, earned his bachelor's degree in psychology from South in 2015, the same year his was named Honors Thesis of the Year.
The Mobile native said as an undergraduate he worked in the Suicide Prevention Research Group headed by Dr. Phillip Smith in the department of psychology.
"My specific projects focused on the relations among symptoms of post-traumatic stress disorder and constructs of the interpersonal psychological theory of suicide in women who have been victims of interpersonal violence."
As a graduate student USA, Faulk said he and two faculty members "just presented some research on differences in student engagement between STEM and non-STEM majors, and we intend to continue that line of research going forward.
"I'm quite happy that we (members of the scientific community) are in such a place right now that we are willing to accept, encourage and respect scientific inquiry in fields that are not traditionally considered STEM and that are well outside of the 'hard' sciences," he said, adding, "Rigorous scientific research has been coming from psychologists, sociologists, philosophers and others. It's good that students in these fields are getting more opportunities. I hope we can continue to grow and flourish as a community as more fields' contributions are recognized."
Faulk said he would "relish" the opportunity to receive a full NSF Graduate Research Fellowship because it would buoy his research.
"The current climate in graduate programs around the country pressures students more and more to work in addition to everything they're doing in their research and in the classroom. This can really take away from their ability to conduct full-bodied research, making funding opportunities like that from the NSF essential for their intellectual pursuits. I'm confident in my chances of getting the NSF fellowship with my second application, and I look forward to the opportunities I might have as a result," he said.
---