Protecting the Gulf's Underwater Nurseries
---
Posted on May 31, 2019
Alice Jackson
---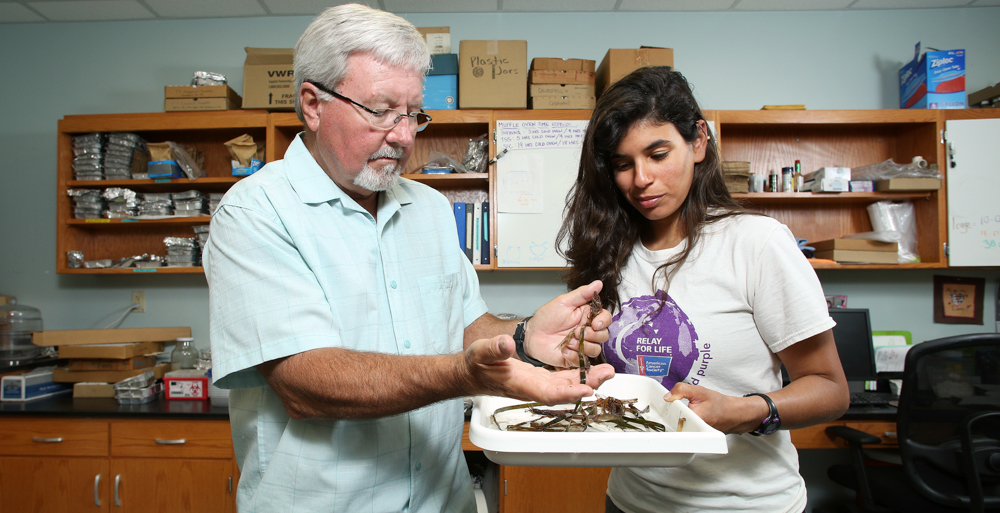 Dr. Ken Heck, professor emeritus, and Alex Rodriguez, a technician in Heck's lab and a 2018 master's graduate in marine sciences at USA, look at seagrass samples from near Port St. Joe, Fla., as part of their research to find ways for replenishing the grasses.
---
Ah, summer. The season when most people worry about cutting their grass. But, Dr. Ken Heck of the University of South Alabama is focused on ways to keep his grass growing.
The marine ecologist's grass is submerged aquatic vegetation, and it is crucial for survival of many coastal water species and the region's seafood industry. However, for the past 50 years, the grass has been diminishing, both locally and globally.
"The reason we focus on these grasses is because of the species that depend on them. The grasses really perform a lot of functions," Heck said. "More vegetation is going to mean more seafood."
The professor emeritus, whose research experience has focused on plant and animal interactions in coastal waters with an emphasis on seagrass-dominated systems, spends his days at the Dauphin Island Sea Lab where he supervises two major studies – one funded by $161,118 from the National Science Foundation and another with $781,560 of recovery money from the Deepwater Horizon oil spill. He has also received an additional $47,485 from the National Science Foundation to study factors, including Hurricane Michael, impacting grass beds around Port St. Joe, Fla.
The work includes:
Aerial mapping of grass beds in the region to determine how much submerged grass has been lost in specific areas.
Submerged grass restoration of areas along the Causeway across Mobile Bay and the upper part of Perdido Bay in Baldwin County, which separates Alabama and Florida.
Submerged grass restoration of the lower part of Perdido Bay and around Perdido Pass in higher salinity areas where much of the grass loss was caused by motorboats or anchors.
"In the lower part of Perdido Bay and around Perdido Pass a lot of the grass loss is because of propeller scars, which is a common problem in shoal grass beds," Heck explained. Fishermen frequent these beds because fish are more plentiful in the shallow water where the grasses are prolific due to adequate sunlight. "The key to these plants is sunlight. Fifteen to 20 percent of sunlight needs to get to them underwater," Heck added.
He uses an ingenious way to help the newly planted grasses grow with homemade platforms, called birdstakes, constructed with PVC pipe and blocks of wood. Birds sit on these, and their waste fertilizes the grasses.
Heck has four lab workers to assist with the research, including Alex Rodriguez, a 2018 master's graduate of South in marine sciences who has been researching seagrass with Heck for four years. She focuses on the seagrass loss around the bay near Port St. Joe, Fla., which was the basis of her master's thesis.
"We have seen much change to those grassbeds, including from sea urchins and green sea turtles that eat them," she explained.
Heck hopes to expand his research areas along the coastline, and he hopes to educate residents and visitors to the importance of the seagrass' survival.
"Conservation of the grass beds and education of the people should go a long way toward replenishing grassbeds and saving others," Heck said.
---