University of South Alabama Trustees Authorize President to Move Forward with Stadium Site Work
---
Posted on June 1, 2018
Bob Lowry
---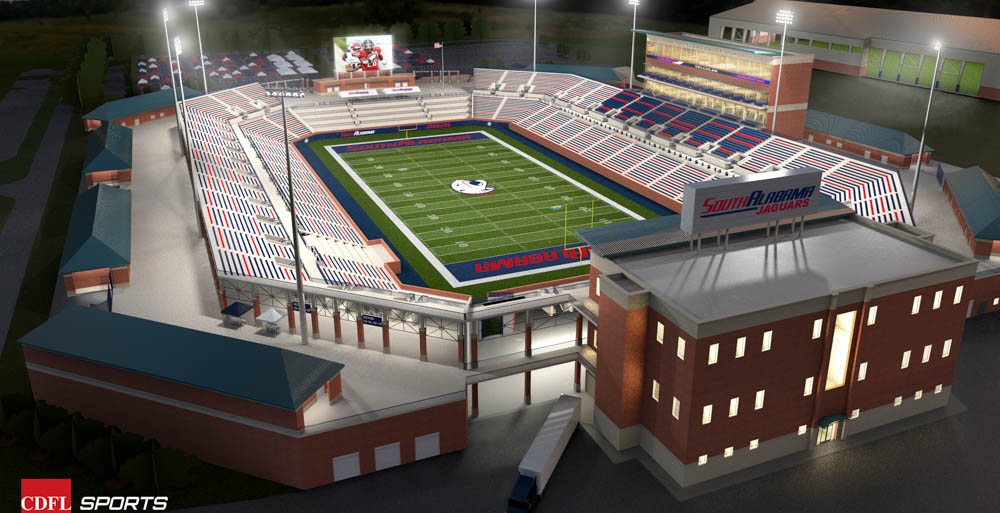 Plans for a football stadium on South's campus includes seating for 25,000 and an end zone terrace with drink rails and possibly bistro-style tables.
---
The University of South Alabama Board of Trustees today approved a resolution that authorizes President Tony Waldrop to execute the necessary agreements to begin site work for construction of an on-campus football stadium. The resolution was developed in the event that funding for the stadium is secured before the next board meeting.
"We believe this will be a win for USA and a win for the community," Waldrop said. "Beyond the benefits to the football program, it will further enhance student life here at South, and it will also have an economic impact on the community."
The resolution states that in order for a stadium to be ready for the 2020 football season, site work must begin no later than July 2018. The location for the site is at the intramural fields, which are being relocated. The stadium costs will not be funded by tuition or student fees, nor any funding from state appropriations for academic purposes.
"This is a tremendously exciting time for us. In terms of facilities it is a great time to be a South Alabama Jaguar," said Steve Campbell, USA's football coach, who noted that the program's covered practice facility will be opening next month.
As currently envisioned, the stadium would have a seating capacity for approximately 25,000 spectators, at an estimated total cost of approximately $72 million.
The University has committed that the funding for the stadium, and resulting debt service on bonded indebtedness incurred to construct the stadium, will come from a combination of the athletic department, auxiliary enterprises and public/private funding.
"A lot of hard work by a lot of people has gone into this project," said Dr. Joel Erdmann, USA's director of athletics. "It's exciting from the standpoint that this says we are in the game for real, and we're making tremendous steps to get to where we want to be."
---