Pilot Nurses a Dream
---
Posted on June 1, 2021
Thomas Becnel
---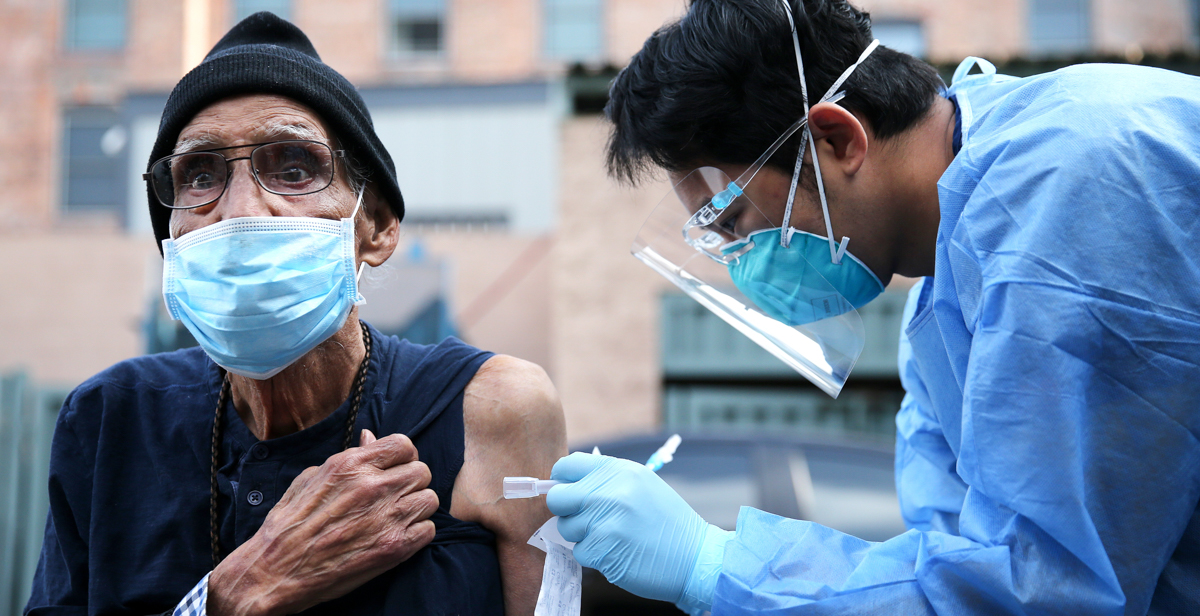 Angelo Bautista, a 2009 graduate of the University of South Alabama College of Nursing, gives a COVID-19 vaccine earlier this year in the Skid Row community of Los Angles. Skid Row is home to thousands of people who either live on the streets or in shelters for the homeless. Photo by Mario Tama/Getty Images.
---
Angelo Bautista always wanted to become a pilot, even as a little boy growing up in the Philippines, but he studied nursing at the University of South Alabama.
"It was my dad's idea," he said. "He said you're going to need a bachelor's degree anyway, so why not get something as a backup?"
Bautista graduated in 2009 and worked at a Mobile hospital before going to flight school. He went on to become a flight instructor and pilot for regional carriers and then a major airline. At the beginning of his career, he did nursing jobs for extra money.
After being grounded by the coronavirus pandemic, Bautista returned to his backup.
"With my personality, I couldn't sit around all day doing nothing," he said. "I was in Los Angeles, so I applied with L.A. County and worked with the Housing for Health initiative on Skid Row, this huge homeless encampment. It was kind of scary at first. There were a lot of drugs, people shooting up on the street, and bodily fluids everywhere."
Bautista began caring for homeless people in the downtown neighborhood. He did COVID testing and later administered vaccines. His attitude changed.
"So many of the homeless people I worked with were really grateful we were there," he said. "I was telling my friends that these were some of the most appreciative patients I'd ever worked with. It was a really pleasant experience. That why I'm going back later this year."
Bautista, 33, started out as a first officer and captain with regional companies such as Compass Airlines and Great Lakes Airlines. Now he's based in Atlanta as a first officer for a national airline.
Bautista serves on the board of directors for the Professional Asian Pilots Association. Only 2 percent of commercial airline pilots are Asians. He'd like to see more.
"Being a pilot is not one of the most common things for us," he said. "I want Asian-Americans to know there are other careers."
Harley Pasiderio, president of the Asian Pilots Association, met Bautista through a small airline. Both of their families are from the Philippines.
"He's an interesting guy," Pasiderio said. "When I met him, I only knew him as a pilot. I didn't realize he had this whole other career in nursing. He's a hard worker and he brings a different perspective to things with our association."
Lea Agato, a member of the small Filipino community in Mobile, works at a credit union. She knows Angelo and his father, Celso Bautista, who works as an Airbus inspector.
"When I moved here, his family became my family," Agato said. "Angelo was always the boy next door. He knows everybody. When he became a pilot, some young Filipinos started following in his footsteps. He tries to mentor people.
"Nobody thought he would go back to nursing. Who knew that this would be his fallback during the pandemic?"
It's been more than a decade since Bautista graduated from South. In the College of Nursing, he's known through his younger brother, Winard Bautista, a nursing student who died in a traffic accident in 2015.
"I remember him coming back for the memorial," said Dr. Theresa Wright, an associate professor of adult health nursing. "He talked about the Florence Nightengale lamp his brother had gotten as a nursing student, and how much it meant to him, and how he'd light it every night."
Angelo Bautista grew up in Manila, where his father worked in the aircraft industry. They made trips to Ninoy Aquino International Airport. It left an impression.
"I'd see all the people and families hugging in the arrival area," he said. "I remember thinking it'd be so cool to be the person who delivered people to their families."
When he was 14 years old, his family moved to Mobile.
"Definite culture shock," he said, laughing. "I had studied English since I was in nursery school, but this was Southern English. It took some time."
Bautista learned to love po-boys and boiled crawfish. His favorite seafood place is at a gas station on Cottage Hill Road.
After high school, he studied nursing at South. After graduation, he worked in Dothan, Alabama, before returning to do 12-hour shifts in the intensive care unit of a Mobile hospital.
"It was intense," he said. "You were given dying people and it was your job to keep them alive. I could see myself burning out."
Flying for commercial airlines hasn't burned out Bautista. Not at all. Becoming a pilot turned out to be everything he dreamed it would be.
"Financially, it was hard at first, but that didn't seem to matter," he said. "Imagine being paid to do your hobby, being able to travel, being able to meet people. I love the dynamic. It's not a 9-to-5 job. Everything is so variable, with the weather and the delays and the people. And when I'm not working, I'm traveling."
He and his girlfriend, a flight attendant from the Philippines, have met in cities all over the world. They enjoy food and travel together. They're professionals who know to pack light and relax on a trip.
"Flying is scary for some people," Bautista said. "I sleep like a baby in the back of the plane."
---