5 Takeaways Following America's Exit from the Paris Agreement
---
Posted on June 2, 2017
Alice Jackson
---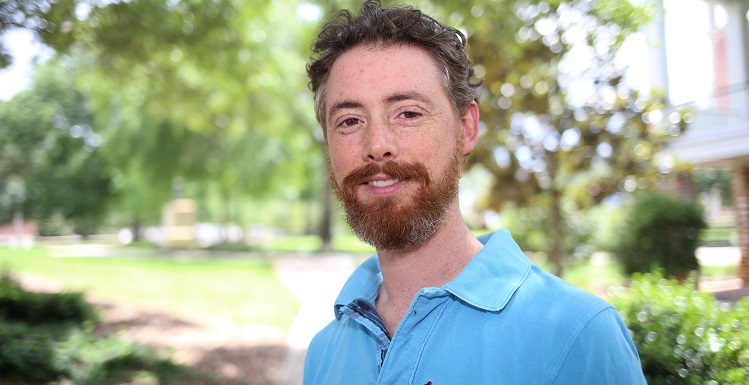 "There has been a worrying backlash and mistrust against science and scientists in the last decade. Nowhere is this more evident than in the public discourse about climate change," said Dr. Scott Glaberman, assistant professor of biology.
---
The U.S. has just withdrawn from the 2015 Paris Agreement to tackle climate change. As the second biggest contributor to global carbon emissions (about 15 percent), Americans and non-Americans alike are scrambling to figure out what this will mean for the many scientific, political, economic and environmental issues surrounding climate change.
Dr. Scott Glaberman, assistant professor of biology, sums up the state of the science on climate change and the implications of the decision to withdraw:
1. What do we know about climate change?
Ninety-seven percent of climate scientists agree that human-caused climate change is occurring due to a build-up of carbon dioxide released into our atmosphere, and that the average global temperature has increased by about 1.4°F over the last 100 years. This is supported by hundreds of studies conducted over the last several decades. There is also evidence of sea level rise, record losses of arctic sea ice, acidification of our oceans, and increases in extreme weather events such as droughts and floods. It is challenging for scientists to communicate the implications of climate change to the public because of the sheer complexity of the earth's physical and biological systems.
2. What did the world agree to in Paris?
One-hundred and ninety-five participating governments agreed to keep the global average increase in temperature well below 2°C (3.6°F) above pre-industrial levels – note that we are already more than halfway there – in order to lower the risk of severe and potentially irreversible climate change impacts. For developing nations, this involves clear plans to cap carbon dioxide output within the next few decades. For industrialized countries like the U.S., this means ambitious plans to curb carbon dioxide emissions, as well as to provide financial support to developing nations for renewable energy technology and infrastructure.
3. Does a U.S. pullout from Paris mean the end of efforts to tackle climate change?
As the world's biggest carbon dioxide polluter, China is making strides to cap its emissions by 2030 and seems on target to reach this goal ahead of time. But as the world's second largest emitter of carbon dioxide and a major financial and technological contributor to the global fight against climate change, the U.S. withdrawal from Paris may make it impossible to stay within the 2°C target. However, American and global business leaders support action on climate change and many cleaner renewable energy technologies are becoming more competitive. Moreover, the major recent market shift in the U.S. from coal to natural gas is already helping carbon dioxide emissions fall regardless of policy.
4. What would a failure to address climate change mean for our health and our environment?
The potential impacts of climate change to life on our planet are too numerous to count. Accelerated sea level rise will contaminate drinking water with salt and increase coastal flooding. Wildfires will burn more intensely and over larger areas due to higher temperatures and earlier snowmelt. Certain air pollutants will increase, exacerbating respiratory or heart problems. And the balance of Earth's many ecosystems, in which organisms depend on each other, will be destabilized as species migrate, go extinct, alter behavior, or invade new areas to adjust to the changing climate. Some of these impacts can be avoided as we adapt to these changing conditions, but others may be unavoidable. The true consequences are still too difficult to predict, which leads to the obvious question: Why should we take a chance?
5. What about criticisms that cast doubt on climate change and its cause?
Think critically, but don't ignore scientific consensus. There has been a worrying backlash and mistrust against science and scientists in the last decade. Nowhere is this more evident than in the public discourse about climate change. Part of this could be because scientists are trained to be problem solvers and not necessarily good public communicators. Yet a bigger reason is that scientists are hesitant to state anything as absolute fact because they are continually refining their questions and seeking new information. This curiosity is often misinterpreted as a lack of confidence in their results but it is actually their greatest strength. So when public figures suggest that scientists disagree that climate change is real and human-made, just know that 97 percent support is far better than you could get scientists to agree on just about any subject. Moreover, these conclusions are based on the same scientific method that gave us antibiotics, the discovery of DNA, and virtually every other advancement in the last several hundred years.
Dr. Scott Glaberman is an advisory board member of USA's Environmental Toxicology graduate program. Before coming to South in 2015, he was a biologist at the U.S. Environmental Protection Agency working on the science policy of water quality and pesticides, and he spent two years as an American Association for the Advancement of Science Policy Fellow in Washington, D.C.
---