Swaggerty Selected in First Round of MLB Draft by Pirates
---
Posted on June 5, 2018
Marketing and Communications
---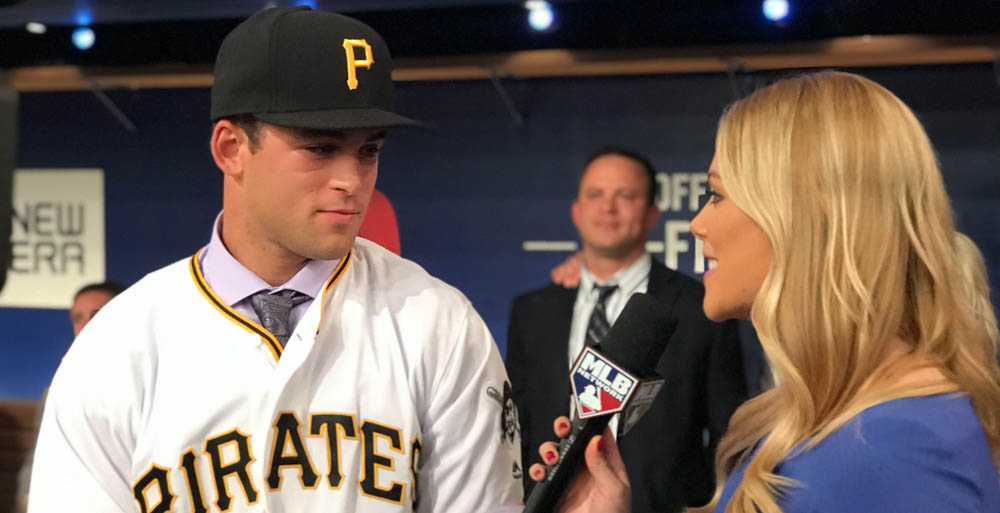 South's Travis Swaggerty was picked 10th in the first round of Major League Baseball's draft. Asked after his selection what gave him the most "swag," he responded: "Doing everything for my team."
---
University of South Alabama junior outfielder Travis Swaggerty was selected in the first round (10th overall pick) of the 2018 Major League Baseball First-Year Player Draft Monday by the Pittsburgh Pirates.
Swaggerty is the fifth Jaguar to be selected in the first round of the draft, joining Glenn Borgmann (Minnesota Twins, 1971), Alex Pastore (Cleveland Indians, 1973), St. Louis Cardinals, 1974), Pat Putnam (Texas Rangers, 1975) and Mike Zimmerman (Pittsburgh Pirates, 1990). His selection by the Pirates at No. 10 in the first round is the second-highest a Jag has been taken in the draft behind Borgmann. Swaggerty is the 123rd South Alabama player to be drafted by Major League Baseball.
"Such a blessing, and I told myself I wouldn't' cry, but I did," Swaggerty said in New York after his selection. "Having the best support system around, it's huge for me."
Five of Swaggerty's teammates were also chosen in the MLB draft, which concluded Wednesday. Jaguar third baseman Brendan Donovan was selected in the seventh round by the St. Louis Cardinals, outfielder Dylan Hardy was the 13th round pick of the Boston Red Sox, pitcher Zach Greene was the 15th round choice of the Miami Marlins, pitcher Tyler Carr was chosen by the Philadelphia Phillies in the 31st round and shortstop Drew LaBounty was the 40th round selection by the Toronto Blue Jays. LaBounty's selection was in the final round; he suffered a career-ending eye injury earlier this year.
Swaggerty finished his junior campaign at USA ranked second in the Sun Belt Conference in walks (54), fifth in on-base percentage (.455), tied for fifth in home runs (13), tied for eighth in runs scored (57) and 10th in slugging percentage (.526). He batted .296 with 10 doubles, 13 home runs, 38 RBIs, 57 runs scored and nine stolen bases in 57 games played this season.
The Mandeville, La., native ranks fourth in career walks (145) at South Alabama, tied for 10th in hits (207) and home runs (28), tied for 13th in RBIs (125) and 15th in career at-bats (650). His 54 walks in 2018 ranks tied for seventh on the Jaguar single-season record list.
Swaggerty is a two-time first-team all-SBC selection, earned second-team All-America honors from the American Baseball Coaches Association and ABCA first-team all-South Central Region in 2017, and was a Louisville Slugger Freshman All-American by Collegiate Baseball in 2016 in addition to being voted to the 2016 NCAA Tallahassee (Fla.) Regional All-Tournament team.
Major League Baseball writer Adam Berry reported that "Swaggerty could project to be a 20-homer, 20-steal threat with his power and athleticism. He should stick in center field, but his strong arm would allow him to move to right field as well."
Swaggerty's became Pittsburgh's first top-10 MLB Draft pick in five years.
"Travis Swaggerty is one of the best hitters in the draft and we are pleased to add such a multi-dimensional player to our organization," Pirates general manager Neal Huntington said in a statement. "Travis is a gritty, driven, well-rounded athlete who can impact a game with his bat, his speed and his glove."
Following his selection, Swaggerty was asked what gave him the most "swag."
"Just going hard every day. Playing the game the right way," he said. "Doing everything for my team."
---