Student engineers' senior design project develops irrigation system for African village.
---
Posted on June 6, 2016
Bob Lowry
---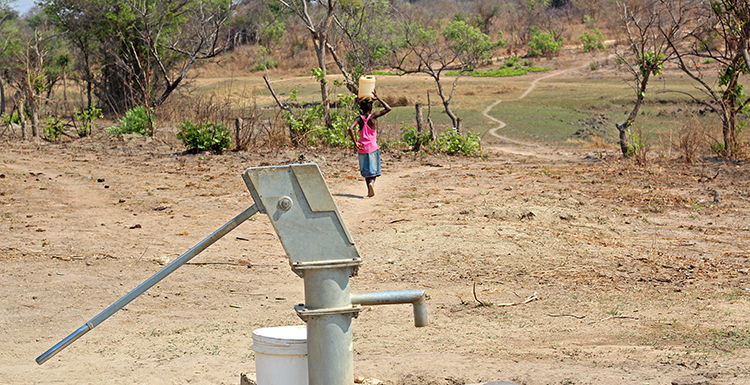 USA engineering students designed an irrigation system using existing technology such as the water pump in the foreground to help grow sustainable crops in rural Zambia, replacing the more traditional watering method as seen in the background.
---
"The senior design project is the final stone to leap toward, as we cross this raging river we call college."
That colorful assessment from recently graduated civil engineering senior Greg Lorino of Mobile summarizes the College of Engineering's Senior Design Symposium, an annual, one-day event held at the end of the spring semester in the Student Center, where student teams of engineering seniors presented their senior design projects to classmates, faculty, staff, and even industry leaders.
Lorino's senior design team, known as Team Zambia, included Michael Chambers of D'Iberville, Miss., Cris Janes of Mobile and Neal Mock of Boynton Beach, Fla. And while some projects were largely conceptual, Team Zambia was decidedly different. "Our senior design team faced a real problem, involving real lives, with the potential to bring real change to those people's lives," said Lorino, who was the team leader and spokesman.
The problem? Developing a reliable, cost-effective irrigation system for rural Zambia, a poor, landlocked country located in southern Africa and prone to extended droughts. "We were all eager to utilize our skills to make a better tomorrow for someone we may never meet," Lorino said.
Equally eager to utilize their skills were Jacob Eubanks and Bill Ralph. Eubanks is a USA alumnus and founder/CEO of Water282, a non-profit organization working to providing remote Zambian villages with clean, safe water. Eubanks connected with Ralph, a senior engineer at Hargrove Engineers and Constructors, and then Ralph contacted Dr. Kevin White, chair of civil, coastal and environmental engineering at USA.
"While in Senior Design 1, Dr. White mentioned the project may come available in the following semester," Lorino said. "My team gladly accepted the challenge."
And what a challenge it was. The Zambians currently plant corn and soybeans, and hope to simply keep the crop alive. With a three-month flood season followed by a nine-month drought, farmers face long odds of harvesting a crop and keeping their communities intact. Lorino said planting occurs toward the end of the flood season and relies on a mid-drought rain to sustain the crop to fruition. These life-sustaining rains are forecast to become increasingly unpredictable in the future.
"For the project, we sought not only to sustain these crops, but to increase crop yields to help these villages out of poverty," Lorino said. "Our team had one seemingly simple objective; to improve these people's lives by designing an affordable irrigation system. But in doing so, we had to overcome cultural differences, an undereducated operator and a strained supply of resources."
The irrigation system was developed by Team Zambia for simplicity and ease of operation for the villagers, while providing results at the lowest possible cost. Using computer software, the irrigation system was simulated to ensure the demands of the system were met. This included simulating various pumps and materials, and displaying pertinent information that occurs throughout the design.
Ultimately, Team Zambia designed a sprinkler system with a diesel-powered generator to run pumps that can water more than 15 acres a day. The irrigation system would use a submersible pump with a four-inch diameter well to draw water from 62 feet down and deposit it into a 43,000 gallon, man-made reservoir. An electric centrifugal pump would then supply water to a high-performance sprinkler capable of watering a 300-foot, circular field layout. "The design is capable of ensuring the village's seasonal maize (corn) crop, with the possibility of an additional growing season," Lorino said, adding that their projected total cost of the system was $53,000.
All products used by the students in the simulation are found in Lusaka, which is Zambia's capital city, to better help with logistics and ensure a smooth implementation once Water282'sfunding goal is met and the project's construction can begin. Needless to say, the lessons learned by Team Zambia were priceless.
"Our team learned a multitude of lessons throughout the process, such as never overcomplicate the project, remain flexible to analyze all possible alternatives with no bias, and use every strength of the team to provide the best, possible alternative," Lorino said. "As the team goes our separate ways after graduation, we know we will continually tap into the lessons learned not only throughout this project, but during our time at South Alabama."
Bill Ralph, the Hargrove engineer with whom the students consulted, indicated that the lessons learned went in both directions.
"I see it more as a two-way street; the students bringing creative minds to the table unfettered by traditional approaches to solving engineering problems, and the professional engineer bringing years of practical application experience," he said.
"In the case study of irrigation systems which are sustainable by remote villagers in sub-Sahara Africa, the centuries have eluded a solution which is truly sustainable until (now) at the University of South Alabama," Ralph continued. "The synthesis of new ideas from USA students and traditional solutions from 'the world of engineering' yielded a product which has eternal value to a population which has been passed over by technology."
Eubanks, the South alumnus who will work to raise funds that will make the project a reality, says it's already been a success. "Many lives will be changed because a group of guys from USA had a heart to improve lives and took the initiative to help people."

"Team Zambia" senior design team members, from left, are Neal Mock of Boynton Beach, Fla., Cris Janes of Mobile, Michael Chambers of D'Iberville, Miss., and Greg Lorino of Mobile.
---