All-Sports Trophy Comes South Again
---
Posted on June 9, 2017
Marketing and Communications
---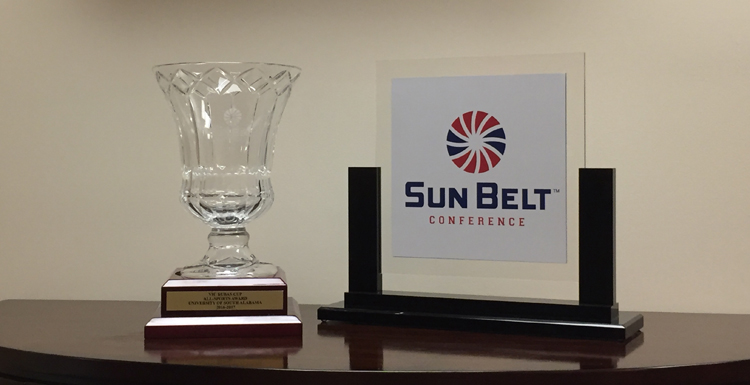 For the third consecutive year, the Sun Belt Conference's all-sports trophy, known as the Vic Bubas Cup, has been awarded to the University of South Alabama athletic program.
---
When the University of South Alabama baseball team recently won the Sun Belt Conference tournament, it also gave South the league's Vic Bubas Cup presented to the school with the top all-around athletic program.
The Jags earned an extra point in the standings for the award for winning the baseball tournament championship, and with 119 points edged out Texas State by a half point while finishing two ahead of Texas-Arlington.
It's the third straight season USA has won the trophy, and the first time the school has accomplished the feat since claiming three in a row from 1992-94.
In addition to baseball, which was runner-up in the regular-season standings, South's soccer program won both regular-season and tournament Sun Belt titles. Ten other Jag teams were among the top half of the standings in their sport including men's and women's cross country, volleyball, women's indoor track and field, men's and women's tennis, men's golf, softball, and men's and women's outdoor track and field.
"We are humbled, proud and honored to have earned the Vic Bubas Cup. The elevated competitive level among our Sun Belt Conference member institutions is what makes this so rewarding," said Director of Athletics Dr. Joel Erdmann. "This does not happen without the good, hard work and support of student-athletes, coaches, support staff, the University community and all members of the Jaguar Nation. Having a well-balanced, competitive department with equal expectations of excellence for every program is something we strive for daily."
For more information about South Alabama athletics, check back with www.usajaguars.com, and follow the Jaguars at www.twitter.com/WeAreSouth_JAGS. Season tickets for all Jaguar athletic events can be purchased by calling (251) 461-1USA (1872).
Join the Jaguar Athletic Fund (JAF) Priority Fund, the unrestricted giving option of the University of South Alabama Athletics. Contributions to the Priority Fund directly support all 17 sports in addition to various support programming. For more information on how you can join visit: http://jaguarathleticfund.com/priorityfund.
---