USA Vanguard Editor Advances to National SPJ Journalist Competition
---
Posted on June 10, 2016
Joy Washington
---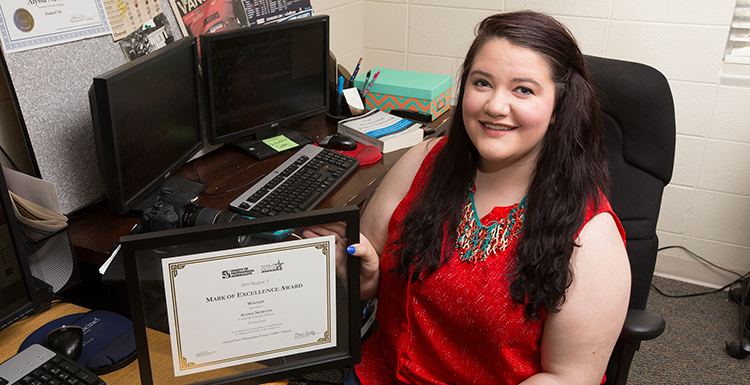 Alyssa Newton, who served as editor-in-chief during the 2015-2016 academic year proudly shows off her award as first place winner of the Mark of Excellence Awards presented by the Society of Professional Journalists.
---
Alyssa Newton, who served as editor-in-chief of the Vanguard during the 2015-2016 academic year won first place for both news and sports photography categories at the Society of Professional Journalists, SPJ, and Mark of Excellence Awards ceremony held recently.
The Vanguard staff also placed as one of three finalists in the in-depth reporting category for their South Alabama Parking Series.
"We focus on writing and telling compelling stories that make a difference" Newton said. "Our motto is if it matters to you, it matters to us."
Newton is proud to have placed as the regional winner in a category that includes universities from Alabama, Florida, Georgia and South Carolina. She will advance to the SPJ nationals. The winners will be recognized at the Excellence in Journalism 2016 Conference to be held Sept. 18-20 in New Orleans.
Newton's passion for photography led her to love journalism. The images she won the award for were associated with her covering USA Jaguar football and the aftermath of the legalization of same-sex marriage, which garnered state and national news.
"I started enjoying photography when I was in high school," Newton expressed. "My experience at South Alabama has made me into the journalist I am today. I am ecstatic to represent South at the upcoming national journalism conference."
Newton, a senior majoring in communication is from Dothan, Ala. Following graduation, she plans to pursue a career in broadcast journalism. She won an award in layout and design at the Southeastern Journalism Conference in 2015 and best in news writing in 2016. Newton was the recipient of the John M. Wills Journalism Scholarship for 2014-2015.
"The awards won by the students and the Vanguard are important for a couple of reasons," explained Dr. James Aucoin, communications chair. "One, it rewards students for their good work. And, two, it reflects the high quality journalism the students at South do in class and for the newspaper."
Each year, SPJ presents the Mark of Excellence Awards, honoring the best in student journalism. SPJ is the nation's oldest and largest journalism organization.
---