USA Students Go Global
---
Posted on June 14, 2017
Joy Washington
---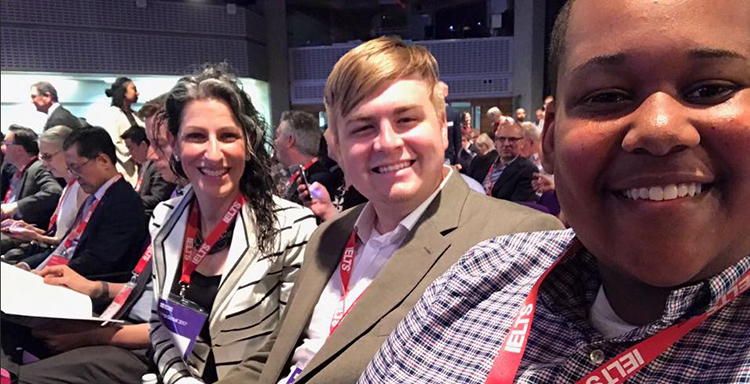 A delegation of USA Student Government officers gather in a session of the international Going Global conference in London. From left accompanying the students is Associate Dean and Title IX Coordinator Dr. Krista Harrell. Seated next are Josh Crownover, the SGA's immediate past president, and Shaun Holloway, SGA's chief of staff.
---
University of South Alabama students Josh Crownover and Shaun Holloway, representing the University of South Alabama's student government association, took the first steps this summer in building a long-term relationship with students in the United Kingdom.
Crownover, the SGA's immediate past president, and Holloway, the SGA's chief of staff, were joined by Associate Dean of Students and Title IX Coordinator Dr. Krista Harrell, for the Going Global conference in London. The theme of the conference was "Global Cities: Connecting Talent, Driving Change." They served as delegates for South Alabama, as they attended sessions with higher education scholars and leaders from around the world.
"The conference was extremely educational and perspective-broadening," Crownover said. "It brought together some of the brightest minds in higher education to one place to discuss and debate how we move forward into an era of hyperglobalization."
Following the conference, the trio traveled to Edinburgh, Scotland to meet with students at the University of Stirling and Forth Valley College as they learned more about the student experience and university system within Scotland.
The trip marks the beginning of a new partnership between South Alabama, Lehigh University and Stirling University, called the Global Student Leader Network. It provides an opportunity for the three universities to establish strong international relationships and grow to reach other institutions around the world.
"This was a great opportunity for us to gain international perspective on issues, trends and best practices in higher education student engagement with the new Global Connection Partnership," Holloway said. "It was great to visit with other students in another part of the world and be inspired by their experiences."
According to Harrell, the idea of this trip started about one year ago with the intent to bring together the student government representatives of South Alabama, Stirling and Lehigh University. They started building a relationship monthly via WebEx meetings.
"Each university partner gained knowledge and context for the processes and approaches," Harrell explained. "We shared concerns, challenges and successes from each campus along with new initiatives and resources. We also shared ideas/solutions and developed an international collaboration."
Harrell and the South students experienced new cultures and an understanding of national issues, customs and global togetherness during their travels in the U.K.
"I learned a lot about how a city's experience, culture and atmosphere can have a big impact on how successful a higher education institution can be," Holloway said. "Connecting USA and Stirling will show that it is possible for universities to have sister institutions in other countries. It would be amazing to see more schools involved in this trend."
"It was an incredible opportunity to learn and be inspired to continue to build our global networks and partnerships." Harrell said. "We are working to develop a sister union agreement between the University of South Alabama and the University of Stirling. Our intent is to work to develop this into a course supported by study abroad in order to bring back a small group of student leaders to visit and tour throughout Scotland in the near future."
---