Engineering Chair Leads Study on Black Belt Wastewater Management
---
Posted on June 14, 2018
Marketing and Communications
---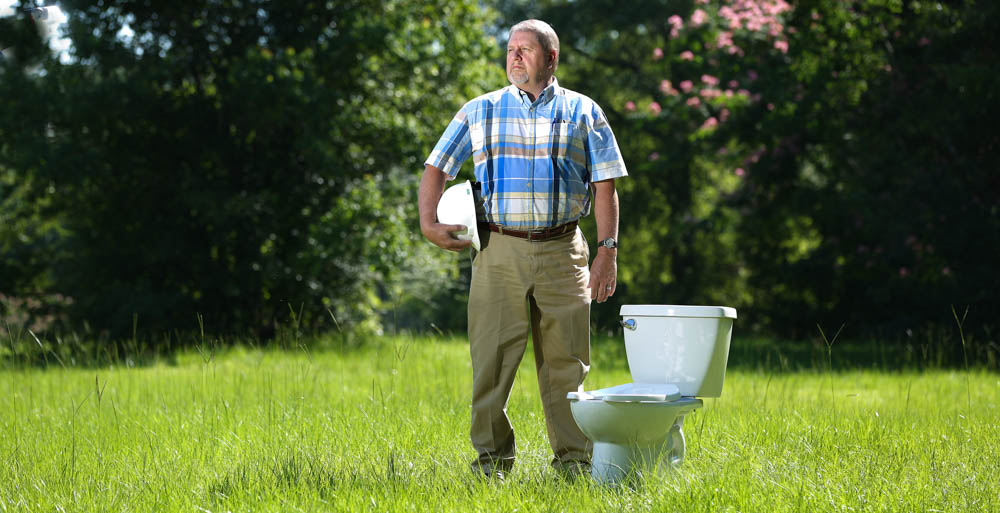 Dr. Kevin White, chair of USA's department of civil, coastal and environmental engineering, recently co-authored a summary paper that begins to map a path forward to improving wastewater management in Alabama's Black Belt.
---
Dr. Kevin White still remembers the surprise he felt when results of a field-study he led revealed that 50 percent of rural households in Bibb County, Ala., had raw sewage pooling on the ground surface. That study was more than a decade ago, and after visiting nearby Lowndes County, where he had been invited due to similar problems in the state's Black Belt region.
Although it was no surprise that Bibb County had failing onsite systems, 50 percent was unexpectedly high.
"It really kind of took that initial study to make us realize the magnitude of the problem," White said. "'Holy cow. It's not just one house here and there. It's all over.'"
Today, as chair of the University of South Alabama's department of civil, coastal and environmental engineering and with years studying poor wastewater management in Alabama's rural Black Belt counties, White said the issue is getting attention across the state and nationally. He's hopeful a summary paper he recently co-authored can map a path forward.
Fixing the wastewater problem would mean giving firmer footing to some of Alabama's poorest areas, where a general lack of wastewater infrastructure — including both municipal sewer and functional onsite systems — is among the maladies stunting development and economic prosperity.
The summary paper, co-authored by Dr. Mark Elliott, an assistant professor in the University of Alabama's department of civil, construction and environmental engineering, explains that the Black Belt's namesake dark, clay soil provides poor support for traditional onsite wastewater systems, including both septic tanks and drain fields. Because the soil cannot adequately infiltrate wastewater into the ground and purify it, raw wastewater has no place to go but the ground surface.
Alabama's Black Belt historically includes 17 counties that stretch from southwest of Tuscaloosa across the state to the Georgia line southeast of Auburn.
Bibb County lies just on the north edge of the Black Belt, and it was results from that initial study, White said, that pushed him to seek support from the Alabama Department of Public Health and the U.S. Environmental Protection Agency to find solutions to the region's lack of adequate wastewater management.
White and Elliott are finishing a second field-study that focused on two Black Belt counties, Wilcox and Hale, that is showing similar results to the Bibb County study — nearly 50 percent onsite wastewater system failure.
The plan laid out in White and Elliott's summary paper proposes starting in a single county to identify municipal wastewater systems that can be improved and expanded, then addressing homes where traditional onsite wastewater systems are not possible. Implementation practices would be documented and then replicated across the rest of the Black Belt.
Consider, for instance, a county with 10,000 residents. White said one or two small towns within that county might be served by an existing sewer system serving between 1,000 and 1,500 residents. A prioritized set of sewer upgrades identified by a comprehensive needs assessment might include the extension of sewer lines another mile or two out of town in all directions and possibly add smaller treatment systems to serve additional customers.
"It's only a hypothetical example, but you see how with only a few calculated steps you could significantly increase the percentage of a county's residents who are served by a managed sewer system. We certainly could reduce the overall problem by going about it that way, and then turning our attention to the homes with subpar or failing onsite systems," White said.
"You see how with only a few calculated steps you could significantly increase the percentage of a county's residents who are served by a managed sewer system."
To adequately address infrastructure and on-site wastewater management needs, White said, stakeholders will need to secure funding and push for regulatory flexibility.
One solution for on-site failures would be to test alternative methods such as the separation of a household's black and gray water, meaning separating toilet water from everything else discharged from the home.
Because toilets typically account for only about 50 gallons of black water per day, various treatment and disposal options would be smaller in size and less expensive to implement.
Such a method would take testing and research: How to treat the black water, and what to do with the grey water, all while "maximizing performance and minimizing costs," White said.
To pay for building out the plan, White said, Black Belt leaders could search the availability of federal and even private funding sources. Approaching large industry – such as oil or paper companies – could help rural homeowners subsidize costs that currently can exceed $10,000 to implement onsite wastewater systems.
"This would be a slow, steady process, but over a period of years we could address a large portion of county sanitation issues."
There is reason to be optimistic about solving rural sanitation issues, White said, noting the interest of state and federal officials, along with academics and advocacy groups.
A United Nations official touring the Black Belt in December remarked specifically about the lack of wastewater management there.
"Lowndes County in rural #Alabama I saw homes that are not connected to public sewage systems, whose owners can't afford to install septic tanks. Many resort to digging ditches & straight piping waste water to within meters of homes, posing serious health risks. #USApoverty," wrote Philip Alston, the UN's special rapporteur on extreme poverty and human rights.
Just last month, Congresswoman Terri Sewell, D-Ala., led the introduction of the Rural Septic Tank Access Act to address the "widespread failure of wastewater infrastructure in rural America by providing grants for the construction and repair of decentralized wastewater systems in underserved communities."
Meanwhile, Sens. Doug Jones, D-Ala.; Shelley Moore Capito, R-W.Va.; and Cory Booker, D-N.J., introduced a companion bill in the Senate the month prior.
"I believe that the unaffordability of proper wastewater systems in rural America is one of the most overlooked environmental injustices of our time," Sewell said following her bill's introduction.
For public health and economic development in the Black Belt, White said, ignoring the problem would be costly.
"There is no doubt in my mind that if we improve the wastewater infrastructure in these counties it will improve economic development conditions," he said. "In order to attract businesses, jobs and housing to these rural areas, you have to have all the critical infrastructure — power, water, roads and sewer. If you don't have sewer, business and industry are not going to locate in your area — it's impossible. I'm confident that with focus, financing and innovative solutions, we can tackle this problem."
---