From Drum Major to 'That Guy on TV'
---
Posted on June 14, 2023
Thomas Becnel
---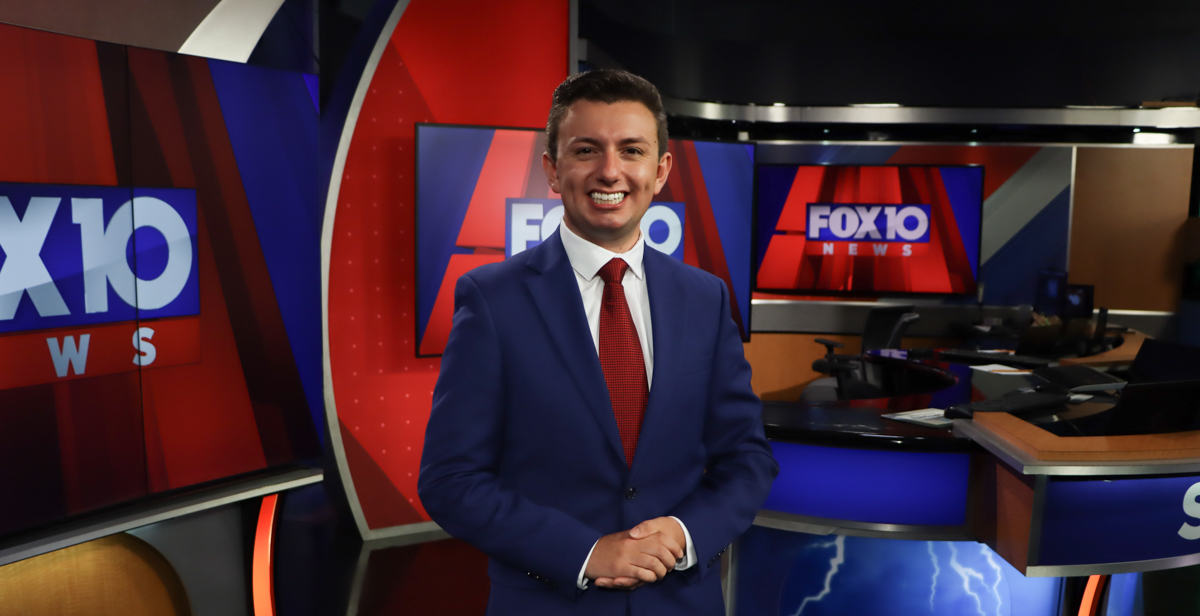 Nicholas Herboso graduated from the University of South Alabama with a degree in meteorology before joining FOX 10 News in Mobile as the weekend meteorologist.
---
#MyFirstJob is a series focused on recent graduates of the University of South Alabama.
Nicholas Herboso, the new weekend meteorologist at FOX 10 News in Mobile, still finds time to update weather software in the Meteorology Broadcast Studio at the University of South Alabama.
This is where students learn to use the latest computer programs and online applications. This is where they practice doing weather forecasts in front of a green screen. This is where they polish their skills and prepare to enter the workforce.
Herboso graduated in May, but keeps coming back to South. The broadcast studio is his home away from home. He wants to make sure other meteorology students enjoy the opportunities he did.
"I've seen the results of this," he said. "This is a marketing place for me. All of this, all of the computers, all of the graphics, are tools to sell ourselves, promote the University, and find jobs."
The 22-year-old has been interested in meteorology since he was a boy growing up in Fairhope on the Eastern Shore of Mobile Bay. His other great passion was music and marching bands. He followed both interests at the University of South Alabama.
As drum major of the Jaguar Marching Band, Herboso learned leadership and organization. He practiced public speaking and working with peers. He gained experience as an educator and motivator.
"TV meteorology is kind of a teaching thing," he said. "I'm teaching people what the weather is going to be, trying to make sure they get the points they need about the forecast, and about certain meteorological concepts.
"It's a relationship you're building with your viewers. Everything I do, every little step, I need to be building relationships, because I need them to listen to what I have to say when the time comes."
Dr. Sytske Kimball, chair of the Department of Earth Sciences, said Herboso is the second drum major/meteorology student in two years. He follows Grant Skinner, a 2022 graduate, who is now a meteorologist at WKRG News 5 in Mobile.
"We've had two back-to-back, though I don't know why – I guess they're just talented," Kimball said, laughing. "We're proud of them, but I don't think we have another one lined up for next year."
She taught Herboso and knew right away he would be successful. He excelled academically and helped other students. He also worked to upgrade the video and graphics packages in the broadcast studio.
"He cares about the program," Kimball said. "He had a great experience here, which I'm grateful for, and wants to share it with other students. He's just that kind of person."
Hurricanes and Tornados
Herboso was just a toddler in 2004 when Hurricane Ivan hit the Gulf Coast, but he has vivid memories of the storm.
"That's the shocking thing, that I remember it," he said. "I can remember the front door just shaking and shaking. In 2005, Hurricane Katrina, I think, was my first television memory. They had the satellite imagery and I watched these meteorologists, these people I've known my entire life."
Herboso grew up with local TV fixtures such as Alan Sealls, John Edd Thompson and Jason Smith, who's now the chief meteorologist at WALA. He has special admiration for James Spann, the longtime Birmingham meteorologist.
"He has so much heart for what he does," Herboso said. "His tornado coverage is like a master class in communication. There's so much heart, but so much calm."
At Fairhope High School, he was drum major of the marching band and also participated in Drum Corps International, which offered a near-professional level of performance and competition. He thrived in that environment.
"I like the physical side of marching and playing," he said. "There are levels of passion and intensity that no other form has."
When he had time, Herboso worked in a craft store on the Eastern Shore. He also played some soccer and became a fan of the sport.
"Things like music and soccer, there's a lot of passion to it," he said. "There's a lot of heart in soccer. That's why I love it."
At South, Herboso completed an internship at WKRG. Another internship at Fox 10 News, during his senior year, became a full-time job.
One afternoon, during heavy thunderstorms, Herboso did a livestream broadcast online. When the lights went out, the cameras kept rolling and he barely paused.
"And … we have just lost power," he said. "That happens sometimes. And that's why we're here, because these are impactful storms moving through the area."
After the storms passed, a viewer emailed praise that compared Herboso to a legendary meteorologist from New Orleans. "This guy reminds me of Nash Roberts at WWL," said the online note.
His parents enjoy watching him on weather broadcasts. His mother says it's the easiest way for her to make sure he's OK. He's also starting to get recognized around Mobile.
"People say, 'Oh, you're that person, you're that guy on TV,'" he said. "One day at Target, one of the managers talked to me. He said, 'It's really nice that you're from the area.'"
After graduation, Herboso had a break of about a week and a half. He enjoyed a beach trip and family reunion in Gulf Shores. Now he's living in a Mobile apartment and starting his career as a meteorologist.
When he stops by the Meteorology Broadcast Studio at South, there are always programs to tweak and packages to update and improve. Technical skills can be valuable. He's done graphics work for his jobs at TV stations, too.
"These can be very difficult systems to operate; there's even a little coding involved," Herboso said. "I've always had computers and worked with computers, but this was a massive acceleration. Some of the things I've built, I'm really proud of.
"I want students at South to see somebody who came through the school and loves what they do, because it gives them inspiration. If students want help, I want to help them."
---