Hollings Scholars in Record Numbers at USA
---
Posted on June 15, 2017
Alice Jackson
---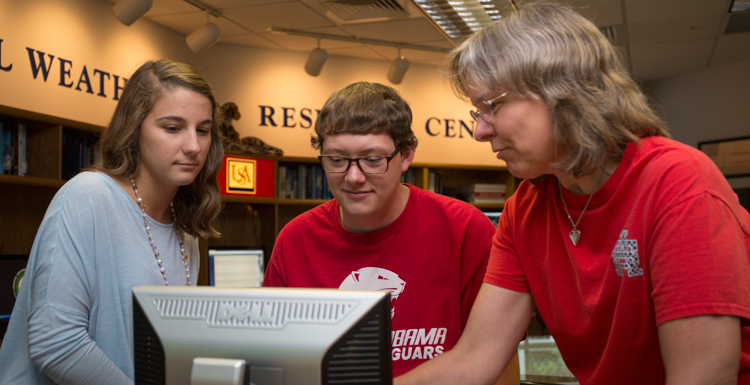 Dr. Sytske Kimball, professor of meteorology, right, discusses research projects with Caroline Kolakoski and Dillon Blount, two of the four South students named as recipients of the prestigious Hollings Scholarships. Caitlin Ford and Sam Sangster are also recipients.
---
Four University of South Alabama meteorology students are 2017 recipients of the prestigious Ernest F. Hollings Undergraduate Scholarships awarded by the National Oceanic and Atmospheric Administration. It's the largest number of South students to hold the Hollings scholarships in one year.
The four juniors are among 110 students selected from 64 universities across the nation and U.S. territories.
"It is huge that we have four recipients in one year, and it is unusual that all four of them are studying meteorology," said Dr. Sytske Kimball, chair of earth sciences and professor of meteorology. "Being a Hollings recipient means recognition for each of these students, as well as for our department and the University."
The scholarships recognize high achievement in NOAA-related mission fields, including marine and atmospheric sciences, engineering, biology, chemistry, physics and math. Each recipient receives two years of tuition support and paid summer internships at NOAA facilities throughout the country.
South's Hollings recipients are:
Caroline Kolakoski; Daphne, Ala.
Dillon Blount; Pelham, Ga.
Caitlin Ford; Peachtree City, Ga.
Sam Sangster; Newnan, Ga.
All four students are active in undergraduate research at South, which contributed to their selection as Hollings Scholars.
"I was so excited to learn I was a recipient," said Kolakoski, a holder of a Whiddon Honors Scholarship and a participant in the University Honors Program.
Both Kolakoski and Blount are attending summer classes on campus while also working for Kimball on South's Mesonet, http://chiliweb.southalabama.edu/, a network of weather stations located along the Gulf Coast. Additionally, they are collecting data for their undergraduate research.
Ford and Sangster also work on the mesonet when they are on campus.
Later this summer, all four will attend an orientation session for Hollings recipients in Washington, D.C.
"Each of these students will benefit greatly from these scholarships," Kimball said. "The connections they will make through this and the experience of what they will learn will be really valuable for them the rest of their lives."
---