Seven Former Jags Competing in MLB, MiLB
---
Posted on June 20, 2017
Marketing and Communications
---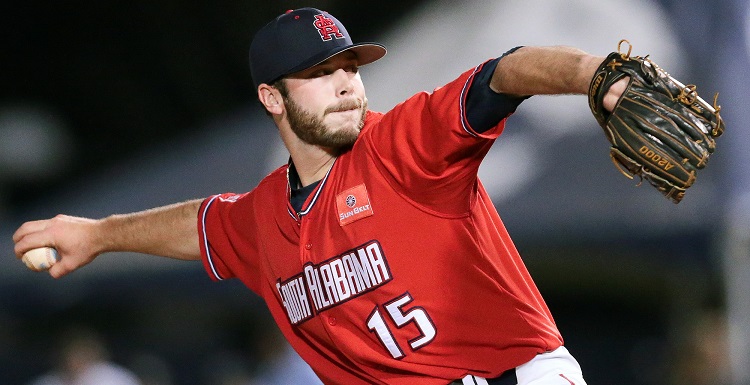 Former Jag and right-hander Ben Taylor is 0-1 with one save and a 6.59 ERA in 11 relief appearances with the Boston Red Sox. Photo by Bobby McDuffie.
---
Seven former University of South Alabama baseball student-athletes are currently in the middle of their respective Major League Baseball and Minor League Baseball seasons.
Adam Lind is batting .341 with seven doubles, six home runs, 26 RBI and 17 runs scored with a .410 on-base percentage in 43 games played with the Washington Nationals, who he signed with in February as a free agent after spending the 2016 season with the Seattle Mariners. Lind has hit .333 or better in each of the first three months of the season, including a .345 batting average in April. He is batting .342 in the month of June with a .422 OBP. The Nationals lead the National League East standings by 9 ½ games over the Atlanta Braves entering play Tuesday.
David Freese is hitting .272 with five doubles, six home runs, 23 RBI and 22 runs scored in 52 games played with the Pittsburgh Pirates. He batted .321 in the month of April, and is hitting .316 (18-for-57) in June with a .420 OBP. The Pirates enter play Tuesday five games back of the Milwaukee Brewers in the NL Central standings.
Right-hander Ben Taylor is 0-1 with one save and a 6.59 ERA in 11 relief appearances with the Boston Red Sox. Taylor has struck out 14 batters and issued nine walks in 13 2/3 innings pitched this season. He was shut down from throwing after experiencing forearm soreness on June 5, and is estimated to return on June 25.
Jordan Patterson is batting .236 with 13 doubles, two triples, nine home runs, 38 RBI, 34 runs scored and two stolen bases in 62 games with the Albuquerque Isotopes, the Triple-A affiliate of the Colorado Rockies. Patterson was recalled by the Rockies for one game on June 7, but then optioned him back to Albuquerque the following day. He has hit safely in eight of nine games since returning to Albuquerque, including a season-high four hits in his first game back with the club on June 9.
Cole Billingsley is hitting .250 with 11 doubles, two triples, 17 RBI, 25 runs scored and 16 stolen bases in 56 games played with the Delmarva Shorebirds, the Class-A affiliate of the Baltimore Orioles in the South Atlantic League. He has hit safely in 38 of 56 contests this season, and is batting .276 with six doubles in 15 games in June.
Right-hander Kevin Hill is 1-1 with a 6.28 ERA in 11 relief appearances with the Quad City River Bandits, the Class A affiliate of the Houston Astros in the Midwest League. Hill has not made a start this season due to a hamstring injury, which he suffered in spring training, with the River Bandits choosing to allow him to slowly increase his innings pitched as the season progresses.
Left-hander Locke St. John is 1-3 with one save and a 3.18 ERA in 13 relief appearances with the West Michigan Whitecaps, the Class-A affiliate of the Detroit Tigers in the Midwest League. St. John has struck out 27 batters and issued just eight walks in 28 1/3 innings pitched.
---
For more information about South Alabama athletics, go to USAJaguars.com, and follow the Jaguars at Twitter.com/WeAreSouth_JAGS. Season tickets for all Jaguar athletic events can be purchased by calling (251) 461-1USA (1872).
Join the Dugout Club, the baseball specific support club of the Jaguar Athletic Fund. Members enjoy all games from inside the Stadium Club with climate control, private restrooms, private concessions and access to listen to the radio broadcast. All donations to the Dugout Club go directly to support the South Alabama baseball program. For more information on how you can join visit: jaguarathleticfund.com/dugoutclub.
---