'Two-in-One Dream Come True' for Health Promotion Grad
---
Posted on June 21, 2022
Thomas Becnel
---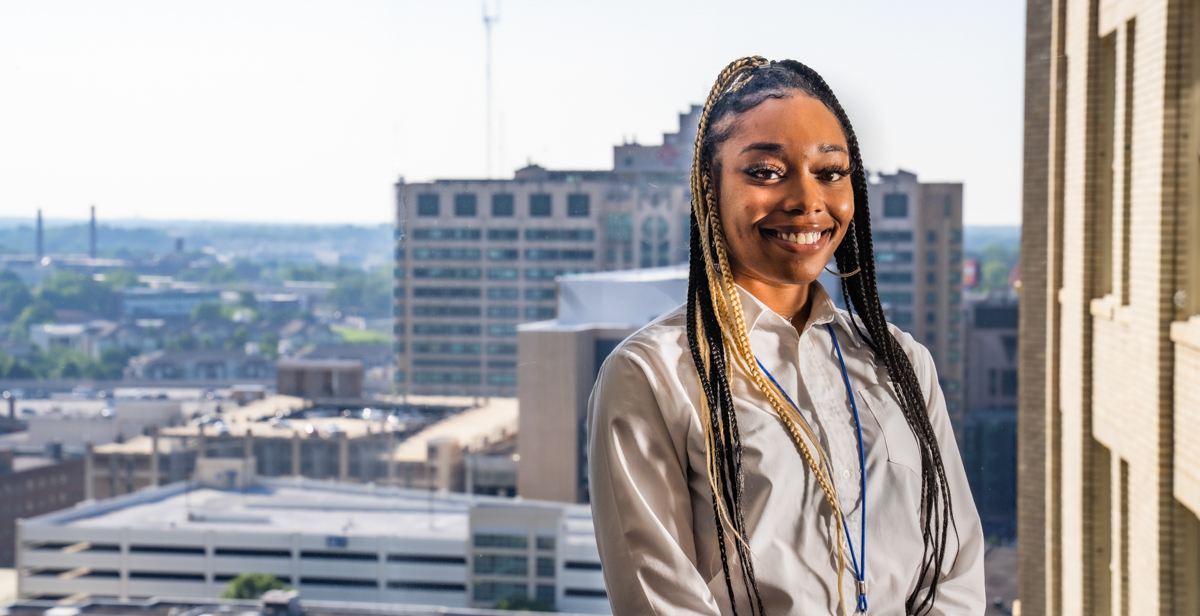 Mi'Asia Barclay, who graduated from the University of South Alabama with degrees in exercise science and health promotion, took a job at the Moorehouse School of Medicine, where her office on the 15th floor overlooks downtown Atlanta. "Being in a place where I can connect people with resources, where people can better themselves, it makes me feel like I'm doing something," she said.
---
#MyFirstJob is a series focused on University of South Alabama graduates who are beginning their careers.
When Mi'Asia Barclay accepted a health coordinator job with the Morehouse School of Medicine, the city of Atlanta loomed large in her imagination.
Now she has an office on the 15th floor. Her view includes a slice of the Atlanta skyline.
"Atlanta is very different from Alabama," Barclay said. "Very different, very fast, the way they drive and the way they live. But so far, nothing crazy has happened.
"I can actually see the Coca-Cola factory from my window. That's amazing, going from seeing crawfish and Airport Boulevard in Mobile."
Barclay, 24, earned a bachelor's degrees in exercise science from the University of South Alabama in 2020. She earned a master's degree in health promotion in spring 2022. For her graduate assistantship, she worked in community engagement for the Office of Diversity, Equity and Inclusion.
At Morehouse, she uses all of her training and experience.
She's a health coordinator for family medicine in the Innovation and Learning Laboratory at the School of Medicine. At health fairs and community events, she promotes a healthy diet and exercise, along with vaccines and booster shots, for people in underserved communities.
"Being in a place where I can connect people with resources, where people can better themselves, it makes me feel like I'm doing something," she said. "The health aspect of being a coordinator, that's like a two-in-one dream come true."
The School of Medicine was originally part of Morehouse College, a historically black college for men, but it became independent in 1981. That was a relief for Barclay, who wasn't sure what to expect.
"I was thinking, am I going to be the only woman at an all-male school?" she said, laughing. "But the College of Medicine accepts women and men."
From Mobile to Morehouse
Barclay is from Talladega, Alabama, but her family moved to Tuscaloosa during high school. Her mother works on the assembly line at the huge Mercedes-Benz plant. She had some advice about starting a career for the first college graduate in her family.
"'Go to work early,'" Barclay said. "'Work hard. Do what you have to do.'"
After high school, she chose South for its health and medical programs, along with its location near the beach. She became community involvement chair for the Minority Association for Pre-Medical Students. She did undergraduate research for Dr. Caitlyn Hauff in the kinesiology department on awareness of obesity bias in clinical practice.
Barclay was a regular at the Student Recreation Center, where she played sports and enjoyed the swimming pools. She worked student jobs and lived on campus during her first two years.
"I loved Delta 6," she said. "It was kind of off from the other Deltas and it had its own kitchen, so you could cook your own food. So that was very nice."
With the Office of Diversity, Equity and Inclusion, Barclay promoted events such as Unity Day and Belonging Rocks. She also worked with agencies such as the United Way of Southwest Alabama and Victory Health Partners through a program called Semester of Service.
"That was basically us working with community partners to get South Alabama students back into face-to-face volunteerism," she said. "That was one of the biggest coordination projects I had to complete."
The Alpha Kappa Alpha Sorority Inc. was a big part of her college experience at South
"I was able to get myself involved with a lot of volunteer work," she said. "I was treasurer for two years, and I served on a lot of committees. Those kinds of coordination things helped me get where I am today."
Starting a Career
In Atlanta, Barclay found an apartment in the suburban city of Smyrna. Her commute is a half-hour or an hour, depending on traffic. On some days at the School of Medicine, she wears an AKA polo shirt to work. It's business casual. Often she has lunch at her desk.
At weekend events, she talks to people about getting enough exercise and finding fresh food, even if there's not a nearby market. She urges residents to vaccinate and protect themselves from COVID-19 variants.
Barclay says she's grateful to have a job that feels like such a good match.
This spring, during her final semester at South, she did 30 different interviews for healthcare and community engagement positions. Then she saw the listing for a job at Morehouse.
"I stumbled upon it while I was on LinkedIn, after I had seen a previous position the director had posted in the Black Women and Public Health GroupMe on Facebook," she said. "I sent in my resume, it was on a Friday, and did the application. I had an interview on Monday, and they called me back within an hour offering me the job."
Barclay is still a newcomer at Morehouse – she doesn't have business cards yet – but she's already talking with managers about her future. She's interested in pursuing a Ph.D. in health administration. Maybe she'll find a home in the big city of Atlanta.
"They focus a lot on professional development here," she said. "Their goal is to help me progress into what I want to do long-term."
---