South Football Stadium – Questions and Answers
---
Posted on June 22, 2018
Marketing and Communications
---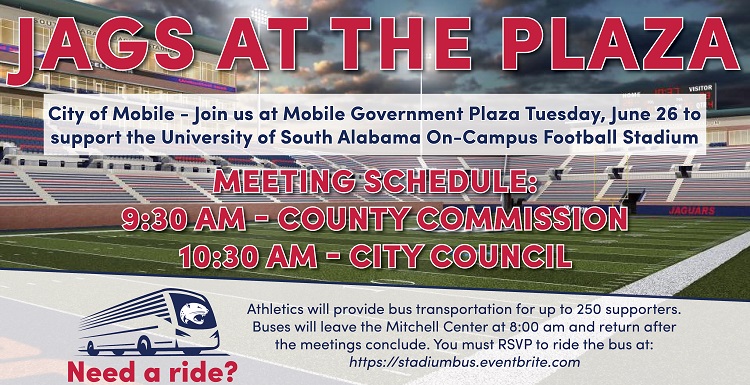 ---
South's future for an on-campus football stadium has been placed on the agenda for both the Mobile City Council and Mobile County Commission meetings Tuesday, June 26th. University Athletics will provide transportation for 250 supporters from campus to Government Plaza, and back. Staging will be at the Mitchell Center off of Old Shell Road.
8 a.m. - Leave the Mitchell Center
9:30 a.m. - Mobile County Commission meeting
10:30 a.m. - Mobile City Council meeting
Noon - Return to campus
Please register for a seat on the bus through this Eventbrite link, and WEAR RED JAG GEAR!
Is it more feasible for you to drive? Join us by parking at the Mobile Civic Center or any of the private parking areas downtown (parking charges may apply).
To reach your councilmember:
To reach your commissioner:
---
FREQUENTLY ASKED QUESTIONS
Why is the University of South Alabama building a football stadium?
The University of South Alabama football program was established in 2009, and since that time the program has provided an immense boost to student, alumni and community spirit. The USA football team has attracted thousands of visitors to the Mobile community, has economically benefited the city and region, and has provided new opportunities to attract outstanding students to the University. Over the years, however, supporters of USA football have been vocal about their desire to see an on-campus stadium that will allow many more students to easily attend games and will provide a first-class, state-of-the-art venue for people from throughout the region to attend and enjoy college football games and other events.
Why should the new stadium be a public/private venture?
Ladd-Peebles Stadium is approaching 70 years of age with millions of dollars of deferred maintenance. The University needs a stadium and the City of Mobile would benefit from no longer needing to underwrite the operations of the stadium or be responsible for millions of dollars in upgrades and renovations. The stadium on South Alabama's campus will result in a positive cash position for everyone's budget in the long term. In addition, the construction of the stadium will result in significant economic benefit for the community. The construction, preparation and services necessary to build, equip and operate the stadium will ripple through the economy of the region, creating millions of dollars in economic impact.
City and County support for the stadium partnership does not represent a one-time venture. Rather, it is yet another element in the 55-year relationship between the city, county and the University, which has resulted in the development of countless partnerships, community programs, outreach initiatives, educational and cultural events, and other opportunities that have greatly benefited the region. USA, as the second-largest employer in the city and the provider of critically needed health care services, has been a steadfast partner in building and sustaining a better Mobile, and the stadium will continue and deepen the University's connection to the community.
What will happen to Ladd-Peebles Stadium?
There are a number of possibilities, and the ultimate decision lies with the City as to the future of Ladd-Peebles, but it should be noted that the University of South Alabama is committed to assisting the community with a smooth transition to a better future use of the property. To that end, South Alabama has included in the proposed agreement a commitment of $2.5 million to assist with the transition of the Ladd-Peebles property.
How much are the City and County expected to contribute?
The University and its donors will fund the vast majority of the cost of the stadium. The City and County will benefit by paying a fraction of the cost of what it would spend to build a new stadium or renovate Ladd-Peebles. The new stadium at USA also helps the City avoid the ongoing and ever-increasing maintenance and management costs associated with operating Ladd-Peebles. The University has proposed a $10 million contribution from the City and a $10 million contribution from the County, to be paid over a period of years. It should be noted that because the University has committed $2.5 million to the future use of the Ladd-Peebles property, the City's commitment to the USA stadium would effectively be $7.5 million.
Why is South Alabama asking for a contribution from the City and County?
A new stadium will catapult the City of Mobile and Mobile County into greater national prominence. The construction, naming and opening of the facility will be covered extensively in the national media, showcasing the region and the value that Mobile places on the creation of first-class venues for the community. The City and the County play a vital role in attracting all types of events that will drive economic development and growth to our local economy, including tax incentives toward the recruitment of new businesses. South Alabama's stadium will be a world-class facility that will be equipped and able to host a variety of events in addition to athletics.
Does the University of South Alabama pay rent to play at Ladd-Peebles Stadium?
Yes. South Alabama began paying rent for use of Ladd-Peebles Stadium in 2016. With six games per year, the University paid $180,000 in 2016 and $180,000 in 2017. With a rent increase in 2018, the University will pay $240,000 this year.
What other costs does South Alabama pay to play at Ladd-Peebles?
South Alabama covers all operational costs associated with a game, which amount to approximately $25,000 per game (including the painting of the field and removal of paint). There are no "credits" provided to South Alabama by Ladd-Peebles or the City of Mobile for any incurred costs. The University also spends approximately $24,000 per game (or $144,000 per year) to lease a portable video board and associated production capabilities.
What is the average and history of attendance at South Alabama games?
South Alabama's 2017 average game attendance at Ladd-Peebles was 17,345, although certain games have brought many more fans to the stadium. NCAA-audited figures for notable games include:
38,129 vs. Mississippi State, 9/13/14
30,837 vs. Troy, 10/20/16 (largest attended Sun Belt Conference game that season)
26,783 vs. Hargrave (Va.) Academy, 9/5/09
26,487 vs. Oklahoma State, 9/8/17
24,582 vs. Tennessee-Martin, 10/15/11
23,789 vs. Troy, 9/29/12
23,683 vs. Huntingdon (Ala.), 11/12/09
23,446 vs. Georgia State, 10/30/10
23,174 vs. Nicholls State, 9/18/10
22,376 vs. Pikeville (Ky.), 9/4/10
What will be the capacity of the new stadium and is it capable of expansion?
In its first phase, the capacity will be 25,000, in addition to an area that allows for 700 standing-room only capacity. The stadium is capable of expanding in two additional phases: phase two would bring capacity to 32,000 and phase three would allow for 40,000.
Will there be premium seating available at the new stadium?
The new stadium will offer a wide variety of premium seating (chair back, club, loge, and bench back) options. Currently there is only one seating option at Ladd-Peebles, which is bench.
If the stadium's initial capacity is 25,000, will this impact South Alabama's ability to attract SEC and similar opponents as it has in the past?
Unless a unique circumstance presents itself, a "Power Five" (SEC, ACC, Big 12, Big 10, Pac 12) school will only play in Mobile if South Alabama agrees to a "2 for 1" series (e.g. two games at the opponent site and one at South Alabama). Mississippi State, North Carolina State and Oklahoma State agreed to these series with no regard to the capacity of the stadium.
How will South Alabama handle parking?
The on-campus stadium will have a variety of parking options. There will be approximately 1,400 spaces in direct and reasonable proximity to the stadium (this is very similar to the number of parking spots available within the parking lot at Ladd-Peebles). As most games occur on the weekends when classes are not in session, the University can currently allow for in excess of 6,000 parking spots on campus, of which most are a reasonable walking or shuttle distance to the stadium. There will be abundant space for tailgate-style tents and designated RV parking areas.
How will South Alabama handle traffic before and after the games?
There are multiple proposed traffic options with ingress and egress patterns. South Alabama currently has several arteries to Old Shell Road and University Boulevard, through which traffic can be dispersed in numerous directions. In addition, USA will continue to work with the Mobile Police Department and the Mobile County Sheriff's office to control and enhance ingress and egress through specific areas of contraflow at designated times. We are confident that egress will be as efficient as possible utilizing arteries leaving campus and flowing into larger city streets.
Does South Alabama already pay Mobile Police and Fire-Rescue personnel for their services at Ladd-Peebles? Will any of their services be needed at the new stadium?
Yes, and the University will continue to do so. USA uses a combination of USA Police, Mobile Police and some Mobile County Sheriff's deputies.
Will USA host the high school teams that currently utilize Ladd-Peebles for their home games?
The USA stadium will not be a home stadium for high school teams. The University is agreeable to hosting occasional marquee games, playoffs, championships and all-star contests. In addition, in the proposed agreement the University has agreed to commit $2.5 million to the City to use as needed to support the renovation of Ladd-Peebles for high school games.
Will the Reese's Senior Bowl, the Dollar General Bowl and the Gulf Coast Classic, which all currently play at Ladd-Peebles, play at the USA stadium?
As presented in the proposal to the City, these games are welcome to play at the on-campus stadium, but the ultimate decision will rest with the leadership of those organizations.
Will this stadium increase the economic impact of South Alabama in the region?
With over 6,000 employees and 15,000 students, and an annual payroll of nearly $500 million, USA is a primary economic driver in the Gulf Coast region, providing billions of dollars in economic impact to our city and county. We are confident that the venues in west Mobile, including businesses, hotels and restaurants, will realize a significantly enhanced impact that contributes to the tax base.
What percentage of this project will be raised outside of governmental funds?
The University has committed that this stadium will not be paid for with tuition dollars from our students. The debt service on the stadium project will largely be paid from redirected, internal expenditures that are currently being used toward rent at Ladd-Peebles, selected expenses specific to playing at Ladd-Peebles, as well as campus auxiliary revenue and new external revenues from ticket sales, donations, suite and club sales, and parking.
South Alabama has identified and engaged high-level donors that are interested in making contributions that would result in payment for a large portion of the project. In addition, dozens of entities in the financial, industrial, transportation, and beverage markets have also indicated serious interest and significant contributions. There will be a capital campaign that will include fundraising efforts from USA's 80,000 alumni.
Every entity and person who has been approached about the stadium project has inquired about support from the City and County, and indicated that public support is necessary to spur their interest in making a financial commitment. The University believes that when the City and County express support for the stadium, it will add to the legitimacy of the project and will create greater willingness on the part of individuals and organizations to support it.
---