One Year Later, Taking a Leadership Role
---
Posted on June 23, 2016
Marketing and Communications
---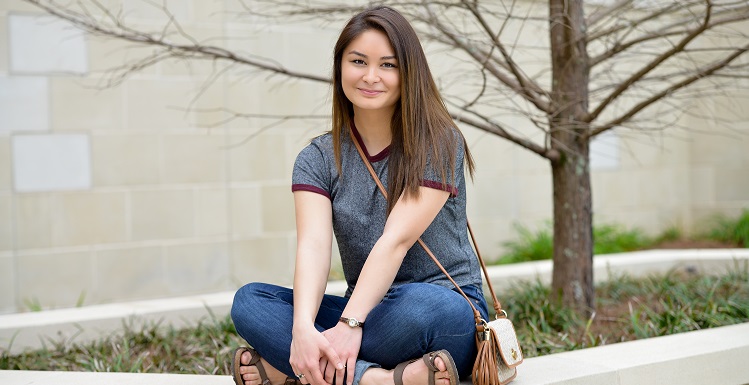 Maire Nakada, a nursing student and 2015 winner of the Distinguished Young Women competition, has made herself an ambassador for South, in addition to her representing the national scholarship program. Bottom photo: Nakada is joined by this year's 51 contestants at USS Alabama Battleship Memorial Park in Mobile. Photo courtesy of Distinguished Young Women.
---
Don't ask Maire Nakada who will be named this year's Distinguished Young Woman.
The 2015 scholarship competition winner, and University of South Alabama nursing student, has unique insight into what it takes to pull ahead of 50 other contestants. Still, Nakada isn't about to predict her successor.
"They're amazing. If I had to pick out who I think would win, I could not tell you," Nakada said.
National Finals 2016 take place June 23-25, capping off more than a week of events in coastal Alabama, including community service projects, meet-and-greets, and rib and oyster eating contests. The young women are from all 50 states and the District of Columbia and are vying for college scholarship money while being judged on scholarship, an interview, talent, fitness and self-expression.
Nakada represented her home state of Alaska and returns to the stage as she prepares to turn the title over to a new Distinguished Young Woman. She has spent the last year as an ambassador for the program while speaking to groups and inspiring other young people to uphold its motto, "Be Your Best Self."
As her year as Distinguished Young Woman concludes, Nakada assumes a leadership role as she walks this year's contestants through National Finals events. She greeted the women at the Mobile Regional Airport when they arrived, though they already knew her face through friendships born on social media.
She also had advice at the raw oyster eating contest: "I just told them don't even think about what you're eating." One contestant did, however, spitting out her first oyster before a successful second attempt.
"I'm having so much fun. I really like being on this side of things," Nakada said. "I think it's awesome that I can be an inspiration to them. They don't even know it, but they inspire me."
All the while, Nakada has taken it upon herself to be an ambassador for her university. "We already have another convert," she said of a contestant who decided she will attend South this fall. "One already, and working on another."
Nakada plans to work as a nurse and attend medical school after earning her nursing degree. Her ultimate goal is to become an ophthalmologist and work for an organization such as Doctors Without Borders.
"I grew up in a beautiful place, where I could hike in the mountains almost every day," she said. "I want others to be able to see the world around them. If I could give back sight to a child and help their family, I feel like it's almost my duty."
As for this week's competition, Nakada said her one piece of advice to contestants would be this: "Completely embrace who you are – not the sloppy version of you, but the best version of you.
"It's very tough to be the best version of yourself every single day. But that's what makes people distinguished."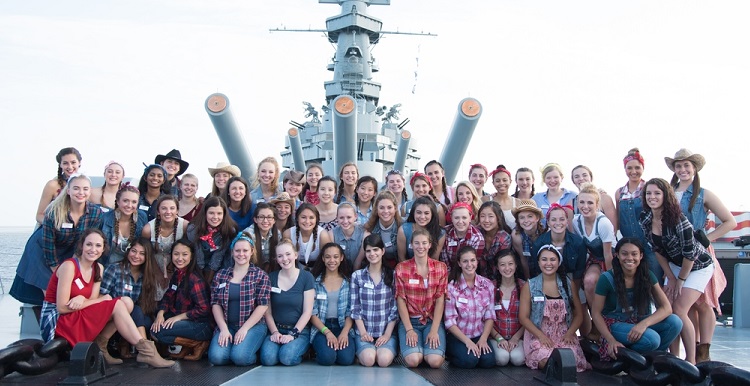 ---