Ron Stallworth, '03, Overcomes Struggles to Help Others
---
Posted on June 23, 2017
Marketing and Communications
---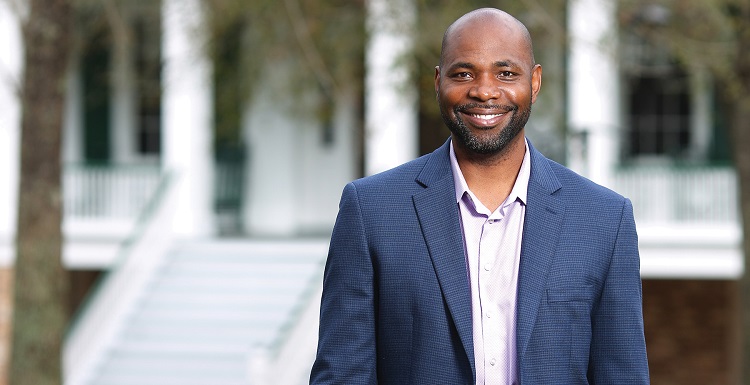 As a University of South Alabama student, Ron Stallworth slept in his car between class and work. The alumnus has since established a scholarship for others in financial need and mentors engineering students.
---
Ron Stallworth, '03, is an engineer, not a farmer, but he hopes to plant the seeds of change each time he helps a person in need. "There are few things that make us feel more inspired than helping someone," he said.
It wasn't so long ago that Ron Stallworth needed help from others. He grew up so poor in the Mobile Terrace neighborhood that his house didn't have running water. After his father's death, he lived in the safety of his car to finish Murphy High School. It took him 13 years to graduate from USA with his bachelor's degree, working 70 to 80 hours a week on night shifts at Honeywell UOP in Chickasaw, sleeping an hour or so in the engineering parking lot, then racing to class.
"It was really a struggle," said Stallworth. "I wasn't going to be a 4.0 student. I can't tell you how many times I quit, how many times I got discouraged."
But while he was a student, he was already becoming a giver. Stallworth looked to his engineering classmates to see who was helping others. Then, he worked with the department chair to create an anonymous Congeniality Award that "cascaded" into the Ron Stallworth Chemical Engineering Scholarship. "It's rewarding for me to give in that way," he said.
In establishing the scholarship, Stallworth wanted to keep that image of a struggling student in mind. Without lowering the standards, he wanted to be aware of students in difficult circumstances and financial need. Stallworth hopes to grow ambition in the recipients, and to help remove barriers for them.
When Stallworth graduated in 2003, he took a full-time job at Honeywell. Over the years, he's lived in more than 63 countries and earned his MBA in Singapore.
Today, Stallworth is marking his 30th anniversary with Honeywell, and lives northwest of Chicago in Lake in the Hills, Ill., with his wife, Karan, and their 13-year-old son, Jonathan. Ron and Karan met at Hillsdale Middle School and reconnected a few years ago, marrying in December 2015.
"Thank God for blessing me with the heart of a giver," he said. "My dad was a Good Samaritan, even though we were one of the poorest families in Mobile Terrace."
In his former Mobile neighborhood, Stallworth donated several empty lots to Habitat for Humanity of Southwest Alabama, where he sits on the board. His mother lives in the first house Habitat built there. Stallworth plans to donate more lots in the future to allow others in the neighborhood to own a new home.
At USA, Stallworth sits on the National Alumni Board and mentors engineering students. He recently met with Tau Beta Pi, an academic engineering fraternity. He spoke on how to present themselves, as well as framing their résumés to showcase talents and accomplishments. "You've got to clearly articulate what value you're bringing to an employer," he explained.
Stallworth is also penning a book that he hopes to release next year, charting his challenges, blessings and the people who helped him along the way. "Rarely do we achieve anything of significant success without the help of others," he said. "It's rarely about us. It's about other people helping us out and God putting others in our path."
---