'Prepping for Success:' The Collegiate 100
---
Posted on January 26, 2017
Joy Washington
---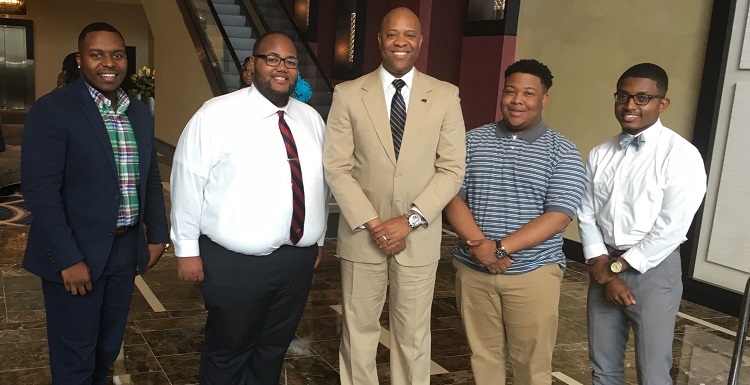 University of South Alabama Collegiate 100 members attend the 31st Annual 100 Black Men National Conference held recently in New Orleans. From left are Cornelius Madison, senior mechanical engineering major from Montgomery; Broderick Morrissette, junior information technology major from Prichard; Dr. Michael Mitchell, vice president for student affairs and adviser of Collegiate 100; Myles Payton, sophomore communication major from Montgomery; and Adreun Malone, senior professional health sciences major from Memphis, Tenn.
---
Four members of the University of South Alabama Collegiate 100 recently served as delegates at the 31st Annual 100 Black Men National Conference in New Orleans. The theme of the conference was Improving Health & Wellness: Addressing Community, Causation and Change.
"It was great to meet with other members and share ideas for programming," said Broderick Morrissette, South's Collegiate 100 president. "During the workshop on Empowered to Stop Risky Behavior, we learned that campus life is a huge transition for young people. It offers a new set of decisions that can jeopardize the lives of students."
They also discussed intimate partner violence and abuse, mental health and emotional issues that can lead to stress, anxiety, depression or suicide, and how good health and all-nighters don't mix. In addition, infectious disease awareness and prevention was explored during the session.
During the workshop Prepping for Success: Internship & Career Opportunities, the participants were told, "The postman may always ring twice, but opportunity doesn't."
"Prepping for success is not a college cram session, but rather a lifelong journey," Morrissette noted. "In this workshop, we gained beneficial wisdom and insight from a team of experts who shared details about their professional and personal success." The discussion was facilitated by executives and managers from Walmart, MGM, Miller Coors and the U.S. Army.
"I am always excited to facilitate opportunities for students to see the bigger picture," said Dr. Michael Mitchell, vice preside for student affairs, dean of students and Collegiate 100 adviser. "The national conference of the 100 Black Men of America provides a chance for students of the USA Collegiate 100 to see the importance their work on our campus and in our community."
Collegiate 100 was chartered at South Alabama in the fall of 2014 to ensure, encourage and motivate African-American men at USA to establish and use leadership skills. Members of the Collegiate 100 assist the local 100 Black Men chapter with its programming initiatives that support the development of social, emotional and physical needs of youths through positive role models.
---