South's Joel Erdmann Finishes Year as Chair of the NCAA Division I Baseball Selection Committee.
---
Posted on June 30, 2016
Marketing and Communications
---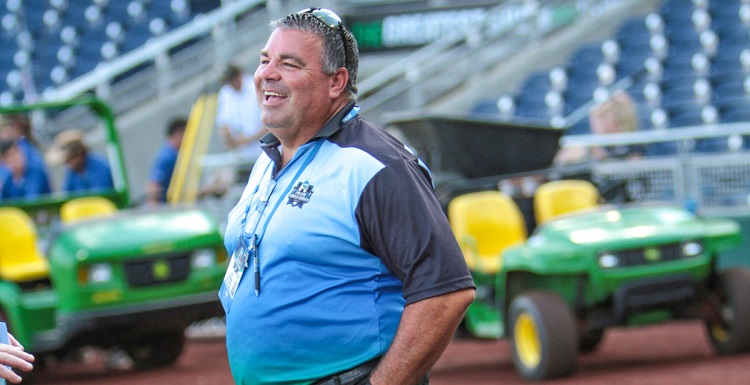 Dr. Joel Erdmann, on the field at TD Ameritrade Park before a game at the NCAA College World Series, has been USA's athletic director since 2009.
---
South Alabama Athletic Director Dr. Joel Erdmann spent the last two weeks watching baseball games. All in a day's work for the chairman of the NCAA Division I baseball selection committee.
The role put Erdmann – and the University of South Alabama – into a notable public position. As head of the committee, Erdmann led the group responsible for choosing the teams that competed in the 2016 regional tournaments, which culminated in the College World Series in Omaha, Neb.
With Coastal Carolina defeating Arizona to win the series today, Erdmann's year as committee chair, and four years as a member of the committee, comes to a close.
"It was a great honor," he said. "I guess it's a recognition of the University and the good work that we do."
As committee chairman, Erdmann was responsible for overseeing all operations of the championship in Omaha, from logistical concerns such as batting practice schedules and postgame news conferences to competitive issues such as drug and bat testing, as well as any on-field controversies and the on-site replay system, the use of which was expanded for the first time this year to an opening round game. Erdmann also was responsible for attending social events and handling media appearances as the face of the selection committee.
"Joel's been a great representative of Division I college baseball," Ron Prettyman, the NCAA's managing director of championships and alliances, said Monday. "I've been here literally every game of the College World Series, and as chair, Joel has as well. Sometimes that's not easy to do, but Joel's been down on the field, helping our staff and managing this event, and has just done a great job."
Much of the selection committee's work took place before Omaha, as Erdmann and other members sifted through the resumes of scores of college baseball teams to find those most deserving of filling out the sport's postseason regional brackets. Thirty-one of the field's 64 spots are filled by automatic qualifiers, leaving the committee to fill the remaining 33 at-large bids.
Erdmann said each level of the process presents challenges in selection and seeding, from choosing the No. 1 overall seed and the top eight national seeds, to the 16 regional hosts, down to the final few at-large berths of the 64-team field. The committee follows teams throughout the season through a network of regional advisory committees, then meets on Memorial Day weekend to make its selections.
In doing so, Erdmann said it doesn't rely on one metric above all others, but considers each team's full body of work.
"You really can't just point at one measure and say that is it, that's the heavy one," he said. "If it was just the RPI (Rating Percentage Index, a power rating that leans heavily on strength of schedule), there would be no need for the committee. You'd have a computer spit it out and there you go. The RPI is where we begin, that's kind of the placeholder, but it is a full body of work. It's who you've played, where you played them, when you played them and how you did against them. It is a combination of a science and an art."
If a particular committee member's school or a school with which he has an association is being discussed, that committee member must recuse himself and leave the room during that discussion. Committee members vote electronically and are not even given the option of voting for their own school.
"Kind of ironically in this selection process, as was publicized, South Alabama was one of the last three in, so over the course of the 2½-day selection process I was out of the room quite a number of times and for a long time," Erdmann said.
The result of the committee's work this year was an exciting field that ultimately resulted in the Big South Conference's Coastal Carolina Chanticleers making a surprising run to the College World Series final. Coastal Carolina officially joins the Sun Belt Conference this summer.
"I was really proud of what our committee did this year," said Prettyman, who served on the selection committee himself before taking his role with the NCAA. "They made some bold moves and did some really important decision-making, and Joel led that process from the committee perspective."
Committee members are nominated by the respective conferences and then approved by a nominating committee. The rest of the selection committee is comprised of eight other athletic directors -- Georgia Tech's Mike Bobinski, TCU's Chris Del Conte, Florida Atlantic's Patrick Chun, Illinois State's Larry Lyons, South Carolina's Ray Tanner, Stony Brook's Shawn Heilbron, Maryland's Kevin Anderson and San Francisco's Scott Sidwell -- and one conference official, Colonial Athletic Association Associate Commissioner Robert Goodman.
Prettyman said that the nominating committee typically looks for people with a well-rounded background in college athletics to serve on the selection committee.
"We always like to get people who have a great knowledge of baseball and love the game of college baseball, but the administrative expertise is also very important," Prettyman said. "Joel certainly is qualified with a baseball background."
Erdmann has been South Alabama's athletic director since 2009. A former baseball player at South Dakota State, he served as an assistant baseball coach at Pacific and a graduate assistant at USA before going into administration. He worked for a few years at USA, then had stints at the University of North Alabama and Southeastern Louisiana University before returning to South Alabama as athletic director.
Despite time away from home and family, Erdmann said his service on the committee has been a rewarding experience.
"For me personally, it validates that what we do in college athletics is good and it's fair and that the process of great collegiate, amateur competition, leading up to the highest level of play possible, is done and conducted in a way that we can all be very proud of," he said. "Sometimes in the world we live in, we get overpowered by negativity and distractions that take our attention away from the core of what we do. This experience kind of brings me back to center a little bit and reinforces that what we do is good. We educate kids and allow them to play the game they love."
---