Doy Leale McCall Rare Book and Manuscript Library Now Located Inside USA Marx Library
---
Posted on July 1, 2016
Alice Jackson
---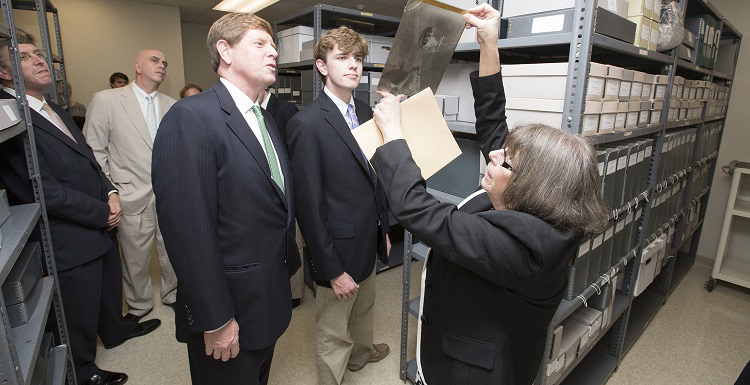 Members of the Doy Leale McCall family (from left) John McCall, Doy Leale McCall III, Rob Rolfsen and Robert Rolfsen listen as Carol Ellis, director of the Doy Leale McCall Rare Books and Manuscript Library talks about rare negatives contained in the materials the family donated to South.
---
The Doy Leale McCall Rare Book and Manuscript Library grand opening on Thursday, June 30, was a celebration of the collection's historical treasures moving to South's main campus — 38 years after the USA Archives was founded.
More than 100 guests attended to tour the archives and thank the descendants of two prominent Alabama families for their generous support. Three grandchildren of the late Doy Leale McCall Sr. donated archival materials valued at more than $3.1 million, and the Julien E. Marx Foundation Trust donated $1 million for renovations inside the USA Marx Library to establish a permanent archive.
"This is going to have a major impact on the campus, and in addition to serving faculty and students, it's also going to serve visiting scholars and the entire community in and around Mobile," said USA President Tony Waldrop.
In 2011, Margaret McCall Rolfsen, Doy Leale McCall III and John McCall donated the valuable and historically significant collection of 18th, 19th and 20th century documents collected by their grandfather, a Monroeville, Ala., native, during his lifetime. The documents have been called one of the finest archives of Southern history in existence for its focus on all aspects of life in Alabama's Black Belt and the state, from its early days of statehood through the Civil War and up to the mid-20th century.
In return for the McCall donation, University officials agreed to rename the USA Archives and pledged to bring both to the main campus.
"My brothers and I are excited to see this day because our grandfather was an amazing collector and such a good steward of all these things, and now the public will have access to them in this beautiful space," said Margaret McCall Rolfsen.
The archives, now on the Marx Library's third floor, contains 10,000-square-feet of fire-protected space with both temperature and humidity controls. It also includes collections of additional manuscripts, photos and artifacts pertaining to Mobile, southwest Alabama, its people and the University. The public space includes built-in wooden displays for exhibits, a lobby, reception area and reading room. The library's elevator opens onto the new lobby at the third floor. The facility will be open to the public in the near future, but materials will be filed in closed stacks. Archive employees will retrieve requested materials from the stacks for public viewing in the reading room.
"Having the archives on campus will increase the value of it for all USA faculty, staff and students, particularly those in English and history, who will likely use it the most," said Dr. Richard Wood, dean of libraries. "The only truly unique materials in any academic or public library are the archives, and the materials in the McCall Library won't be found in any other library in the United States."
The move began six months ago, presenting both surprises and challenges, as thousands of valuable items were moved from the prior location at USA's Springhill Avenue campus. Like any archive, it takes years to catalog individual items, a task pursued daily around all the other work.
"We found some things we didn't know we had, such as a 17th century Ethiopian prayer book and scroll," said Carol Ellis, director. "We also changed the way we stored some things, such as thousands of nitrate negatives, which are now stored in stainless steel, fireproof boxes."
Ellis said the move required:
Four miles of packing tape
Three miles of packing foam
Moving almost 4,000 record storage cartons
Moving another 3,000 various boxes
Moving more than 1 million negatives, slides and prints, including 11,000 glass plate negatives
Moving more than 900 oversized bound volumes
Moving 12,161 books, magazines and periodicals
Moving more than 13,000 advertisements, broadsides, pamphlets, circulars, etc.
South's archives began in May 1978 at University facilities at Brookley Field under the direction of Dr. Michael Thomason, professor of history. With the assistance of Dr. Melton McLaurin, professor of history, their desire to begin the archives developed while researching a book on the history of Mobile in conjunction with the 1976 American Bicentennial.
Included in the Doy Leale McCall collection are:
Plantation documents
Letters from prominent national figures such as Jefferson Davis, John C. Calhoun, Henry Clay, Raphael Semmes, P.G.T. Beauregard and William Jennings Bryan
Land grants signed by U.S. presidents, including Andrew Jackson
Books and diaries
Papers of Alabama's third governor, Israel Pickens, including substantial materials related to the Marquis de Lafayette's visit to Alabama in 1825
Sheet music
Numerous pieces of correspondence from Alabama notables such as James Dellet, Sam Dale, Clement Comer Clay, William Rufus King, Henry Hitchcock, John Tyler Morgan and Daniel Pratt
Personal letters and diaries generated during the Civil War, many of which have formed the basis of earlier published work.
For more background and information on the McCall archives, visit http://southalabama.edu/libraries/mccallarchives/.
---