The World Is Her Oyster
---
Posted on July 1, 2021
Thomas Becnel
---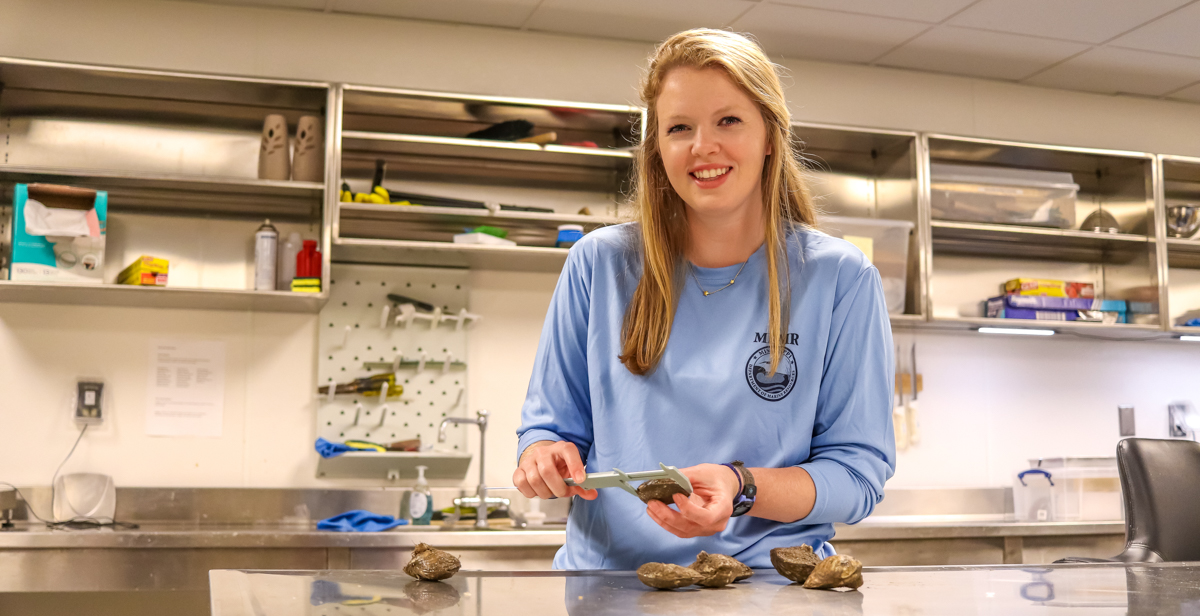 Merritt McCall's duties with the Mississippi Department of Marine Resources include building, seeding and monitoring oyster beds in state waters. She recently earned her master's degree in marine science from the University of South Alabama.
---
#MyFirstJob is a series focused on University of South Alabama graduates who are beginning their careers.
After earning her master's degree in marine science from South, Merritt McCall left a research team at the Dauphin Island Sea Lab for the shellfish bureau at the Mississippi Department of Marine Resources.
She's still getting her feet wet in Biloxi.
"I get pulled out into the field every day, pretty much, for at least a few hours," she said. "Yesterday, I was supposed to be in the office all day, but we had to move boats for the tropical storm. Today, we're loading shell into bags for a project down the road. Tomorrow, we're going out with the USDA. On Friday, I'm diving."
McCall's duties include building, seeding and monitoring oyster beds in state waters. That's a pretty close match for her marine education and graduate research at the University of South Alabama.
The title of her master's thesis was "Oyster Reef Restoration Success: Direct and Indirect Effects on C. virginia Survival in an Oyster Reef Environment."
The underwater work McCall is doing for the state bureau is nothing like resort diving through clear seas and schools of bright tropical fish. More like wading through murky water to dark oyster beds.
"It's all within the Mississippi Sound, so we're in 12 feet of water, max, but you can't see anything," she said. "You do a lot of it by feel."
McCall, 24, is still feeling her way around Biloxi. She still needs to buy furniture for her apartment. She still wants to explore her new home.
After the quiet of Dauphin Island, the Gulf Coast of Mississippi feels different from the Gulf Coast of Alabama.
"It definitely has a different vibe and energy," she said. "It has a different crowd with the casinos and everything. I haven't had a lot of time to look around. The first weekend I was here, I was preparing for my thesis defense, so I haven't had time to sit on the couch, much less go to a casino."
First-Grade Prediction
McCall went to college in Alabama, but she grew up in Austin, Texas, where people are more accustomed to cowboy boots than beach shoes.
Still, she wanted to become a marine biologist. Always. Or at least as long as she can remember.
"In my first-grade yearbook, they asked us what we wanted to do when we grew up," McCall said. "I said marine biology."
When she's not working, she likes to get outdoors. When she's indoors, she enjoys 1,000-piece jigsaw puzzles. She's also a reader who savors the classics of her youth.
"Right now, I'm rereading all the Harry Potter books," she said. "My boyfriend and I, we found a whole set for $7."
One of the perks of her field work is a relaxed dress code. She often travels the Gulf Coast in sneakers, shorts and a Department of Marine Resources T-shirt. Being fair-skinned, she always wears sunscreen, sunglasses and a broad-brimmed hat.
"When I came to graduate school, I learned to love hats," she said. "I was outside so much."
McCall hopes to turn chapters of her master's thesis into research papers. She'd love to get published in a scholarly journal.
At the Dauphin Island Sea Lab, she did fisheries research with Dr. Sean Powers, chair for the School of Marine and Environmental Sciences. She piloted small boats, coordinated field days and supervised data collection. She was also a teaching assistant and social media specialist who managed events such as the Alabama Coastal Cleanup.
This kind of varied experience is one of the most valuable things she took from her time at South.
"Honestly, it's the work ethic I learned in grad school that has really helped me," she said. "Coming here, they're like, 'Hey, can you do this?' And I'm like, 'Absolutely.' I'm used to driving a 15- or 18-foot skiff, but yesterday I got to steer a 60-foot boat, an old oyster lugger, so that was a good time."
McCall is working on 10 different projects at the Department of Marine Resources.
On some days, she'll join a crew doing oyster cultivation – "cultch planting" – which involves spreading limestone or concrete rubble on the sea floor. On other days, she'll be working with tiny spat – baby oysters – that will grow on those cultivated surfaces.
The culture of marine science is changing as more women enter the field. McCall is part of a trend. It's something she sees happening at her job.
"I'm used to being around all the guys, but now there are three other women in the office who do what I do, and two of our supervisors are women," she said. "So it's been fun."
McCall isn't sure what her future holds. She could return to school and get a doctorate. She could become a consultant or work for a nonprofit.
Right now, just finishing graduate school, she doesn't worry about the big picture. She's focused on oyster beds in the Mississippi Sound.
"I wanted to tap into a research technician position, essentially," she said. "I kind of just wanted to get into the field and work."
---