South Students Participate in Hospitality Internship Program
---
Posted on July 7, 2016
Alice Jackson
---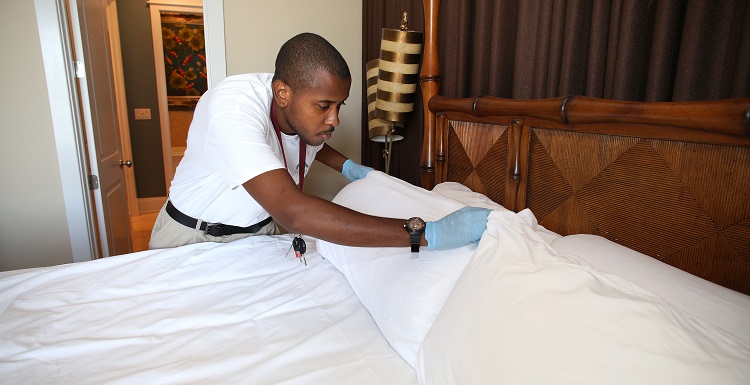 Each Saturday, South students like Michael Geter, a computer science major, learn job basics in a unique partnership between the University and The Beach Club in Gulf Shores. Dr. Evelyn Green, interim chair of hospitality and tourism management, says the students add to their resumes while learning. Bottom Photo: Carissa Barrios, right, a sophomore majoring in hospitality and tourism management, talks with David Clark, general manager of The Beach Club; Dylan Ordeneaux, sophomore sociology major; and Christal Mashburn, executive housekeeper; about customer satisfaction scores and work schedules.
---
University of South Alabama students in hospitality and tourism management load up and head to the beach every Saturday, but there is no time to swim and sun.
Rather, the students are learning firsthand practical knowledge about how the hospitality and tourism business works through an internship program at Spectrum Resorts' The Beach Club in Gulf Shores.
"I'm learning things now that my older sister had to learn in this business after she graduated from college," said Carissa Barrios, a sophomore from Slidell, La. "She told me when I graduate, I'm going to be way ahead of where she was at the same age because I'll have this experience on my resume."
Each Saturday, the students take their textbook knowledge to the resort where they learn the business from housekeeping upward. That means making beds, taking out trash and doing a variety of other jobs to ready the condos for incoming guests. They are encouraged to offer ideas about how the housekeeping system can work better, and because David Clark, general manager, often works alongside the students, some of their ideas are being implemented.
"The program and the students have changed our world here on Saturdays, which is the busiest day of our week, and we are trying to change their worlds," said Clark, who oversees the 86-acre resort with more than 300 condominiums.
It's part of a nine-week, business-educational partnership in the department of hospitality and tourism management that pays each student $11 per hour as well as provides rides to work and a free lunch. In addition to workplace learning, students must complete online modules. The program, Future Leaders in Global Hospitality & Tourism, or FLIGHT, is the brainchild of Clark, Dr. Evelyn Green, interim chair of hospitality and tourism management, and her colleague Dr. Roy Maize, adjunct professor. The goal is for students to learn ways to become better supervisors, managers and leaders once they enter the world of full-time work.
"In addition to students learning and applying fundamental hospitality and tourism workplace competencies, they are also learning the right to lead through engagement and visible leadership," Green said. She joins students on their bus rides between South's campus and the resort, supervises and often assists while they work, and also interacts with the resort's housekeeping director and Clark to ensure her students are participating and learning.
When the students arrived at the resort on a recent Saturday, they were greeted with smiles, hugs and high fives from the housekeeping director and staff, a sign of the bonds formed between the two groups after only several weeks. Inside one of the resort's four towers, Barrios and fellow student Antony Nguyen, a hospitality and tourism management major from Bayou La Batre, pair off into a team. Upstairs, the two moved quickly through a two-bedroom condo, gathering trash into huge bags and checking that the refrigerator is empty before they re-made beds with clean linens. Once the duties were completed, they moved next door. Later, full-time housekeeping workers would take care of deeper cleaning and "detail" the condo to finish preparing it for guests.
"I decided on this major because I know I'll have great chances for a well-paying job for a long time as I work my way up the ladder," Barrios said as she flipped pillows and bedding expertly between herself and Nguyen.
Suddenly Green's voice filled the condo, firing off questions.
"Each team has a radio, and Dr. Green or the housekeeping director can call us at any time to check how we're doing," Nguyen explained as he prepared to answer her. "We can also call her with questions and talk to other students about work."
Midday, the students and their co-workers broke for a lunch of pizza, brownies and drinks in the dining room of the resort's Club House overlooking the beachfront and the Gulf of Mexico. While they ate, Clark passed out the latest results from guest questionnaires.
"We are up in a lot of areas, but we're up two points in the cleaning category," Clark told them. "That's a huge jump, and I want to let you know your leadership is helping, and I'm proud of you."
"This is my first job in my whole entire life, and I have a newfound respect for what these housekeepers do," said Jamie Arnold, a sophomore health education major from Montgomery. Arnold, like some others in the group, took the internship class "because it's a great way to network, to meet people outside of your group or major and to learn servant leadership."
Servant leadership is a philosophy and set of practices that aims to enrich the lives of individuals as it helps to build better organizations.
"I and my staff have found these USA students to be enthusiastic and energizing, a total breath of fresh air," Clark said. "When I find college students like these, I will give every one of them a recommendation for their resume when they begin job hunting. They've made a career contact for life because I'll never forget them or how they've worked in this program."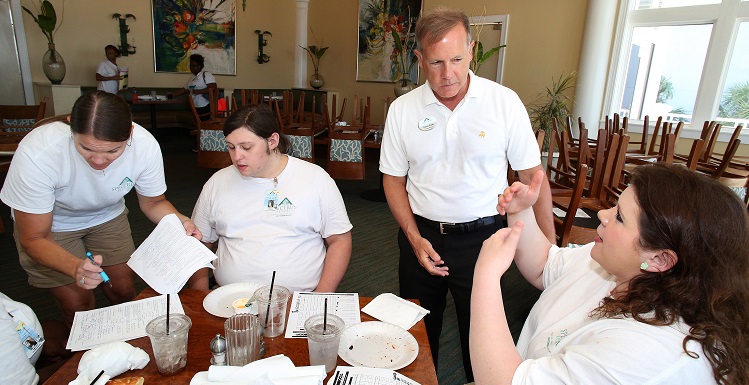 ---