South Pianist to Compete in Prague
---
Posted on July 11, 2017
Alice Jackson
---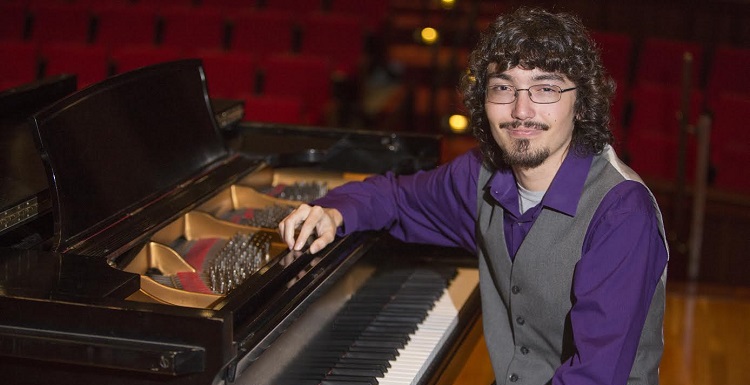 Kohrman, a senior in South's department of music, is the only American selected to compete next week in a prestigious composition competition in Prague.
---
University of South Alabama senior Peter Kohrman will be the only American competing in the prestigious International Antonín Dvořák Composition Competition this month in Prague, Czech Republic.
Kohrman, who is majoring in piano performance with a focus on musical composition, will compete in the junior division, ages 18-23, against 11 other finalists from around the world. He was selected from among hundreds of entrants based on his original composition, "Don Juan."
The eight-day finals will be held July 23-31 at the Prague Music Conservatory where Dvořák was a composition professor and director. Each finalist will be sequestered for five hours per day with the challenge of producing two original musical compositions that display specific musical skill sets. A panel of internationally renowned musical experts will determine the winner of both categories.
"I entered the competition simply to enter, and I was surprised when I was named a finalist," Kohrman said. "Music has been inside my head since I was born, but it's always morphing."
He is highly passionate and dedicated about his music, but he admits he didn't begin formal music training as early as most of his peers, who started around 5-8 years old.
"The first time I knew I wanted to study music was when I was 2 years old and saw 'The Nutcracker,' but my family was living in Wapakoneta, Ohio, which is a really small town. It's the hometown of astronaut Neil Armstrong," Kohrman related. "I grew up loving Disney show tunes. I really wanted to learn piano because to compose music, you have to know piano."
At the same time, he was developing computer skills, something every modern composer needs, especially for his career choice. He hopes to compose music for movies, television and video games. He likes to say he plays "both the piano and the computer," both skills he will use during the Prague competition.
Kohrman played baseball and swam competitively until his late teens. By then, his family had moved to nearby Bay Minette.
While he was still in high school, his mother talked with University faculty Dr. David Durant, professor of music and director of music theory and technology, and Dr. Robert Holm, professor of music and head of the piano division. She wanted to know if they could help him reach his dream. After their confirmation, Kohrman came to South.
"Peter is a very prolific composer who composes daily," said Durant. "His output is pretty significant."
"He regularly gets to the music building when it opens at 7 a.m. to play piano or compose," Holm said. "For the past five years, he has attended virtually every Mobile Symphony and Mobile Opera rehearsal and performance to study music and the techniques of the conductors."
Additionally, he is involved in music research through the University's Summer Undergraduate Research Fellowship program, or SURF. Durant is Kohrman's mentor for research into new ways to use modern computer software for scoring films with his own musical score.
The biggest challenge for Kohrman now is actually getting to Prague. The trip and the stay will be expensive, and his parents have set up an online account for donations.
"I leave next week, and I'm hoping to have enough funds by that time," Kohrman said. "I appreciate everyone who has contributed, or will contribute. I've gained more from South than I would have at any other institution because South has professors who really are passionate and who will take the time to work with their students."
---