USA Medical Students Selected as Inaugural Blue Cross and Blue Shield of Alabama Scholarship Recipients
---
Posted on July 11, 2018
Marketing and Communications
---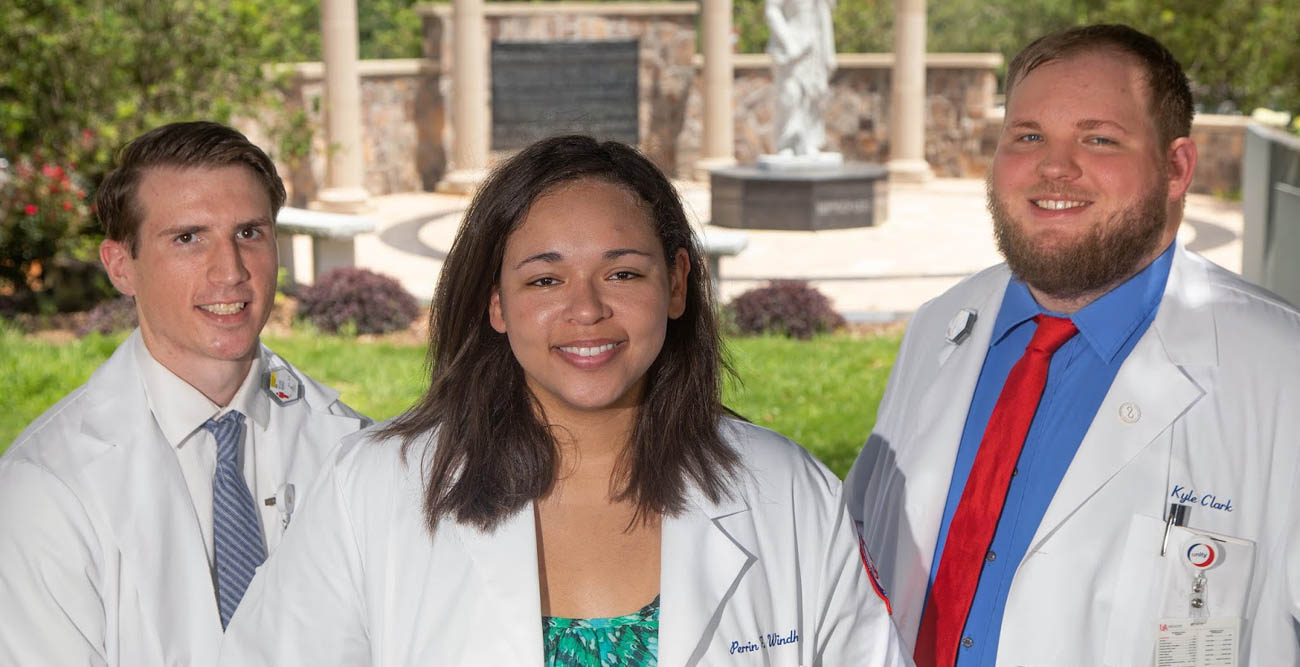 From left, Michael Marfice, Perrin Windham and Kyle Clark are the inaugural recipients of a Blue Cross and Blue Shield Scholarship aimed at improving health care in underserved areas.
---
Three medical students from the University of South Alabama College of Medicine are the recipients of a scholarship from Blue Cross and Blue Shield of Alabama, a new initiative aimed at expanding access to quality health care for all Alabamians.
Perrin Windham, a fourth-year medical student, and Kyle Clark and Michael Marfice, both third-year medical students, each received a $60,000 scholarship, which covers the costs of their last two years of medical school. After completing their residencies, the scholars will commit a minimum of three years to practicing as primary care physicians in medically underserved areas of Alabama.
Dr. Tony Waldrop, president of USA, said the Blue Cross scholarship program speaks directly to the university's efforts in four areas of priority: "our mission to improve student success and access; our efforts to enhance research and graduate education; our delivery of excellence in health care; and our engagement with a community partner – in this case, Blue Cross and Blue Shield of Alabama – to strengthen the positive impact we collectively make throughout our region."
According to the Alabama Rural Health Association, 54 of Alabama's 56 rural counties are entirely or partially classified as primary care and mental health care shortage areas. To help meet this need, Blue Cross partnered with the USA College of Medicine to offer $1.2 million in scholarships, over a five-year period, to deserving USA medical students.
"Forty-five years ago, our medical school was founded with a core mission to train physicians who, in turn, would serve the health care needs of the citizens of our state," said Dr. John V. Marymont, vice president for medical affairs and dean of the USA College of Medicine. "This tradition continues today as evidenced by our Blue Cross and Blue Shield scholars who have answered a calling to practice medicine in one of Alabama's underserved areas."
Compared with graduates from all other allopathic medical schools in the country, Marymont said, graduates from the USA College of Medicine rank in the 75th percentile for physicians practicing in state, 81st percentile for practicing in primary care, and 99th percentile for practicing in underserved areas.
Caring for vulnerable populations is part of what motivated Clark, a native of Ozark, Ala., to apply for the scholarship. "Growing up in a small town, my family is very country," he said. "There's a lot of heart disease, diabetes and obesity in my family. It's important to have a rural doctor there to help people understand that the choices they're making are not going to help them live a happier life down the road."
Clark had the opportunity to do summer research at Johns Hopkins University in Baltimore, an experience that helped him realize he has no desire to live or work in a big city. He said receiving the Blue Cross scholarship solidified his decision to serve in a rural community.
Windham, of Daphne, said the scholarship served as a reinforcement for her career path as well. She initially intended to specialize in oncology, the result of losing her father to cancer at a young age. But, once she went through the pediatrics rotation during her third year of medical school, Windham realized her vocation was working with children.
"Being able to see kids, even when they were sick, made me so happy," she said. "I loved going to work every day."
Since primary care encompasses pediatrics, Windham said, "I could apply for the scholarship and still do what I want to do with my life – and give back in the way that I want to give back."
Marfice, of Grand Bay, had frequent doctor visits as a child, due to a benign tumor in his ear. He acknowledged the burden it placed on his parents to travel regularly for the primary and specialty care he received. His childhood medical history, coupled with his grandparents' health struggles, led to a "strong pull to go into medicine."
"I'm actually in the position now to be able to deliver care to other people's grandparents," Marfice said. "I feel like I can do the most good by going into primary care."
Marfice said the Blue Cross scholarship helps to relieve a tremendous amount of financial stress, allowing him to focus on his studies and patient care as he begins clinical rotations this year.
"I want to be able to practice medicine, to practice medicine," he said. "So, being able to focus primarily on work doesn't just help me. It helps the patients as well, because I can be there completely for the patients, as opposed to paying off the next student loan bill."
---