Focused and Living Beyond Her Dreams
---
Posted on July 12, 2016 by Joy Washington
Joy Washington
---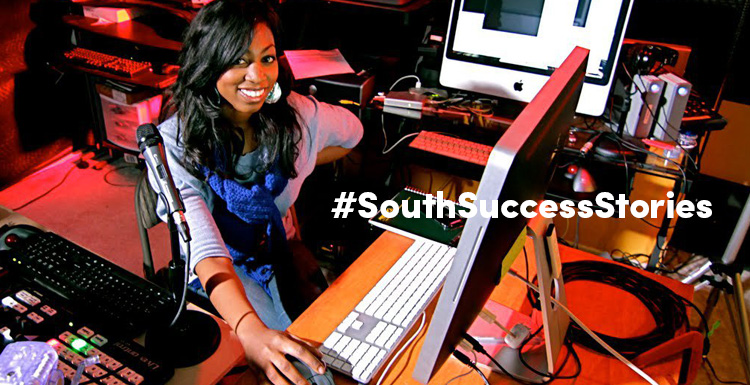 Tiffany Williams, sitting in her Los Angeles studio, said she is by nature a shy person but "learned that you only get one life, and I was determined to make the best of it."
---
#SouthSuccessStories is an ongoing series featuring University of South Alabama alumni who are life-savers, innovators, game-changers, music-makers and creative-thinkers, successful in their careers and supportive of their communities.
---
"Since I was a child, I have always wanted to be on television," said Tiffany Williams, a Los Angeles-based independent casting producer and reality show producer. "And I've never lost sight of that dream."
Williams, a native of Montgomery, Ala., said her parents remember that she always had a brush in her hand, pretending it was a microphone. So it was no shock to her family that she majored in theatre and minored in communication. And while studying at the University of South Alabama, Williams was able to strengthen her skills and move closer to her dream.
---
Tiffany Williams, Class of 2006
Bachelor of Arts, Theatre Major, Communication Minor
Reality Show Producer and Casting Producer
Website: www.tiffanydelisa.com
Median salary based on the U.S. Department of Bureau and Labor Statistics: $68,440. Salary may vary considerably based on experience and location.
---
There were times when Williams said she struggled with academics, but she never gave up on her goals. As she continued to study hard, she worked as a student staff member at JagTV, USA's campus television station, to gain more experience. She became active on campus as a member of the Epsilon Upsilon Chapter of the Alpha Kappa Alpha Sorority and a member of the African-American Student Association, and she was crowned the 2006 USA homecoming queen.
"I was naturally a shy person who had to learn how to come out of my shell to live the life I knew was waiting for me," Williams said. "It wasn't easy. But at South, I learned that you only get one life, and I was determined to make the best of it."
Williams said she will always be grateful to Dr. Carl Cunningham, who served as director of Multicultural Student Affairs at South while Williams was a student. He was supportive of her, she said, when she needed it the most.
"I am so proud of Tiffany's accomplishments," Cunningham said. "When she was voted homecoming queen, my staff and the students were very excited for her. I called some of my friends, who became the 'glam squad' to help Tiffany with a full makeover for the homecoming game. It was important for us to be there for her."
At the end of her junior year, Williams was able to start her career in television as an entertainment host and editor for WPMI, Local 15. While working behind the scenes as an editor at Local 15, she eventually created and produced a segment titled "Uminutes on UTV44," which is still on the air.
Although Williams had gained a great deal of professional experience on her first job, she was told by others in the news industry that she would need to move up to a larger television market, and that would take years. But after a vacation trip to Los Angeles, Williams fell in love with the city and connected with the people she met. She realized it was time for her to go straight to the top. In 2010, Williams moved from Mobile to Los Angeles.
"I remember the concern my parents had when I told them I was leaving my job and moving to California to live with five roommates I didn't know," she said with a laugh. "But, I reassured them that I would be ok. I made the big move and within three days of arriving in Los Angeles, I found work as an extra on several different television shows."
Williams was hired to appear in "Cold Case," "CSI Miami," "Rizzoli & Isles" and even as a body double for Kelly Rowland of Destiny's Child. She's also worked in creative marketing for CreditReport.com; produced episodes of TMZ, "Judge Faith" and "Huff Post Live," which won a Webby Award in 2013 for best news and informational program; and did casting for "Virtually in Love" and "Battle of the Ex Besties" for Oxygen.
Williams, who works under the professional name Tiffany Delisa, said she learned quickly that image is everything in Los Angeles, and that brand recognition can make or break your career. She conditioned herself to adapt and took advantage of every opportunity. The hard work paid off.
"For anyone who's trying to make it in this business," she said, "I am living proof, it can be done."
Williams wants current and future students at South to know that she had to throw caution to the wind, and not allow anyone to put limits on her life. She works in a challenging, yet wonderful industry. And she believes that you have to be ready and willing to work hard and smart to achieve your goals.
"I write scripts, audition hosts to present shows, and find real stories and characters to feature on reality shows," Williams explained. "I help people who have an idea for a show, polish that idea, and meet the right people to get the show sold and put on television."
Outside of her career, Williams enjoys traveling abroad. She also creates thought-provoking documentaries about life's struggles and how people overcome, persevere and fight for others.
"I have an entrepreneurial mindset and spirit," she said. "I love what I do, and it's important for me to work in an environment where I am free to be creative and valued for my hard work. I am grateful to be living beyond my dreams."
---