Artist Lives Dream in Fantasy World
---
Posted on July 14, 2020
Thomas Becnel
---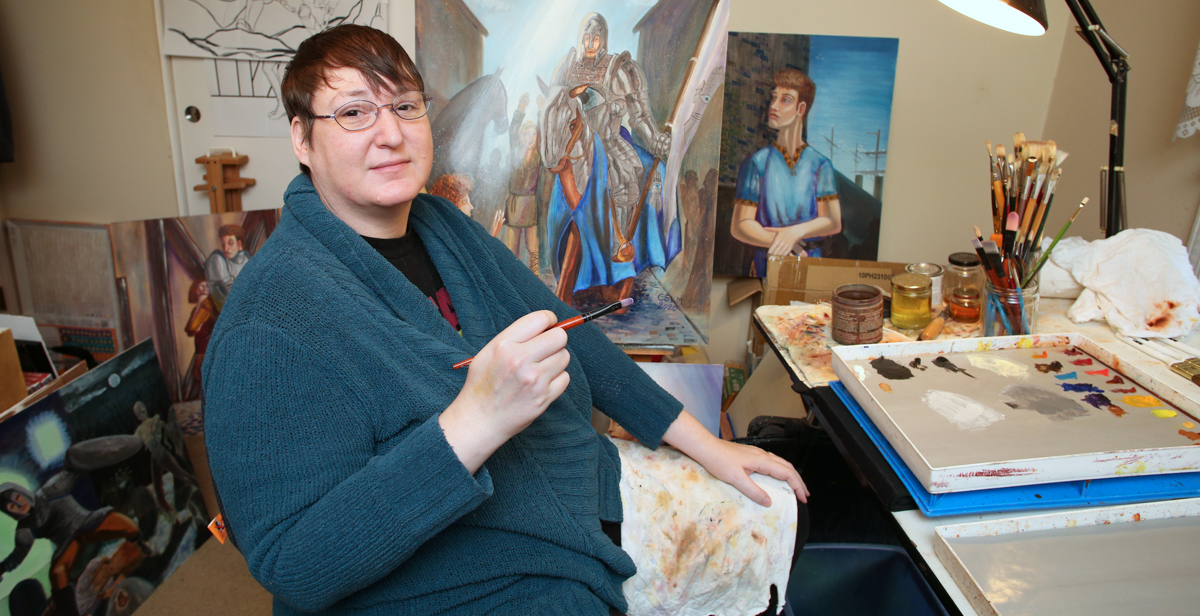 Courtney McKeand, whose portfolio is thick with science fiction and fantasy characters, landed a freelance contract after graduating from the University of South Alabama. "I'm thrilled to have found work so quickly and in my field," she said.
---
#MyFirstJob is a series focused on University of South Alabama Class of 2020 graduates who are beginning their careers.
After six years in the Navy, then two decades battling multiple sclerosis, fibromyalgia and rheumatoid arthritis, Courtney McKeand turned her paint brush toward a fine arts degree from the University of South Alabama.
The 45-year-old lives just a few blocks from campus, which made it easier for to take two courses a semester. Which doesn't mean it was easy. She often got sick, missed classes and had to make up assignments.
McKeand kept painting, though, and kept working toward her degree. It took several years. After a last-semester scare from the coronavirus pandemic, she finally graduated this spring.
She updated her portfolio, which is thick with science fiction and fantasy characters, then got an interview with the head of Mars Rising Publishing.
"He said, you do exactly what we're looking for," she said. "They hired me within an hour. I was like, yeehaw."
Her artwork features many of the muscular heroes and lithe heroines of the fantasy world. There are also model portraits and anatomical sketches. And at least one humanoid character equipped with antlers and oversized ears, along with a pair of crutches.
McKeand is often fatigued, or coping with pain, so working a 9-to-5 job isn't an option.
"I'm disabled, so freelancing is what I'm going to be doing," she said. "Even my artwork is physically demanding. I can do it for an hour at most, and then I have to lie down and relax."
Still, she loves having purpose, discipline and a creative outlet.
"It makes my little heart sing," she says.
McKeand and her husband, a retired Air Force officer, keep busy with their 6-year-old daughter. Sometimes she helps her mom mix colors. That kind of curiosity runs in the family.
"When I was really little, I asked my mom to draw a horse so I could color it, and she said no, you have to do it yourself," McKeand says. "After that, if I could see it, I would draw it, and that was that. I was obsessed with horses and unicorns."
After high school in New Jersey, McKeand joined the Navy and worked in construction with the Seabees. She was stationed everywhere from Florida to California and Alaska.
"It was isolation duty in Alaska, and you're only supposed to do one year, but I extended it for another year," she said. "I loved the fishing and hiking, and I learned how to dance the two-step."
She was based in Japan and Puerto Rico, too, before her health failed. She was always sick and often fatigued. It took several frustrating years for her to get different diagnoses.
McKeand finally left the Navy. She and her husband lived in Germany before moving to the Gulf Coast.
In Gulfport, Miss., she spent a couple of years doing restaurant work. In Pensacola, Fla., she started taking college art classes. In Mobile, she continued her education at South.
She says Professor Benjamin Shamback helped guide her to a magna cum laude degree. Along the way, she took sculpture and ceramic classes. She learned oil painting, after working only with acrylics for many years.
McKeand's interest in science fiction and fantasy drew her to the stylish character art of the genre.
Her role model is Larry Elmore, a fantasy art legend whose work is admired by generations of Dungeons & Dragons players. She got to meet him when he visited South Alabama for a MOBICON convention, where she was art director.
"So he came in and I fan-girled out and didn't know what to say," she said, laughing. "But he was such a sweet guy."
After graduation from South, McKeand updated her website and sent a resume to Mars Rising. She was astonished to get a reply in less than an hour. During her interview, she demonstrated knowledge and enthusiasm for the fantasy world, and wound up with a freelance contract.
"I'm thrilled," she said, "to have found work so quickly and in my field, doing exactly what I want and love to do."
---