South Professor, Students Test Recycled Asphalt
---
Posted on July 15, 2020
Bob Lowry
---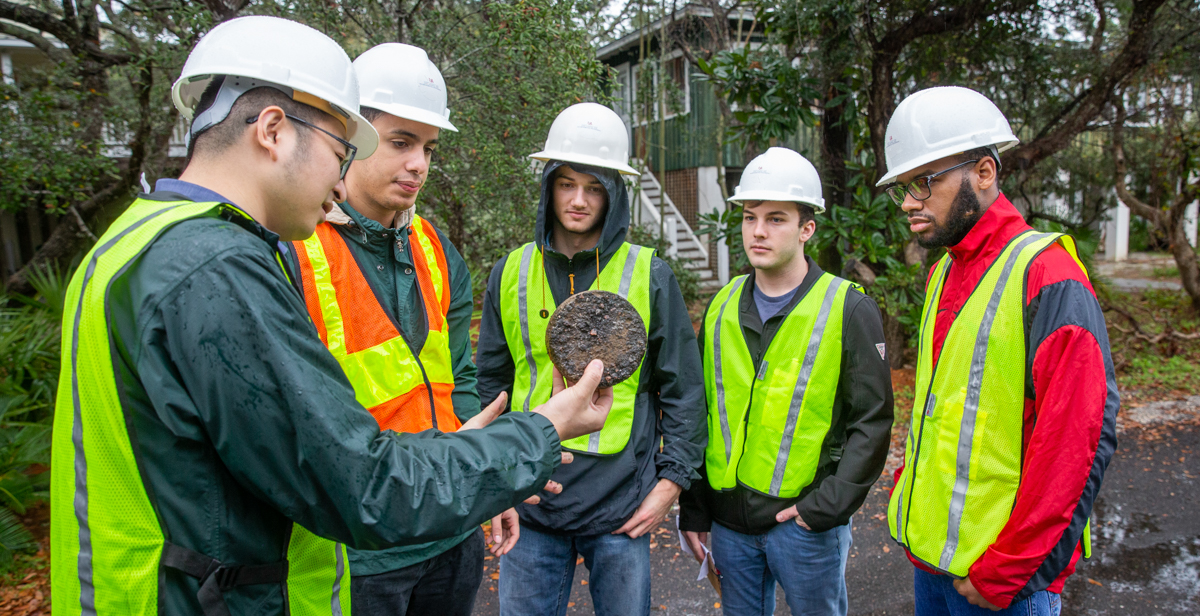 University of South Alabama engineering students examine an asphalt pavement core sample held by Dr. Shenghua Wu, assistant professor of civil engineering/pavement engineering. The sample was removed from a road made from 100 percent reclaimed asphalt pavement, which is the focus of research by Wu and the students. This photo was taken earlier this year, prior to the disruption of the coronavirus pandemic.
---
You're driving north on I-65, cruising along until you see a sign indicating road construction ahead. As you slow down, you see people and machines engaged in repaving the highway. Perhaps you've arrived after the old top layer of pavement has been scraped away and the new road surface is being installed.
Did you ever wonder what happens to that old, removed pavement? Dr. Shenghua Wu can tell you, and he can do more than that.
In the Science Laboratory Building at the University of South Alabama, Wu and his students have been looking for new ways to take that old asphalt, commonly referred to as reclaimed asphalt pavement or RAP, and use it again in effective and cost-efficient ways.
"It's actually common practice to use RAP," said Wu, an assistant professor in USA's department of civil, coastal and environmental engineering. "However, the amount of RAP typically used is limited – up to 20 percent for asphalt pavement surfaces – because it's a highly aged and oxidized material that potentially increases the risk of cracking in the new pavement."
Wu and College of Engineering undergrads Luke Montalvo, Colton Spell and grad student Omar Tahri are researching how to use a lot more than 20 percent of the RAP in asphalt paving. They wanted to see and test a road made from 100 percent reclaimed asphalt pavement, and they found one in Northwest Florida.
About 2½ hours east of the USA campus there's a half-mile stretch of road in Santa Rosa Beach made from 100 percent RAP. It's here where the South contingent is putting their research to work.
On a day in mid-February, Wu and his students conducted a pavement condition survey and retrieved core samples drilled from the Santa Rosa Beach road project.
"We were checking the asphalt for any distresses such as cracking, rutting (surface depression in the wheel path of the roadway caused by traffic over time), or raveling, which is the aggregate in the asphalt mix that comes loose from the asphalt binder," said Montalvo, a civil engineering student from Mobile.
"The asphalt surface appears to be performing well," Wu added. "However, our field survey and analysis will objectively evaluate its performance over time." Later, the core samples were taken back to the asphalt lab on the USA campus, where Wu's team extracted the asphalt binder and conducted a series of performance tests.
Spell, a civil engineering student from Spanish Fort, is optimistic about the performance of a 100 percent RAP road. "I believe with a sufficient amount of research and testing, 100 percent RAP asphalt could become a huge factor in future pavement design." Spell intends to get a master's degree with a career focus on asphalt pavement.
The paving job was done late last summer with approval from the Walton County Public Works department using a new, innovative product from Blacklidge Emulsions called Recharge. "Recharge is an advanced rejuvenator that restores the base asphalt binder components in RAP, making the discarded material usable again," Wu explained.
In addition to the rejuvenator research, Wu and the students threw another challenging wrinkle into the project scope. "We are testing a road that was built at ambient temperature with the aid of the rejuvenator," Wu said. "Conventional rejuvenators do not typically enable the use of RAP to build a roadway without heat or new asphalt."
Typically, RAP is recycled and then fractionated (that is, separated into coarse and fine stockpiles to maximize the amount of RAP that can be used), and stored at an asphalt plant. At the plant, RAP is added into a mixing drum, dried, blended with new asphalt and aggregate at 320 degrees or higher to produce fresh asphalt mix, and then delivered by truck to the paving location for compaction on site.
But for the Santa Rosa Beach road, RAP was no longer delivered to the asphalt plant for processing. Instead, it was prepared near a gravel pit, then delivered, spread and compacted on site, with no additional heating. All work was performed by the county with minimal resources and the roadway was supporting vehicle traffic within two hours after compaction. "This is very cost effective and efficient," Wu said.
The process is also friendlier to the environment. "With the growing importance of sustainability, there is a drive to increase the use of recycled materials in transportation infrastructures," Wu explained. "Recycling old existing asphalt can save construction materials, save costs on processing and transportation, reduce landfill pressure, and reduce greenhouse gas emission and fuel consumption."
For Tahri, the grad student, this research could enable him to help improve road conditions back home. "I spent my youth living in different countries in Africa, where I experienced a variety of roads used for transportation including gravel, pavement and dirt," Tahri explained.
"This is where I first discovered how interested I was in types of roads and how they are built, and realized my calling for civil engineering. I would like at some point in my life to return to Africa, and bring with me all the new technologies and methods to enhance the infrastructure."
---