South Team Researches Antimicrobial Fabrics
---
Posted on July 16, 2020
Amber Day
---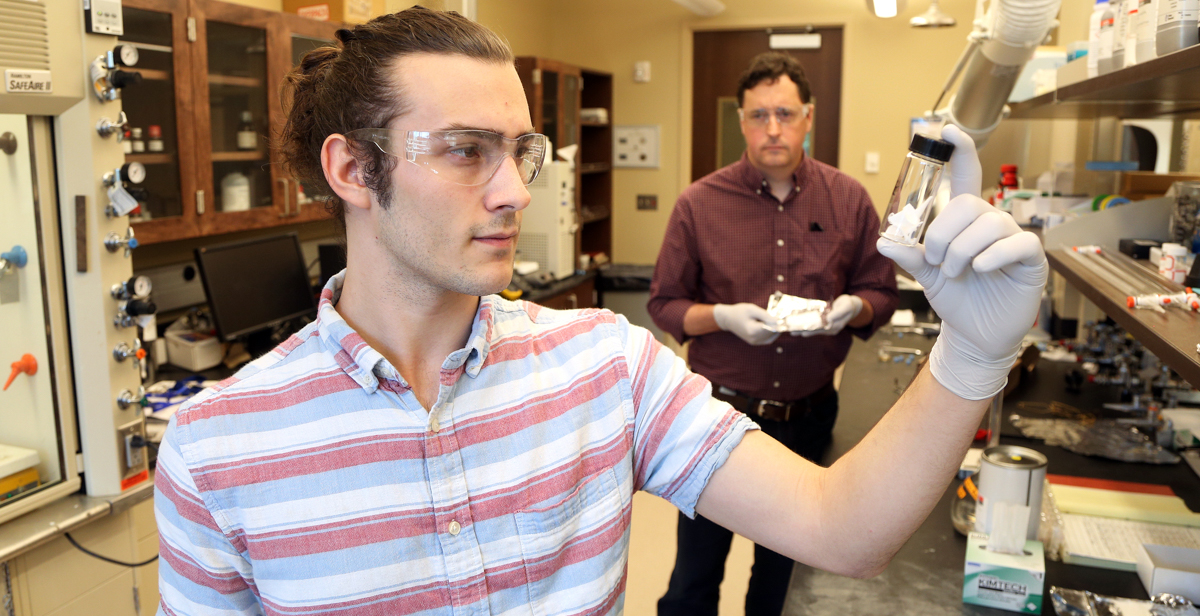 Joe Milter, who graduated in May from the University of South Alabama, works with Dr. Kevin West, background, professor of chemical engineering, in a College of Engineering lab during spring semester. Milter is one of the students who has worked on an antimicrobial fiber research project, collaborated on by West and Drs. Grant Glover, associate professor of chemical engineering, and Terry Ravine, associate professor of biomedical sciences. This photo was taken before wearing a mask was required or widely practiced. University policy requires social distancing and the wearing of masks in most indoor settings.
---
What started with an Army proposal for long-wearing undergarments has become a long-running University of South Alabama effort designing antimicrobial fabrics that could reduce odor in athletic apparel and help hospital linens and garments remain germ-free.
Dr. Kevin West, professor of chemical engineering; Dr. Grant Glover, associate professor of chemical engineering; and Dr. Terry Ravine, associate professor of biomedical sciences, are collaborating on the project.
West compared the fabric treatment to the chlorine process for cleaning swimming pools.
"The slow release of chlorine, it's the same idea," West said. "Very similar chemistry, actually. To provide a long-term, low-dose release of chlorine to prevent bacterial growth."
Existing fabric treatments often wash out in laundry cycles, reducing effectiveness, but a molecular bond with garment fibers could be recharged with a simple rinse. That's a key feature. Applications of the antimicrobial technology go beyond making socks, shorts and T-shirts less smelly.
"Hospitals," West said. "Hospital scrubs, hospital curtains, hospital bed sheets and pillow cases."
"With textiles prevalent in almost all aspects of life," Glover explained, "the need for such a technology is clear."
Right now, South researchers are using a three-step process to treat cotton fabric with a biocide. The challenge is to develop a single-step method that will be more commercially viable.
Ravine's role is to create an assay, or test, that shows whether the fabric biocide is effective in preventing bacteria from growing on fabric samples. He came up with a chromogenic method that is easy to interpret.
"We can tell by simple color development whether bacteria are growing," he said. "I wanted something that showed a clear yes or no result. If the fabric does not change color, then the biocide has prevented bacterial growth."
Ravine has contacted members of the American Association of Textile Chemists and Colorists. There is industry interest in both antimicrobial fabrics and the bacterial technique he's developed to test biocides.
Student Researchers
A pair of students at South have joined their professors in research on antimicrobial fabrics and testing.
Katie Rogers, a senior Honors College student in biomedical sciences, began working with Ravine during a Summer Undergraduate Research Fellowship. The subject matter appealed to her. She plans to attend medical school and become a doctor.
"The health care applications of this are pretty cool," she said. "That's what caught my interest."
Rogers would spend several hours each week testing samples in a fourth-floor laboratory at the Health Sciences Building. She took fingernail-sized samples of treated cotton fabric, added a pigment-producing bacterium, then recorded the results the next day.
Rogers was one of six students chosen last fall to make an oral presentation at the USA Undergraduate Research Symposium. Her thesis, now complete, is titled "A Novel Assay for Testing Biocide-Treated Fabric for Antibacterial Properties."
Joe Milter, a chemical engineering student who graduated in May and worked with West, wrote his own thesis: "Synthesis of a Recharging Antimicrobial Dye for Textile Applications." As a junior, he began volunteering his time on different experiments in the chemistry department before doing work on the fabric project.
"To be able to really dive into something is appealing to me," Milter said. "And research experience is key to getting into graduate school."
Milter hopes to become a chemical engineering professor one day and was accepted into the graduate program at the University of Notre Dame.
Commercial Uses
Four years ago, Glover and West began work on the Army request for new kinds of long-wearing undergarments by testing antimicrobial fabrics at South, which owns the rights to the research.
As a Boy Scout leader who takes his sons on camping trips, West has an appreciation for the idea of antimicrobial garments that would help reduce odor during a sweaty weekend outing.
"Oh, yeah," he said, laughing. "You kidding me? Socks and underwear, that would be fantastic."
Right now, there are a number of commercial garments which use silver nanoparticles to help kill bacteria and prevent odor. One of the concerns is that these silver particles leach out with washing and could prove harmful to people and the environment.
The development of novel fabrics at South could lead to garments and linens that could be recharged, increasing their lifetimes and effectiveness. Athletic apparel would be one application. Another would be hospital supplies.
"For the medical market, it would be the ability to provide a bed sheet that is self-decontaminating," West said. "Or curtains and garments. If you've got soft, cotton surfaces that don't allow bacteria, you've got the potential to arrest disease spread before it even gets started."
Said Glover: "We see a broad opportunity to provide next-generation textiles for a number of applications including consumer products, sports apparel, and medical supplies."
---