Student Spotlight: Baraa Mando
---
Posted on July 17, 2019
Marketing and Communications
---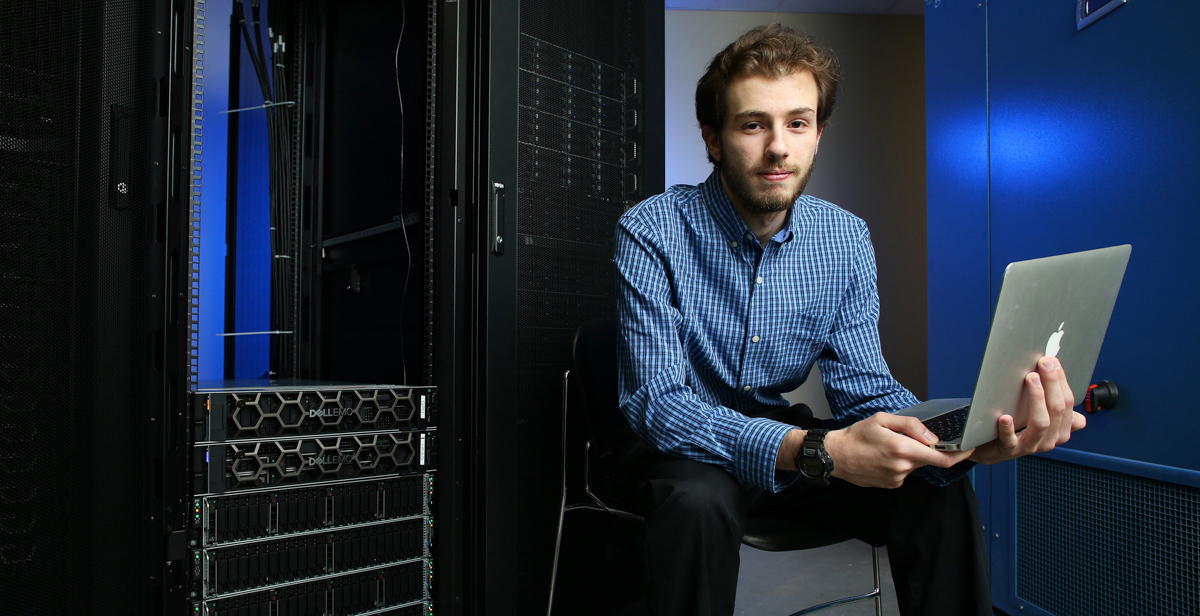 Through undergraduate research, Baraa Mando, a senior in chemical engineering, found an outlet for his love of science, math and computer coding.
---
As a teenager, Baraa Mando spent nights and weekends on his family's laptop programming code for simple video games he would never actually play.
"It's a weird hobby, but I like whenever I hit the 'run' button, seeing it work like I wanted," he said.
For Mando, there was an odd beauty in the way these numbers, letters and characters — though unintelligible to those who don't read programming code — would speak to one another and create a series of commands that would ultimately change how the computer behaved.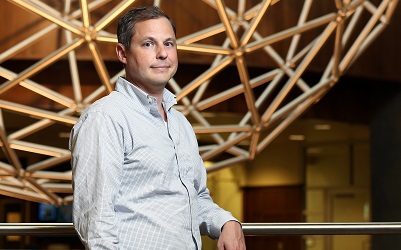 The research of Dr. Brooks Rabideau, assistant professor of chemical engineering, includes using computer modeling to design effective liquid solvents for cellulose molecules.
When Mando chose chemical engineering as a college major, he didn't anticipate being able to find an application for his hobby in his field of study. He loved science and math, so the major seemed to fit with his skills. But after his sophomore year at the University of South Alabama, he thought to ask his advisor, Associate Professor Christy Wheeler West, if there was a way for him to use his programming in chemical engineering research.
She suggested he talk to Brooks Rabideau, an assistant professor, who, it turned out, shared Mando's passion for turning code into action. Rabideau's research includes using computer modeling to design effective liquid solvents for cellulose molecules, which aren't able to dissolve in water alone. The hope is that by finding better liquid solvents, this research will enable wider use of biofuels, chemicals, and plastics derived from plant material rather than from petroleum.
"Cellulose is a polymer of sugars that could be converted to other materials such as ethanol, but it is highly resistant to microbial and chemical breakdown," Rabideau explained. "Most organic solvents such as acetone, water and toluene can't dissolve cellulose because the individual chains form a very tightly bound bundle that's very hard to break apart."
Rabideau has been focused on the use of ionic liquids, which can dissolve cellulose. But ionic liquids have a lot of drawbacks such as expense, sensitivity to water and thermal stability, so Rabideau has been trying to find ways to modifying these solvents.
"If we had a low-cost solution," he said, "we could build biorefineries that produce the same materials we produce now from petroleum but in a renewable and hopefully more environmentally benign way."
When Mando came looking for a research project to get involved in, Rabideau gave Mando a primer in the programming language, Python, and soon put him to work creating a program that would find the density of water around any given cellulose molecule, information that would then be used to predict the entropy of water on that molecule.
Rabideau said he was immediately struck by Mando's ability to push a project forward. He estimates he spent about 15 minutes showing Mando the language -- and Mando was able to take it from there with only periodic (and brief) check-ins.
"He's really exceptional," Rabideau said. "He's sharp, bright and independent and he has the ability to figure things out for himself without help from me. There seems to be a determination in him to accomplish what he sets out to do."
Some of that determination may be rooted in his quiet desire to make the most of the opportunities he's found here.
Mando was born in the United States to Syrian parents; his mother was a pharmacist and his father, who initially came to the states for college, worked with computers, most recently in the medical field. When Mando was three years old, his family moved back to Syria, where Mando became immersed in his family's native culture, speaking Arabic and coming to know Syria as his home. By the time Mando was 14, though, Syria had become a war zone. His family sought refuge in Mobile.
Having no strong memories of his early life in the United States, Mando entered the eighth grade at Al-Iman Academy of Mobile, a small, private school that provides religious instruction that aims to nurture children academically while giving them a spiritual understanding of the Muslim tradition. Though some of the cultural teaching was familiar, there was no question it was a challenging time for young Mando, who now views his life as having been split into two parts: his childhood in Syria and his young adulthood in Mobile.
"When I came here, it changed everything," said Mando, now 20. "I didn't know what I wanted to do. It changed how I saw my opportunities. I feel like had two different lives. I think it was probably for the better: I have more opportunities for my life and my life as a student."
In a way, those nights and weekends spent learning programming code were like learning a third language, one he was voluntarily seeking to master while also trying to improve his fluency in English. "They are both different and unique, yet they are still languages that can be learned in a similar way," he said.
Besides the pleasure he finds in programming, Mando also loves playing soccer. He can sometimes be found kicking a ball with friends at the USA's campus recreational center or else, more formally, as a participant in the University's intramural program.
Mando said he has enjoyed working under Rabideau's tutelage, especially as an undergraduate being able to assist in research of this level.
"He's very helpful, very open," Mando said. "Any time I want to talk to him, he tells me exactly what I need to know. He cares about me doing something I like."
Mando has been so motivated by the work, he landed a Summer Undergraduate Research Fellowship, a paid opportunity to continue research with Rabideau. For Rabideau's part, he said he has every expectation that Mando will use the work he has accumulated as a launchpad for a senior honors thesis this fall.
Though poised to graduate in May 2020, Mando said he hopes to continue this work at the graduate level.
"I'm passionate about it," he said. "It feels good when I solve something."
---