Examining the 'Disclosure Experience'
---
Posted on July 18, 2019
Marketing and Communications
---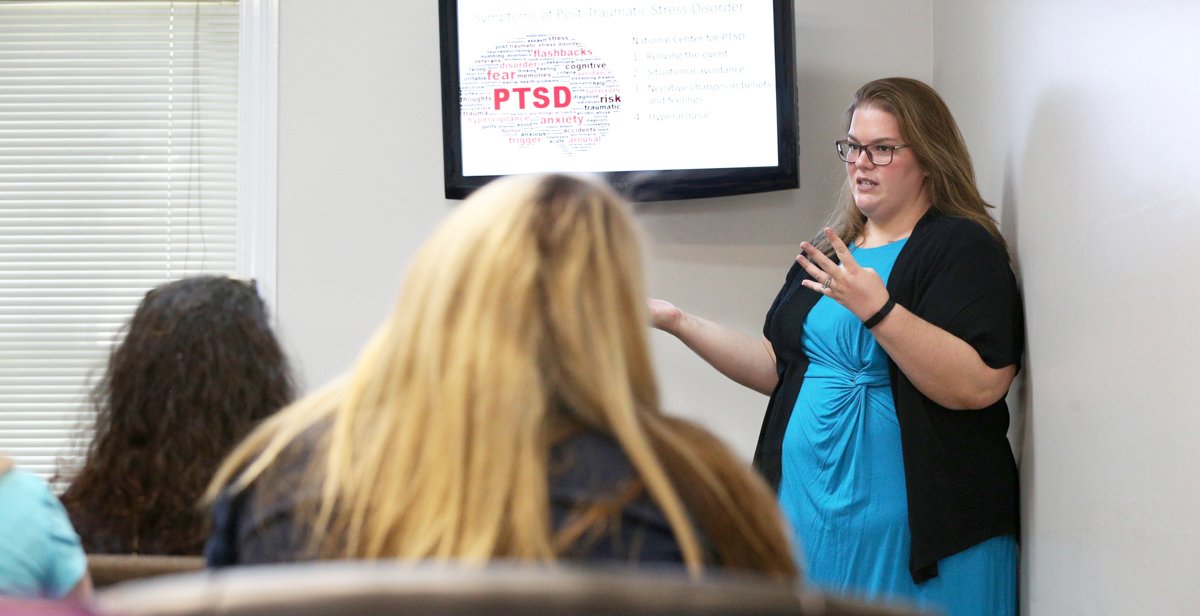 Dr. Sarah Koon-Magnin, associate professor of political science and criminal justice, works with volunteers who act as advocates for sexual assault victims. The work is done through Lifelines Counseling Services of Mobile.
---
Researchers seek to increase human knowledge. Sometimes, that involves telling us that we don't actually know what we think we know — or, as the subtitle of Dr. Sarah Koon-Magnin's new book puts it, "challenging the myths."
Koon-Magnin is an associate professor of political science and criminal justice at the University of South Alabama. Her research (and the teaching and volunteer work that flow from it) follows two primary lines: She tries to understand the "disclosure experience" for victims of sexual assault. And she explores public perceptions about crime.
Most victims of sexual assault do disclose what happened, she said. "Most people do not report to the police, but most people do tell someone. Those interactions are very impactful for the ultimate healing of the survivor. If someone at the time that they disclose a sexual assault is treated with care and compassion, and is believed and supported, it decreases the risk of a whole host of negative outcomes for that person."
Negative outcomes include post-traumatic stress disorder, anxiety, depression and failure to seek such important follow-up services as counseling or medical help. "If the person is doubted, judged, questioned, silenced, it increases the risk."
To help with her research, she spent two years observing Mobile County's Sexual Assault Response Team. The team consists of professionals who respond to sexual assaults, such as law enforcement personnel, rape crisis advocates and prosecutors.
Her goal was "to better understand the disclosure process from both sides," she said. "There's not a ton of research on this, and what there is, is mostly on the victim's side. If we can also understand the disclosure experience from the point of view of the person receiving the disclosure, then we can help make recommendations about how to provide the most supportive, helpful response while also getting the things done that they need to, like collecting information and evidence."
For example, she said, new research shows that after any traumatic event, stress hormones flood the body and disrupt the memory process. It takes the brain at least 48 hours to sort out all the memories and put them in the proper order. Those reprocessed memories are more accurate and complete than those immediately after the assault. But to police or prosecutors, it may seem that survivors are changing their story.
Investigators, Koon-Magnin said, sometimes don't realize that routine questions — "Where were you? What were you wearing?" — can sound accusatory to a victim. "So if we talk about the way that those conversations happen," she said, "there are ways that law enforcement gets the information they need and the victim also doesn't feel judged."
Koon-Magnin also helps train volunteers who act as advocates for sexual assault victims at USA Health Children's & Women's Hospital. While sexual assault nurse examiners provide medical care and gather evidence for investigators, the advocates stay with the victims, offer support and make sure they get immediate medical help and whatever counseling and other later services they might need.
Lifelines Counseling Services of Mobile organizes the advocates, who are available 24 hours a day. Lifelines provides counseling, assistance, referral and education services for people in eight southwest Alabama counties. Its rape crisis program primarily serves Mobile, Washington and Clarke counties.
Jan Preslar, deputy director at Lifelines, said the advocates get 40 hours of training before they are deployed. As part of that training, Koon-Magnin volunteers her time to teach about the effect of trauma on memory and other brain functions.
"She gives back a lot," Preslar said. "That's just so valuable to us to have her as a professional come in and provide that training."
Koon-Magnin is co-author, with two South colleagues, of "Gender Identity, Sexual Orientation, and Sexual Assault: Challenging the Myths," a book published earlier this year. Dr. Corina Schulze, associate professor of political science and criminal justice, and Dr. Valerie Bryan, associate professor of social work, are the other authors. Dr. Amber Pope, a former assistant professor of professional studies at South, also did some of the research.
The book deals with sexual assault myths specific to the LGBTQ community and introduces the Identity Inclusive Sexual Assault Myth Scale to explore misconceptions.
When it comes to sexual assault, and crimes of all kinds, misconceptions and contradictory perceptions abound. For example, Koon-Magnin said, most people support requiring convicted sex offenders to be listed in public sex-offender registries. Significantly fewer say they think such registries actually reduce crime rates. "So whether they're effective or not," she said, "people still like them."
That makes more sense than you might think. "Laws have symbolic value, too," Koon-Magnin said. "People like laws that are in line with a belief of theirs that shows them that 'The legislators are taking my concerns seriously; they're responding to something I view as a threat.'"
She became interested in studying sexual assault "because I have been throughout my life just shocked at how many people have been sexually assaulted." Accusations of sexual misconduct by prominent people and the #MeToo movement have recently increased public awareness about the magnitude of the problem.
The nature of the issue means that her work can make a difference beyond the confines of the campus. Koon-Magnin embraces that. In fact, South's community outreach helped attract her to the University in the first place. She loved the idea of the USA Speakers Bureau, which offers faculty members and other university personnel as guest experts for talks to businesses, civic groups and other organizations.
"I've always thought my research is most valuable if it actually makes sense to the people who would be impacted by it," she said. "So if I can go out and explain what I'm doing to those people, then that's valuable."
She has focused on the disclosure experience, she said, "because so many people are potentially involved with that. Average people like you and me are very likely to, during the course of our lives, receive a disclosure."
Maybe her findings can help "average people" comfort those who confide in them. "Just let them lead it and say how much they do or don't want to say," she said. "Just listen. And get familiar with your local resources so that you know who to guide the individual to for care."
---
The Lifelines Counseling Services 24-hour sexual assault crisis line phone number is 251-473-7273 or 1-800-718-7273.
---