Investigating New Treatment in Trauma
---
Posted on July 20, 2016
Nichelle Smith
---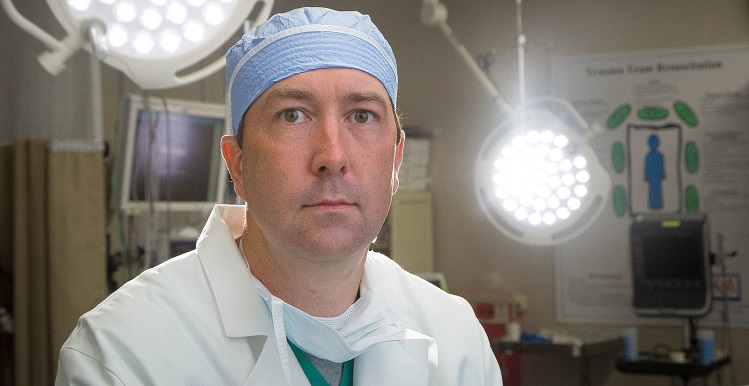 Dr. Jon Simmons, associate professor of surgery at the College of Medicine, balances being a trauma surgeon with an equally passionate curiosity for researching new ways to better treat patients.
---
As a trauma surgeon operating in an academic health center, Dr. Jon Simmons dedicates himself daily to providing each patient with leading-edge critical care.
He is one of five trauma surgeons that operate at the University of South Alabama's Trauma Center – the only academic Level 1 Trauma Center on the Gulf Coast between New Orleans and Tampa. These highly specialized trauma surgeons are also board-certified as ICU doctors.
However, Dr. Simmons, who serves as associate professor of surgery at the USA College of Medicine, adds a unique feature to the group as he is also considered a physician-scientist. He balances being a trauma surgeon with an equally passionate curiosity for researching new ways to better treat severely injured patients.
Several weeks ago, Dr. Simmons was awarded a five-year, $945,000 grant from the National Institutes of Health (NIH) that will enable him to continue exploring a puzzling question that remains largely unanswered and therefore not adequately treated – why do patients who suffer similar traumatic injuries develop multiple system organ failure?
"One thing that intrigues me and most intensivists – whether it be a trauma surgeon or a pulmonologist – is that patients with severe infections or trauma usually do not die from the trauma or infection," Dr. Simmons said. "These patients die from an inflammatory response that causes multiple organs to fail despite not being involved in the initial injury or infection."
This award represents the fourth research grant recently obtained by Dr. Simmons to conduct research at the USA Trauma Center. The recent NIH award is designed to support the mentoring of physicians by more seasoned scientists, one of the core values of academic medicine. "A K08 grant is a mentored award, so you must demonstrate tremendous institutional support and have an excellent mentorship team," Dr. Simmons said.
Dr. Simmons' mentorship team is comprised of Dr. Mark Gillespie, professor and chair of pharmacology and a member of the Center for Lung Biology at the USA College of Medicine; Dr. Bill Richards, professor and chair of surgery; and several of his previously influential mentors at Johns Hopkins and Harvard.
"My role as Dr. Simmons' mentor is to be a full partner in his research, and to combine my skill set with his to make a stronger team," Dr. Gillespie said. "I hope to provide opportunities for him to take what I know and use his enormous talents as a trauma surgeon-scientist and emerging clinician-scientist to make a transformative impact on care of severely injured patients at USA Medical Center."
Dr. Gillespie said basic science efforts discovered a new biomarker and provided the proof-of-concept that it might be involved in multi-organ failure. Dr. Simmons' work extended these observations into severely injured patients, showing that the new concept was likely valid, and he is now planning to test a re-purposed drug with a proven safety record as a means of preventing multi-organ failure. This process – of taking laboratory discoveries and extending them to human patients – is collectively called "translational medicine."
"When Dr. Simmons has an idea that has potential to improve patient care, he is absolutely relentless about determining whether the idea has merit," Dr. Gillespie added. "It is physician-scientists like Dr. Simmons who are often responsible in catalyzing real advances in medicine."
According to Dr. Simmons, the research ongoing at USA holds far-reaching potential to improve trauma care by developing new diagnostic strategies and drugs to treat multiple organ system failure after severe injury. The research partnership between Drs. Simmons and Gillespie has resulted in the development of new medications and the repurposing of older ones to treat this inflammatory response.
He also added that his research is an extension of other projects on-going at the USA Medical Center, noting that "as a Level 1 trauma center at an academic hospital, we take care of the most complex cases in the region. It is our goal never to miss an opportunity to improve outcomes in this vulnerable patient population."
Dr. Richards said serving as Dr. Simmons' mentor means guiding him through the process of learning how to be an independent investigator. This includes reading through his research proposals, making critical comments and advising on how to overcome hurdles that block scientific progress.
Because the competition to obtain funding from NIH has gotten very difficult, Dr. Richards said Dr. Simmons is to be heartedly congratulated on his efforts and perseverance to obtain the award. "Jon has outlined a plan of study to hone his research skills during the next five years in order to compete for NIH grant funding as an independent investigator. I have every expectation that Jon will be successful and that furthermore his research will ultimately led to dramatic improvements in survival."
---