South Grad Turns Science into Child's Play
---
Posted on July 13, 2023
Thomas Becnel
---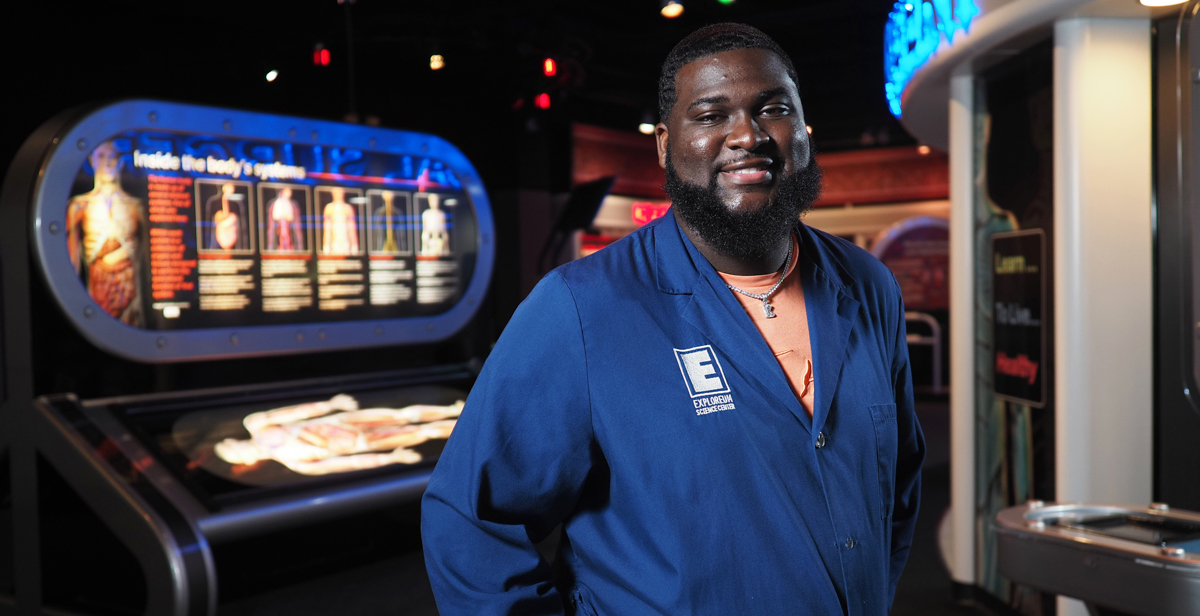 After earning a biology degree from the University of South Alabama, Kevin Culpepper began work as a science educator at the Exploreum Science Center in downtown Mobile.
---
#MyFirstJob is a series focused on recent graduates of the University of South Alabama.
On a fidgety Friday morning at the Exploreum Science Center, Kevin Culpepper leads a class of summer schoolers through a construction project.
One group of 8- to 10-year-olds is building a volcano out of a plastic soda bottle. Another group is using paper blocks to create a town they call Theodore 2.0.
"What's the idea behind your building?" Culpepper asks, nudging them into a discussion. "Is that a pyramid?"
The challenge for him is to guide their work without doing too much for them. They want to have fun. He wants them to use their creativity and resourcefulness.
After two months as a science educator, Culpepper doesn't blink when campers interrupt him with random stories, facts and questions.
"Want to smell my hand sanitizer?" asks one boy. "I have eight of them. This one is Gingham."
Culpepper chats for a while about sanitizer smells before steering the conversation back to Theodore 2.0. Students tend to be more relaxed near the end of the week. They joke and laugh while shaping a volcano and stacking a pyramid.
When the class gets too loud, he claps his hands twice, then three times, and the kids know to stop what they're doing and clap in response.
"OK,' he says. "Lower the volume a little."
Culpepper, a 24-year-old biology graduate from the University of South Alabama, was a student leader and tour guide who led groups around campus. Yet he never imagined he would be leading children through hands-on lesson plans at a museum in downtown Mobile.
In April, he attended a networking event at the Student Center and learned that the Exploreum was looking for a science educator. He arranged for an interview and spent several hours at the museum with Savannah Holland, associate director of education, and Don Comeaux, executive director.
At the end of the day, he was offered the job.
Holland – herself a South graduate – said Culpepper offered science credentials and an interest in education, along with experience working with the public.
"This is a business about people," she said. "Personality is a big factor. Our educators have to work with all kinds of people and make a connection. That, first and foremost, is what we saw in Kevin.
"What sold me was his experience as a tour guide at South. He wanted people to have an experience, take something away with them, and that's exactly what we do here."
At South, Culpepper was interim vice president of the Black Student Union and associate justice of the Student Government Association. He joined the Phi Beta Sigma Fraternity, along with the Collegiate 100, and was inducted into the Abeneefoo Kuo Honor Society. He also directed the A-List Student Fashion Show.
At the Exploreum, under his blue lab coat, Culpepper wears a Tommy Hilfiger T-shirt, checked pants and a pair of Air Jordan high tops.
Dr. Mike Mitchell, vice president for student affairs, was one of his mentors at South.
"Kevin certainly enjoyed his time here and that helped him develop as a young student and a young man," Mitchell said. "We had an opportunity to take him to a national conference of the Collegiate 100. He got a chance to network with other students and see bigger possibilities for himself. I think he was energized by that."
Small Town to Big City
Culpepper grew up near Jackson, Alabama, about 90 minutes north of Mobile, in a community called Walker Springs
"My mom and dad like to say I'm a city boy, now, but I'm a country boy at heart," he says. "When I get back home, we go mud riding – I have two four-wheelers. We'll get a 100-plus people out there and just ride through puddles like big kids. The goal is to get dirty. If you go home clean, you're doing it wrong."
When he was in the fourth grade, his elementary class took a field trip down to Mobile and the Exploreum. The small world of science education. Who knew?
"It brings back memories," he says. "A lot has changed, but I do remember the Body Works exhibit."
Years later, as a high school drummer, he did an Honor Band program at South.
Culpepper enrolled at the University of South Alabama and began studying engineering. Later, he changed majors and took a semester off from college before graduating in biology with a minor in forensic science.
Culpepper plans to attend graduate school at South in educational leadership. He remains connected to different campus groups.
"Some Mondays, if I'm off work, I'll go back and talk with my mentors," he says. "When there are campus events, if I can go, I'll go."
Huge Props and High Ceilings
In downtown Mobile, part of the Exploreum is housed in an old fire station. Culpepper's glass-walled classroom stands behind a full-scale model of a Gemini space vehicle. In one corner of his room, there's a 4-foot-tall replica of a Tyrannosaurus rex skull.
The science center's huge props and high ceilings offer a somewhat theatrical setting for the beginning of a career in education. T-shirts proclaim that "Science Is Magic That Works." Culpepper enjoys the sensation of starting something new.
"This is a job-job," he said. "I feel all grown-up with adult problems. I got my first paycheck and I was complaining to my mom about the taxes. She said, 'Welcome to the real world.'"
On some days, Culpepper prefers working with older children. The students are more mature and the material is more advanced. An anatomy lesson might feature real hearts and lungs from cows, sheep and pigs.
When it comes to leading groups and guiding tours, he relies on some of the experience he gained at South.
"This was something I'd already done," he says. "The touring is the same, the teaching is the same. I can talk to anyone, and I'm easy to talk to, so this is right up my alley."
---