Nursing Student to Volunteer with HIV-Testing Team at Ugandan Music Festival
---
Posted on July 22, 2016
Joy Washington
---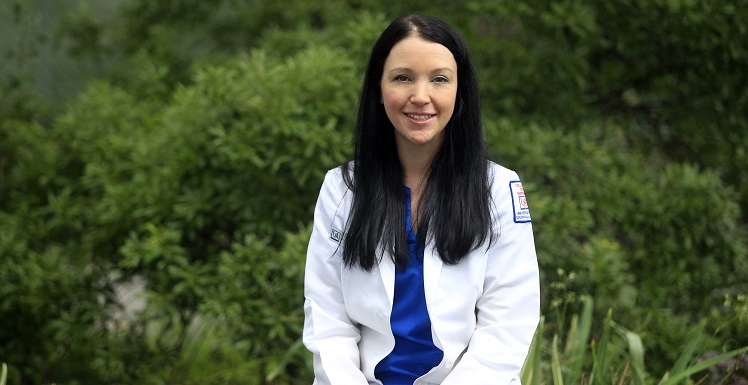 Jessica Adams started her career as a deputy sheriff for the Pinellas County Jail in Clearwater, Fla., before entering nursing. "I needed to develop a different skill set and use it in a way that benefitted the community I wanted to serve."
---
The power of music for many is inspiring, empowering and healing. Jessica Adams, a University of South Alabama online student, is earning her doctor of nursing practice degree in the family nurse practitioner/acute nurse practitioner doctoral program in the College of Nursing. She is also a full-time traveling registered nurse who knows firsthand how music can move people to action.
Adams will serve as a volunteer for the 3rd Annual HIV Awareness Music Project at Entusi, Sept. 2-20, where she will manage a medical team. This year's festival will be a three-city tour to include Lira, Masaka and Kabalel, Uganda.
"My friend Andrew Ward joined others to start this music project to help improve the health and well-being of those in Uganda." Adams explained. "I jumped at the opportunity to volunteer in the role of coordinator for the HIV AIDS awareness and testing portion of the project. I am so grateful to be able to volunteer and share my medical knowledge and training. And music is just that common thread that brings people together."
Adams is excited about making a difference in the lives of the people in need. She said the people of Uganda feel safe at the festival and are more willing to seek the health services that are available. Tents are set up near the performance staging area to handle the medical testing and examinations.
"People in Uganda are reluctant to get tested because of the stigma around HIV," Ward added. "We are providing a free music festival. Jessica and her medical team will be on site to give rapid response tests, medical exams and counseling."
Adams, a native of Largo, Fla., earned her bachelor's degree in political science and started her career as a deputy sheriff for the Pinellas County Jail in Clearwater, Fla. While volunteering with AmeriCorps's youth development program in New Orleans following Hurricane Katrina, Adams realized she wanted to change careers.
"I needed to develop a different skill set and use it in a way that benefitted the community I wanted to serve," she said. "This opportunity eventually led me to earning my nursing degree and now I am studying at South to earn my doctorate in nursing. I am overjoyed by that decision. I have had a tremendous experience. I am about to begin my clinical rotation and present at an upcoming conference."
Adams heard about South's nursing doctoral program while searching on the Internet. She has been supported by South faculty Dr. Rebecca Graves and Dr. Emily Sawyer. In addition, she's really appreciative of Dr. Ellen Buckner, professor of nursing at South, who provided her with information about a service abroad trip to the Dominican Republic.
"Jessica participated in our service abroad trip to the Dominican Republic in the fall of 2015," Buckner said. "She is remembered as the first one up and the last to go to bed. Jessica devoted her abounding energy to the work she loved. The student and faculty team participated in four clinic days, seeing more than 800 patients."
The nursing faculty praised Adams as an outstanding student and nurse. According to Buckner, Adams has expressed a sincere dedication to global health and work in international settings, especially with women, and underserved and vulnerable populations.
"Dr. Buckner has been very helpful," Adams noted. "Although she is not my professor, she has been the absolute epitome of a mentor."
Adams has mainly been a critical care nurse, and she currently works in an emergency room. At some point, she would like to teach. The people of Uganda will benefit from what Adams has learned as a traveling nurse and a student at South. Adams is confident she's ready for this mission.
"As a health care provider, I am passionate about helping others, and traveling has strengthened me and made me a well-rounded nurse," she said. "I have been exposed to different patient populations and different methods of treatment."
More than 7,500 people in Uganda attended the 2015 music festival, with 1,216 tested for HIV. Adams is expecting that number to increase at this year's music festival.
To support Adams and the HIV Awareness Music Project at Entusi, visit hampentusi.org.
---