USA Collaborates with Mississippi Gulf Coast Community College on Early Acceptance Nursing Program
---
Posted on July 23, 2021
Joy Washington
---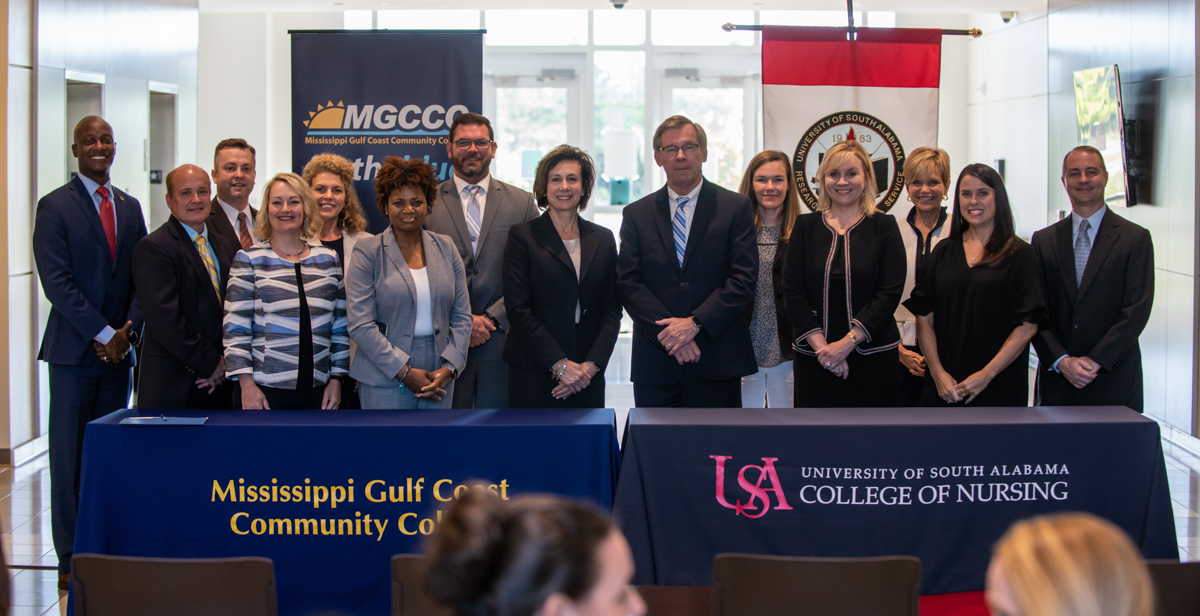 Representatives from the University of South Alabama and Mississippi Gulf Coast Community College announced Friday an initiative that will expand access for MGCCC students to enter South's Early Acceptance Program for nursing.
---
The University of South Alabama's Pathway USA program and Mississippi Gulf Coast Community College will expand their current partnership to provide more educational opportunities and services to nursing students, representatives of the two organizations announced at a signing event on Friday, July 23.
MGCCC nursing students earning an associate's degree while at the community college can enroll in up to three USA courses, earning credits toward their RN to BSN degree at South Alabama's College of Nursing.
When these students graduate from MGCCC, the partnership will provide a smooth transition for them to continue their studies at USA, once they pass the National Council Licensure Examination and meet all pre-requisite requirements. Through this agreement, the USA College of Nursing Early Acceptance Program will help more MGCCC nursing students further their educations.
"The University of South Alabama has strong ties to the Mississippi Gulf Coast and has enjoyed a collaborative partnership with Mississippi Gulf Coast Community College," said Dr. John Smith, USA's interim president. "This agreement today is an extension of that partnership and will give students the flexibility to start their bachelor's degree in nursing while enrolled at Mississippi Gulf Coast Community College. There is high demand for nurses along the Coast and across the country, and South is proud to work with Mississippi Gulf Coast Community College to offer educational opportunities in our communities to meet those needs."
Pathway USA, which began in 2016, was created to provide opportunities to students who may prefer to begin their college journey at a community college. MGCCC was the third community college to partner in the program. Other Pathway USA partnerships have been established with Coastal Alabama Community College, Bishop State Community College, Pensacola State College, Northwest Florida State College and Jones College.
"This opportunity will allow our associate degree nursing graduates to continue their education in a well-organized and streamlined manner," said Dr. Mary Graham, MGCCC president. "We look forward to working with USA on this and other partnerships in the future."
South Alabama's dean of nursing, Heather Hall, said she is pleased to build on the current success of Pathway USA by expanding the partnership to include an opportunity for nursing students.
"This provides such a great opportunity, not only for South Alabama and MGCCC nursing students, but for the Gulf Coast healthcare systems as well. We are experiencing a shortage in nursing in Mobile, along the Gulf Coast and across the nation," said Hall. "This program will assist and provide students in the associate's degree program the option to complete the BSN degree at a faster pace."
Students in the early acceptance program will have the same benefits as other students in Pathway USA, which include:
Guaranteed admission to USA upon successful completion (cumulative grade-point average of 2.0 or higher) of the associate's degree.
A USA academic adviser assigned to them for individual guidance on course selection and to map out degree plans.
Special discounts through USA's Jaguar Productions.
Complimentary admission to USA athletic events under the same terms and conditions as regular full-time USA students, including Jaguar football games on campus at USA's new Hancock Whitney Stadium.
MGCCC nursing students wanting additional information on the College of Nursing Early Acceptance Program for the RN-BSN pathway should contact the USA College of Nursing at (251) 445-9400, or conRN2bsn@southalabama.edu.
MGCCC students interested in receiving information on Pathway USA may contact USA's Office of Admissions at (251) 460-7834 or recruitment@southalabama.edu.
---