Four Jags Selected for Hall of Fame
---
Posted on July 24, 2018
Marketing and Communications
---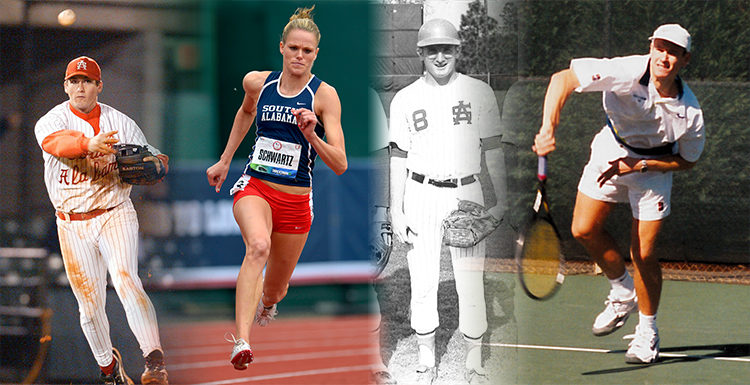 Former Jaguar athletes, from left, David Freese, Lindsay Schwartz, Ernie Rosseau and Nic Chisolm will be inducted this fall to the USA Athletic Hall of Fame.
---
Four individuals from three sport programs, each an All-American, will comprise the 2018 University of South Alabama Athletic Hall of Fame Class.
The quartet of Nic Chisolm, David Freese, Ernie Rosseau and Lindsay Schwartz will officially be inducted on Saturday, Nov. 10, in a ceremony that will take place on campus that morning before being introduced on the field during the Jaguars' Homecoming football contest with ULM later in the day. A total of 83 former student-athletes, coaches and administrators have been honored since the USA Athletic Hall of Fame was created in 1989.
Chisholm — who came to South from Westville, South Africa — was a four-year letterwinner in men's tennis from 1995-98. He ended his first season as a Jag ranked 47th nationally in doubles, then the following year earned All-America honors after qualifying for the NCAA Doubles Championship and concluding the campaign ninth in the country. Chisholm, who was among the top 65 in the final national singles rankings as a sophomore, would conclude his playing career having earned all-Sun Belt Conference recognition each of his four seasons in doubles as well as in singles on three occasions. His efforts helped lead USA to four straight NCAA Tournament appearances — including a trip to the quarterfinals in 1995 — and three SBC championships, and he was later selected to the Sun Belt's 30th Anniversary All-Time Men's Tennis Team.
Freese arrived in Mobile from Wildwood, Mo., and in two seasons with the Jaguar baseball program he recorded a .394 career batting average — a figure that stands second in the school's record books and third in Sun Belt history — with 180 base hits including 32 doubles, with the latter figures also remaining on USA's career record lists. Freese batted .373 with 11 doubles, six home runs and 48 RBI his first year in Mobile while helping the Jags to the SBC Tournament title, then was voted first-team All-American and first-team all-region by the American Baseball Coaches Association the following spring when he recorded a league-best .414 batting average and 73 RBIs while also finishing second in the SBC in hits (99), third in runs (73) and tied for third in doubles (21). After being chosen the conference Player of the Year as a senior, he was drafted by the San Diego Padres before advancing to the Major Leagues in 2009 with the St. Louis Cardinals, who he would help lead to the World Series title in 2011 while earning Most Valuable Player honors in both the League Championship Series and the World Series.
Also a member of South's baseball team, Rosseau earned letters in 1972 and '73 after pacing the Jags in batting average both seasons with the program and in stolen bases his final year. Originally from Satellite Beach, Fla., he batted .350 his first season with the program in helping the Jaguars become the first program in school history to reach No. 1 in the national polls as they would end up 36-8 after advancing to the championship game of the District 3 Regional in their first-ever NCAA postseason appearance. As a senior, Rosseau hit .390 with a then-school-record 34 stolen bases to collect first-team American Baseball Coaches Association All-America and all-region honors as South posted a 33-9 mark following a return to the district tournament. He still stands sixth on USA's all-time list with a career .369 batting average.
Schwartz picked up second-team All-America recognition on three occasions during her four-year career with the Jag track and field-program, accomplishing the feat at the NCAA Outdoor Championships in the heptathlon in both 2011 and '12 as well as in the pentathlon at the NCAA Indoor Championship as a senior. The Watertown, Wis., native won five Sun Belt Conference championships — claiming the heptathlon each of her last three years of competition and the pentathlon her junior and senior seasons — while garnering all-league accolades on three other occasions. Schwartz remains the school's all-time leader with 3,996 points in the pentathlon while her mark of 5,614 points in the heptathlon was the best in program history until it was surpassed in May; she is still on South's all-time performance list in six other outdoor and three additional indoor events. Out of competition, she was twice named to the United States Track & Field and Cross Country Coaches Association's All-Academic Track and Field Team.
---