USA Health Launches New Emergency Air Service Partnership
---
Posted on July 25, 2018
Casandra Andrews
---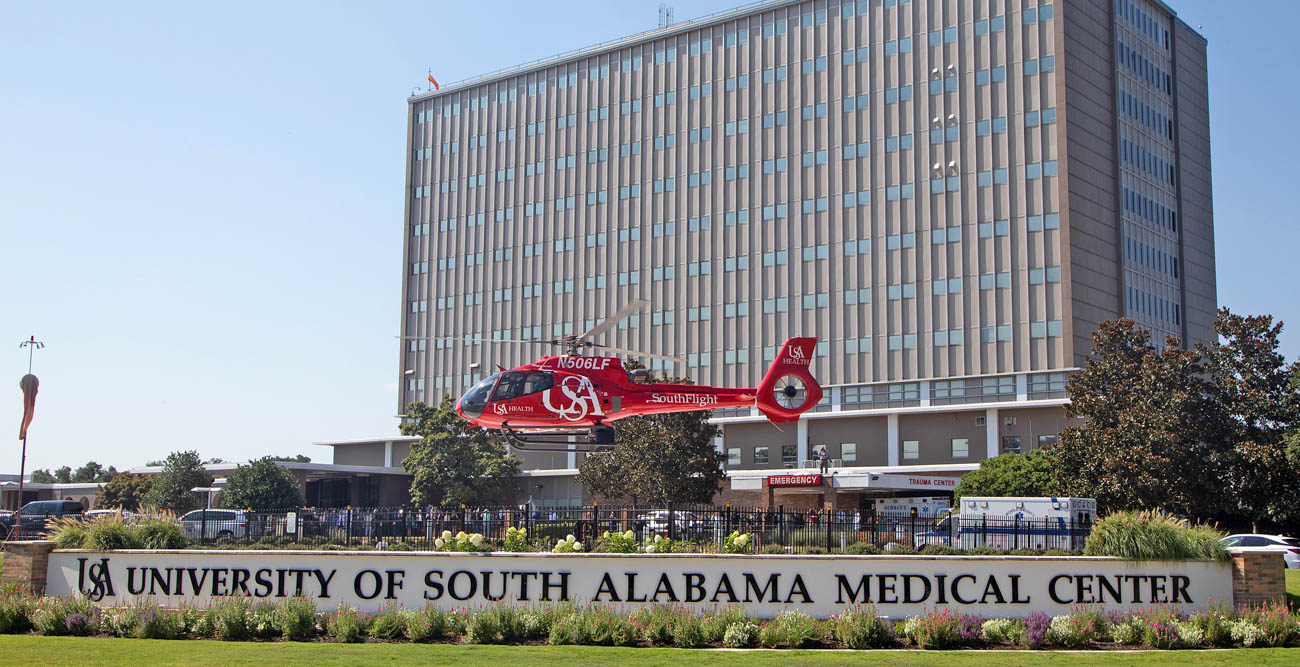 SouthFlight emergency air service represents a partnership between USA Health and Air Methods, a privately-owned air medical transport company serving 48 states.
---
USA President Dr. Tony Waldrop and Mobile Mayor Sandy Stimpson christened a red EC 130 helicopter emblazoned with USA SouthFlight during a ceremony Wednesday, July 25, 2018, on the helipad at USA Medical Center in Mobile.
About 15 minutes before the christening, a flight crew lifted off with simulated stroke patient Louis Mapp from H.L. "Sonny" Callahan Airport in Fairhope headed to the region's only Level 1 trauma center. The flight took 13 minutes and 10 seconds, demonstrating how quickly someone with a life-threatening injury, such as a stroke, can be transported to the region's only Level 1 Trauma Center.
The SouthFlight emergency air service represents a partnership between USA Health and Air Methods, a privately-owned air medical transport company serving 48 states.
"More than a million residents depend on USA Health's nationally recognized teams in stroke, trauma, burns, pediatrics and neonatal care to provide life-saving care," said Sam Dean, administrator at USA Medical Center. "Besides serving our own region 24 hours a day, every day, our hospitals also provide care for the southern half of Mississippi as well as parts of the Florida Gulf Coast, extending our reach and the number of people who depend on us when every second counts."
USA SouthFlight will offer high quality care for the region's most critically ill and injured patients, with state-of-the-art medical technology and advanced communication equipment. Based locally in Mobile, Air Methods operates 24 hours a day.
"The critical care services the SouthFlight team provides patients suffering from traumatic injuries ensures a seamless transition from emergency air service to the life-saving care at USA Health hospitals," said Tony Fleming, area manager, Air Methods Corp. "Our goal is to reduce the amount of time it takes for life-saving care to reach our patients."
An EC130, SouthFlight is a single engine light utility helicopter developed from the earlier Eurocopter AS350 Écureuil. Launched and produced by the Eurocopter Group, it was later rebranded as Airbus Helicopters.
Other features include:
Capacity: up to 7; 1 pilot, 1 critical care RN, 1 critical care paramedic, 1 patient
Length: 41 feet overall
Rotor diameter: 35 feet
Empty weight: 3,206 pounds
Max. takeoff weight: 5,512 pounds
Cruise speed: 150 mph
Rate of climb: 1,770 feet per minute

About USA Medical Center
As a state-certified Level 1 Trauma and Burn Center, University of South Alabama's USA Medical Center serves as the major referral center for patients with traumatic injuries from southern Alabama, southeast Mississippi, and portions of northwest Florida. Last year alone, USA Medical Center served patients in 53 counties. The Medical Center's designated trauma team - which includes around-the-clock trauma surgeons, cardiovascular surgeons and neurosurgeons - treats an average of five critically injured patients a day, which is more than 1,700 people a year. As the go-to facility for the area's toughest emergencies, USA Medical Center is capable of providing total care for every aspect of injury, from prevention through rehabilitation. USA Medical Center is a part of USA Health.
About USA Health
With more than 3,800 employees, USA Health is unlike any other health care organization on the Alabama Gulf Coast. It includes USA Medical Center, USA Children's & Women's Hospital, USA Mitchell Cancer Institute, USA Physicians Group and USA College of Medicine. At least one-third of local physicians, some 2,500, received their training at USA Medical Center. More than 10,400 nurses and 5,600 allied health professionals received training at USA hospitals. USA Health has an annual economic impact of $791 million annually.
---