Surviving Traumatic Brain Injury
---
Posted on July 25, 2019
Joy Washington
---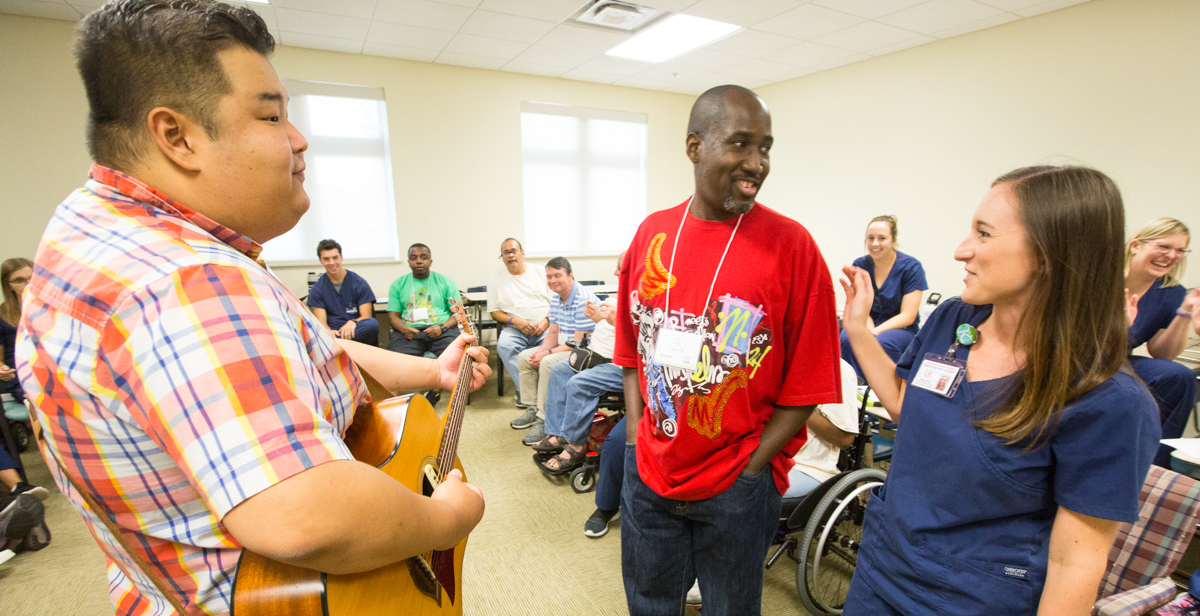 Kelsey Gross, University of South Alabama speech-language pathology graduate student, assists traumatic brain injury camp participant Larry Malone Jr., center, while music therapist Fred Ra leads Malone and other camp participants in creating a song using words suggested by the group.
---
While playing little league baseball in the third grade, Larry Malone Jr. fell on the field. Several years later, he started having headaches, memory loss and blackouts. He was eventually diagnosed with a brain injury. Today, Malone is an adult working to recover.
Malone and 14 other survivors of traumatic brain injuries, ranging in age from 21 to 65, recently participated in a unique summer camp on the University of South Alabama campus. The University partnered with the Alabama Head Injury Foundation to host the Bright Ideas Traumatic Brain Injury Camp in USA's Health Sciences Building, providing speech and audiology services, physical therapy and music therapy for the 15 survivors. Their caregivers/loved ones were invited to participate in counseling sessions, art therapy, education, assessments and a nutrition session during the three-day, therapy-based camp.
The camp was a life-changing experience for all involved, especially the students.
"This is a great opportunity for us as students," said Kelsey Gross, a first-year, speech-language pathology graduate student at South and a native of League City, Texas, who worked with Malone during the camp. "This camp has given us great exposure to patients with a wide variety of traumatic injuries. It's also been great to collaborate as a multidisciplinary group interprofessionally with speech and audiology, physical therapy and nursing. It's been wonderful for us to see the lives of TBI survivors get better and hope restored through this camp experience."
South Alabama's College of Nursing and the Pat Capps Covey College of Allied Health Professions joined in the multidisciplinary effort to help the survivors continue to move forward with their recovery — emotionally, physically and cognitively. For example, in a music therapy session, certified music therapist Fred Ra worked with Malone and the other survivors to write their own group song using words they suggested, such as "mom," and "second chance." They each will receive a copy of the completed song they helped create during their therapy session.
"This is such an exciting opportunity for our students to be involved in this collaborative care model," said Dr. Elizabeth Adams, associate professor and chair of speech pathology and audiology. "This interprofessional collaborative practice model is the way healthcare is going. The model helps the students understand their individual roles better and the roles of other professionals in the healthcare setting. Overall, it helps our students develop collaborative teamwork skills to take with them once they graduate and work as professionals."
Kendra Hudson, senior instructor and clinical coordinator of speech-language pathology, met earlier with representatives from AHIF and agreed that South Alabama needed to host this type camp for survivors and caregivers in this region of Alabama. Hudson and the faculty and staff worked with the AHIF team to plan, manage and execute the camp.
Scott Powell, executive director of the Alabama Head Injury Foundation, is already planning for the next camp.
"The partnership between AHIF and USA on this Bright Ideas TBI Camp is truly remarkable, because at the end of the camp, you can honestly debate who benefitted the most through participating. The survivors? The caregivers? The students? The faculty? I would say it's all of the above," Powell said. "And just having three days where individuals can take an active interest in their well-being is a win."
According to the AHIF, there are 260 individuals in Mobile County and 140 in Baldwin County who are survivors of a traumatic brain injury. More than 2,000 individuals are affected statewide.
---