New Group Supports Advanced Practice Providers
---
Posted on July 26, 2017
Casandra Andrews
---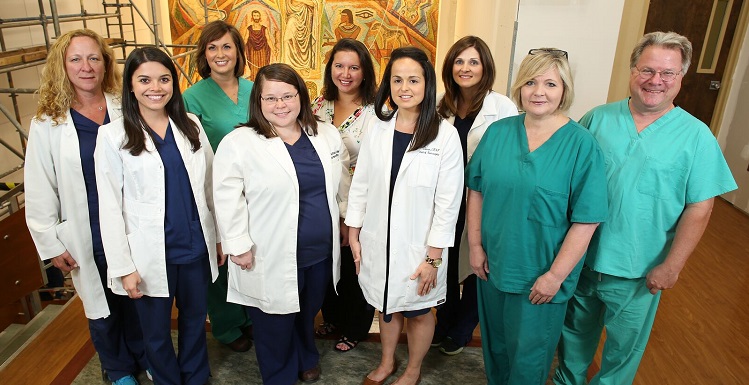 Some members of a newly formed steering committee for USA Health's advanced practice providers met recently at USA Medical Center to discuss strategies for sharing information about the specific roles advanced practice providers have in the 3,800-employee health system.
---
As the need for health care services increases throughout the United States, a growing number of medical professionals known as advanced practice providers are working independently and alongside physicians to meet those needs in hospital and clinic settings, where they provide acute care services, anesthesia, critical care, health promotion and disease prevention.
The trouble is, many people — including physicians and nurses — still don't know the scope of care advanced practice providers can offer.
A group of USA Health leaders met last year to determine how many advanced practice providers work within the 3,800-employee system and how their skills and experiences could be best utilized in the University's health system and best support their professional development.
"At USA Health, advanced practice providers provide a wide range of services," said Julee Waldrop, who holds a doctor of nursing practice degree and has more than 25 years of experience as a nurse practitioner. "For professional development, we wanted to have a group where they can get support from each other and help each other do things similarly and equitably."
Waldrop, a professor at the University of North Carolina, volunteers her services at a school-based clinic in Mobile. She was approached by Beth Anderson, the recently retired administrator of USA Medical Center, to seek guidance in organizing the advanced practice providers working within USA Health. Advanced Practice Provider, Waldrop said, is the modern term given to non-physician healthcare practitioners who work as physician assistants or as advanced practice registered nurses (APRN) and serve in provider roles such as nurse practitioners, nurse midwives, nurse anesthetists and clinical nurse specialists.
With a nationally recognized nursing congress already in place, USA nursing administrators were eager to collaborate with Waldrop to pursue a model to best meet the needs of the APPs within the system.
After verifying there was no unifying leadership team or board in place to guide advanced practice providers, a systematic approach to developing the group was planned. The first step was to find out what their needs were. A survey was distributed to all staff with APP credentials.
"Many were shocked to find out how many advanced practice providers were in the health system," said Valerie Heinl, a nurse manager at USA Medical Center who is working with the group. "What happens is they work in one setting and don't typically have the opportunity to get out and meet other advanced practice providers."
Some of the initial goals for the small group, Heinl said, were to assess the current state of advanced practice at USA Health, to see what practice was like for them on a daily basis, and to determine if they would be interested in learning from each other.
"We looked at the results (of the survey) to see if the providers believed they were practicing at the highest level of education and training in the state of Alabama," Heinl said. Through the survey, some providers reported they were practicing at the full scope of practice and some felt they were not.
"That was interesting to see," Heinl said. "We also asked if they were interested in mentoring and research."
Through the survey results, town hall meetings, and a meet-and-greet event, it was determined there are at least 120 advanced practice providers working within USA Health, which includes USA Children's & Women's Hospital, USA Medical Center, USA Mitchell Cancer Institute, USA's College of Medicine and USA Physicians Group.
The meetings also led to the establishment of a steering committee that will help coordinate and unify advanced practice providers within USA Health.
"We hope the committee will look at the organizational structure and create an avenue for a more active advanced practice provider community here," Heinl said, adding that the creation of the group should open up more networking opportunities where members who practice in different areas of USA Health can share best practices and common experiences.
More than a dozen advanced practice providers have joined the steering committee so far, and have established goals they hope to tackle and accomplish in the coming months.
Heinl hopes uniting so many like-minded health care providers will bring about a better understanding of their true potential: "As we share more information about advanced practice providers, we want to help change the landscape of health care."
---